THE SPIRIT OF LAWLESSNESS IN AMERICA NEEDS PRAYER
From CharismaNews
|
August 2, 2019
I Prayed
have prayed
Father, you are a God of order. We pray that the lawlessness in our nation, which reflects an anti-Christ spirit, and a spirit of violence, would cease.
We have raised an entire generation of Americans who have no respect for the law, and now we are reaping what we have sown. I cannot even begin to tell you how alarmed I am by some of the videos I have been watching lately. As you will see below, all over the nation, young people are brazenly flouting the law, obstructing and assaulting law enforcement officers and committing criminal acts in large groups.
JOIN IFA TO PRAY ABOUT THE LAWLESSNESS IN OUR NATION.
THIS PRAYER GUIDE HELPS DIRECT YOUR PRAYER FOR YOUR COMMUNITY.
I think "lawlessness" is perhaps the best word to describe what is happening, and many believe that what we have witnessed so far is just the beginning. I have so much respect for the good law enforcement officers across the country who put their lives on the line day after day to protect all of us, but I wouldn't want to be in their shoes at this point. If you wonder why I would say such a thing, just consider what just happened in New York City:
View Comments (33)
In a series of shocking videos, NYPD officers can be seen being doused with buckets of water and pelted with projectiles as they tried to do their jobs (in one video, the officers were in the middle of making an arrest).

The stunning footage, which was first spotted online on Monday, shows the brazen young men in Harlem and Brooklyn dousing cops with water and, in one frame, an officer gets beaned in the back of the head with an empty red plastic bucket. The attacks on the officers started as they were arresting another young man, and in the video, they can be seen handcuffing the man while he was splayed out on the hood of a car.e
How would you respond if you were attacked like this?
If I were a police officer in that situation, I would not have been able to let that kind of abuse go, and those young attackers would have learned the hard way that there are very serious consequences for assaulting a police officer.
But this is what happens when we raise an entire generation without any values whatsoever.
These young people are just doing whatever seems right in their own eyes, and similar things are happening all over the nation.
For example. . . a flash mob stormed a Walgreens in Philadelphia on the Fourth of July:
Philadelphia police have released surveillance video showing dozens of teens vandalizing and stealing from a South Street Walgreens on the Fourth of July. The incident happened at the store on the 1800 block of South Street in the Graduate Hospital section of the city.
As you can see from video footage of the incident, the young people seemed to take great joy in the crimes that they were committing.
If things are this crazy now, what will things look like when economic conditions get really bad and those young people get really desperate?
Elsewhere in Philadelphia, a pack of teen girls was viciously attacking random female victims that they came across in the street, and video of the attacks caused quite a bit of outrage:
A gang of teenage girls filmed themselves targeting female strangers in random attacks on the streets of Philadelphia.

The disturbing video shows the girls approaching their unsuspecting victims on the street before proceeding to slap them and wrestle them to the ground.

The violent video sparked outrage when it was shared online.
Of course many of these young criminals will end up in prison, but in many cases, that will just mean they will learn how to be even better criminals from those they are incarcerated with.
And the truth is that in many instances, our prisons are completely and utterly out of control. For example, it is being reported that one prison down in Mississippi allegedly put the gangs in charge at one point.
Everywhere you look, there is lawlessness. This week, when ICE officials showed up to arrest an illegal immigrant in Nashville, the man's neighbors formed a human chain around him in order to keep that from happening:
When U.S. Immigration and Customs Enforcement agents arrived at a Nashville home Monday in an attempt to detain a man there, neighbors and activists gathered to support the man, who remained shuttered in a van with a child for hours before the agents left.

And once the agents and police officers they had called to the scene finally drove away, neighbors who had kept the man and the boy fed, hydrated and cool, formed a human chain from the van to the house as the man and the boy shuffled inside.
In the end, the ICE officials left, and the illegal immigrant got away.
When there is a complete and utter lack of respect for law enforcement on a widespread basis, that is a recipe for chaos.
And without a doubt, our nation is on the brink of great chaos. Just consider these numbers:
After a week that saw President Trump and his foes toss toxic words at each other, there is now a warning that the next phase could be "violence."

Nearly 8 of 10 Americans told the Pew Research Center that supporters for both sides could "act" on the politically charged rhetoric with violence. It was higher for Democrats, 91%, than Republicans, 61%.
[But, prayer can change all of these numbers.]
(Excerpted from Charisma News, article by Michael Snyder.)
Partner with Us
Intercessors for America is the trusted resource for millions of people across the United States committed to praying for our nation. If you have benefited from IFA's resources and community, please consider joining us as a monthly support partner. As a 501(c)3 organization, it's through your support that all this possible.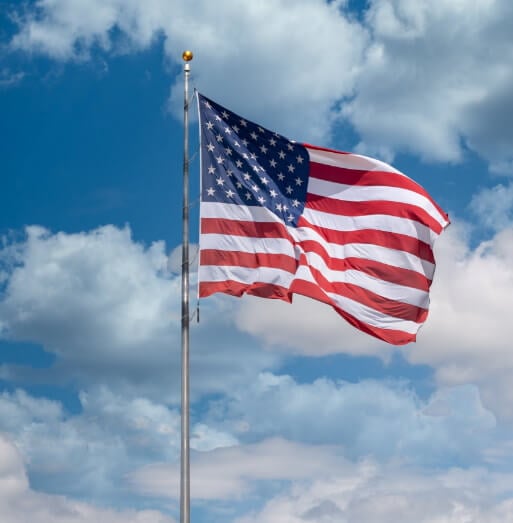 Become a Monthly Partner