WE NEED TO BE PRAYING FOR MANCHIN
From The Hill
|
March 1, 2021
I Prayed
have prayed
Father, we pray for Senator Manchin and that he would make wise decisions. Give him the strength to stand against evil.
Centrist Sen. Joe Manchin (D-W.Va.) is the most pivotal vote in the evenly divided Senate, and his power could spark prolonged intraparty feuds among Democrats.
Concerned about simmering friction, Senate Majority Leader Charles Schumer (D-N.Y.) on Tuesday strongly urged his Democratic caucus to unify around a pending $1.9 trillion COVID-19 relief package. 
View Comments (13)
Manchin appears to have derailed President Biden's nominee to head the White House budget office, Neera Tanden, by announcing last week that he would vote against her because of sharp criticisms she leveled on Twitter against Senate colleagues. In a 50-50 Senate, Tanden now needs the backing of at least one Republican, and perhaps more, which appears unlikely.
Manchin has jeopardized Biden's plan to raise the federal minimum wage to $15 an hour by announcing this month he opposes such an increase. He suggested instead setting it at $11 an hour and indexing it to inflation. . . .
Schumer said that not every Democratic senator is going to be entirely pleased with the COVID-19 relief bill but warned the party must pass it. In all likelihood, every Democrat in the upper chamber will have to back the measure in order to get it to the president's desk. . . .
Manchin on Monday said he would attempt to amend Biden's $1.9 trillion relief proposal, which the House is scheduled to pass this week, to set the federal minimum wage at $11 an hour.
"Eleven dollars is the right place to be," he said. "I'd amend it to $11." He also added that his plan is to index the wage floor to inflation.. . . 
Passing Biden's pending $1.9 trillion relief package, however, is only the start of the challenges facing Schumer, Manchin and the rest of the Democratic caucus.
"I talked to Harry Reid about him and he said [Manchin] was always a pain in the neck," said Ross K. Baker, a professor of political science at Rutgers University who served as a fellow in the office of former Senate Majority Leader Harry Reid (D-Nev.).
"[Manchin is] in an awkward position. He's a Democrat from a state that backed Trump more heavily than any other state," Baker added, noting that former President Trump carried West Virginia with 68 percent in 2016 and 69 percent in 2020. In 2020, Trump gained a larger percentage of the vote only in Wyoming — 70 percent. . . .
Manchin's support is far from certain if Democrats try to pass Biden's "Build Back Better" jobs and economic recovery plan.
Senate Budget Committee Chairman Bernie Sanders (I-Vt.), who is pushing hard for a $15 an hour wage bill, said discussions are already underway about using special budgetary rules to pass a massive economic stimulus package with a simple majority vote after the $1.9 trillion "American Rescue Plan" becomes law.
Manchin said Tuesday that Democratic leaders should move an infrastructure and jobs bill, which may cost as much as $3 trillion, through regular order, which means working with Republicans instead of using another budget reconciliation package to bypass GOP colleagues. . . .
Manchin, who chairs the Senate Energy and Natural Resources Committee, also raised doubt this week about another one of Biden's nominees, Rep. Deb Haaland (D-N.M.). His spokeswoman said the senator is undecided on Haaland, who would be the first Native American to head the Interior Department or serve in the Cabinet.
That prompted a stern rebuke from liberal Rep. Alexandria Ocasio-Cortez (D-N.Y.), who juxtaposed Manchin's indecision over Haaland to his support for Trump's nomination of Jeff Sessions in 2017 to head the Department of Justice.
"Manchin voted to confirm him. Sessions then targeted immigrant children for wide-scale human rights abuses w/ family separation. Yet the 1st Native woman to be Cabinet Sec is where Manchin finds unease?" Ocasio-Cortez tweeted.
Manchin's role as the 50th and toughest-to-nail-down vote in the Democratic caucus has boosted his profile. Pundits have touted him as a new Senate powerbroker and the most powerful member of the evenly divided upper chamber. . . .
Manchin kept a relatively low profile during the first few weeks of the new Senate Democratic majority, sticking with his leadership on key votes on the budget resolution, Biden's top Cabinet picks and Trump's second impeachment trial.
But he is beginning to assert himself more forcefully as it becomes clear that Republican support will be difficult to muster on certain issues. . . .
"No, there's nothing about powerbroker. I denounce that completely," he said. . . .
"I'll tell you about power. I've seen people that have it, abuse it. I've seen people that sought it ruin themselves," he said.
But he also said he's "seen people that took a moment of time and tried to make a change and a difference," adding that he hopes to be a lawmaker who works across party lines to make a difference.
Manchin joked the key facts to know about him are "I have three children and 10 grandchildren."
Share your prayers for Manchin in the comments below!
(Excerpt from The Hill. Article by Alexander Bolton. Photo by Leigh Vogel-Pool/Getty Images)
Partner with Us
Intercessors for America is the trusted resource for millions of people across the United States committed to praying for our nation. If you have benefited from IFA's resources and community, please consider joining us as a monthly support partner. As a 501(c)3 organization, it's through your support that all this possible.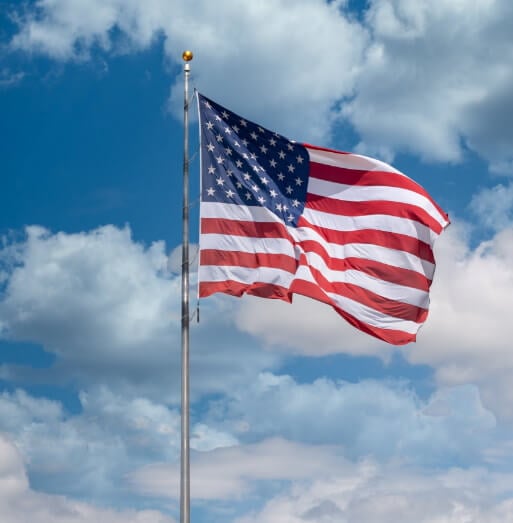 Become a Monthly Partner