Trouble in Texas School Districts
From Fox News
|
December 16, 2021
I Prayed
have prayed
Lord God, thank You for answering our prayers for schools. Please help all the people who are actively engaged in exposing hidden things in our school districts.
Two conservative Texas school board members spoke out Tuesday as the board tries to censure them over their pushback to parents being blocked from a meeting earlier this year.
Trustees at Round Rock Independent School District, Mary Bone and Danielle Weston, joined "Fox & Friends First" to discuss the incident, expressing their frustration over what they coin "ridiculous" resolutions.
View Comments (2)
"We have had a lot of parents, like you've seen across the country, that have awakened, and we have a lot of organizations in our school district that are just organically growing from the community that are being led by my parents, and I think that is calling for transparency," Bone stated.
Amy Weir, the president of the Round Rock ISD, near Austin, initiated two censure resolutions after the pair accused the board of violating the Texas Open Meetings Act.
During a meeting on September 14th, the duo allege the school board restricted the meeting room's seating capacity while school police officers stood outside the doors to reportedly deter the public from entering.
In response, Bone and Weston left the meeting and the board voted to increase taxes shortly after their departure. . . .
Weston expressed her frustration over the accusations, calling the allegations "ridiculous" and "bizarre."
"I was very surprised and disappointed to see that," Weston explained. "My background is I'm a former Air Force officer. I was on active duty on 9/11. I served throughout the global war on terror. I take great pride in all that I have done and that my family has done in serving our country." , , ,
Bone and Weston filed a lawsuit over the resolutions, which have been temporarily halted. (Excerpt from Fox News.)
In related news, Fox also reported on the experiences that IFA Board Member Jeremy Story has had with the Austin, Texas school board:
Two Texas fathers who got arrested for allegedly disturbing meetings of the Round Rock Independent School District school board told Fox News they ultimately blame the school board and Superintendent Hafedh Azaiez for the arrests.
The fathers characterized the actions as an effort to "intimidate" them into silence. The school board president disputed their claims.
"I believe I was arrested on 9/17/21 to intimidate me and other parents and community members from continuing to speak out against the superintendent and five of the school board members," Dustin Clark, a father of four children in public schools who began speaking out at school board meetings virtually in April, told Fox News.
"We believe we were intentionally targeted for arrest to silence our voices because we were speaking out against the school district for illegal activity," Jeremy Story, a father of seven homeschooled children and a resident whose tax dollars go to support the school district, told Fox News. . . .
Both Clark and Story face a misdemeanor charge of "Hinder Proceedings by Disorderly Conduct," but the charges name different dates. The charge against Story traces back to an Aug. 16 board meeting while the charge against Clark traces to Sept. 14. . . .
While Clark initially started speaking at board meetings to oppose mask mandates in schools, both he and Story expressed concerns about Hafedh Azaiez, a candidate the school board was considering for superintendent. Despite their concerns and those of two members of the school board, the five other school board members voted to hire Azaiez rather than wait to investigate him. . . .
"Mr. Story was escorted out when he attempted to speak to an issue that was not on the agenda for a called board meeting," Weir told Fox News in a statement. "He was informed several times by the board president and refused to comply with the rules, which is why he was eventually escorted out."
In the Sept. 14 school board meeting, two members of the school board – Weston and Bone – claimed the school district violated the Texas Open Meetings Act by severely restricting available seating. According to photos that Jeremy Story provided to Fox News, the school district set up only 18 seats in the meeting. Round Rock ISD reportedly stationed police officers at the doors to prevent members of the public from entering. . . .
Round Rock Police Chief Allen Banks confirmed to Fox News that Story filed a police report that evening.
On Sept. 17, after Story had filed his report, a Round Rock ISD police officer filed the probable-cause affidavit leading to the arrests of both Clark and Story.
"Our understanding is the RRISD Police Department contacted the Williamson County Attorney's Office and submitted an affidavit to a judge," Rebecca Rodriguez, a spokeswoman for the Williamson County Sheriff's Office, told Fox News. "A judge issued a valid arrest warrant for both individuals. The Sheriff's Office was notified that the individuals would most likely return to the next meeting causing a similar disruption hindering the proceeding. Williamson County Sheriff's deputies were notified of the warrants, located the individuals, took them into custody and booked them into jail." . .
Story and Clark told Fox News they're planning a civil rights lawsuit against the school district and members of the school board. They held a fundraiser for that effort this past Saturday, drawing more than 250 people. (Excerpt from Fox News.)
Partner with Us
Intercessors for America is the trusted resource for millions of people across the United States committed to praying for our nation. If you have benefited from IFA's resources and community, please consider joining us as a monthly support partner. As a 501(c)3 organization, it's through your support that all this possible.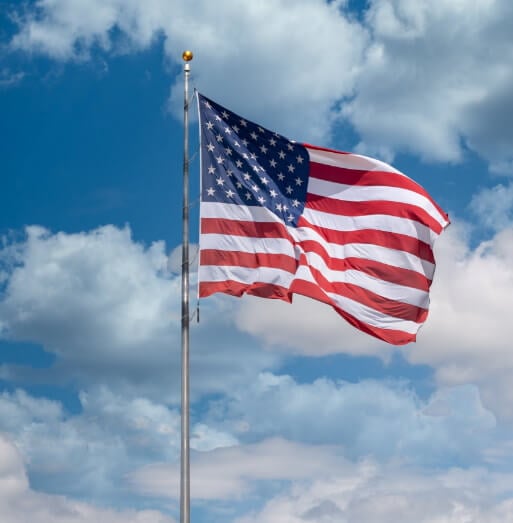 Become a Monthly Partner