TO VAX OR NOT: IS THIS THE RIGHT QUESTION?
Joyce Swingle, IFA Contributing Writer
|
August 10, 2021
TO VAX OR NOT: IS THIS THE RIGHT QUESTION?
Joyce Swingle, IFA Contributing Writer
|
August 10, 2021
I Prayed
have prayed
Dear Lord, train us to turn first to You for direction in all matters, including our health. Lead us in the way we should go. Forgive us for yielding to fear or to the loudest voices in our culture. Forgive us for any self-reliance or hardness of heart. Change us so that we are trained to turn first to You our Great Physician for the healing path. Help us discern Your direction in the peace we feel or the revelation we receive. May we be known as people who rely first and fully upon You for any choices we face. In Christ's Name. Amen and amen.
By now you probably have an opinion on getting a vaccine for the prevention of COVID-19. Getting to that opinion has not been easy for many of us given the conflicting reports about the disease, the vaccines, and the various governmental and corporate responses to this pandemic. But there is a way to cut through the babble and get to the truth for you and your family.
To step back a bit, I admit the swirl related to COVID-19 threw me for a loop. Our faith community, like many others in the United States, had been warned through the word of an intercessor as early as February 2020, which got us on our knees straight away. But I wasn't prepared for the fear that I — and many in the American Church in general — felt at times.
View Comments (52)
This fear lay on me in early 2020 until the Lord called to my remembrance a missions trip that my husband Rich, who is a drama evangelist, and I made to Spain many years ago. The local missionary who picked us up at the Madrid airport warned us at great length about the pickpockets who preyed upon tourists. Rich and I became almost paranoid scanning the crowds for predators until I suddenly remembered, "Hey, what am I so worried about! We live in Manhattan! We know how to deal with dicey street situations!" Our contact was used to visitors from smaller U.S. towns who may not be sufficiently vigilant in cities. Remembering this moment helped me handle the pandemic fear: "Hey, what am I so worried about? I live in the Kingdom. The Lord's got me!"
The Great Physician or The Government Physician?
But the overall fear that captured America has been life-altering. The many different effects of this fear have been well documented, including — but not limited to — the submission of the Church to onerous lockdown and worship restrictions. But one effect I noted early on was what I will call "the sliding of allegiance" in the matter of our health from The Great Physician to the government physician. This was most evident when the vaccine options became available. The long lockdowns had set people, including Believers, up for panic; and the media climate was fearmongering, to say the least. People who typically might be more cautious about experimental medicines were rushing to make appointments for their first dose of the vaccine.
The entire situation reminded me of Judah's King Asa, whose story is told in 1 Kings 15 and in 2 Chronicles 14-16. In brief, Asa was one of the kings who started out well, ripping idolatry out of his land. But there was a weakness; some high places for idol worship remained. Perhaps it was this influence that led Asa — in a moment of national crisis — to turn to a human deliverer rather than relying on the Lord. When confronted by Hanani for this misplaced allegiance, instead of repenting for failing to confer with the Lord, Asa was angered.  He took vengeance on the prophet and turned against some of his own people. 2 Chronicles 16:12 reports: In the thirty-ninth year of his reign Asa was diseased in his feet, and his disease became severe. Yet even in his disease he did not seek the Lord but sought help from physicians. (ESV)
Please do not misunderstand me. I am not against medical solutions or vaccines in general — although I am against forcing people to take them, and I have reservations about certain aspects of the COVID-19 vaccines. King Asa's sin lay in his lack of reliance upon the Lord as evidenced by failing to confer first with Him in the matter of a national crisis. Asa sinned further when he refused to repent when confronted. And as the verse above indicates, Asa's heart became hardened to the point that he didn't seek the Lord for his physical healing, either.
Fear Hijacks
I'm not sure if it was a lack of faith I was observing as 2020 unfolded, but I do know fear appeared to hijack Believers across America. It was a bizarre reaction, I thought, because many of these very Believers greatly admire the martyrs of the Faith and know well that in this world, we have troubles. But when push came to pandemic, fear and an almost unthinking submission to it seemed to blind them. I began to discern that many were not even asking the Lord whether they should get a COVID-19 vaccine; and if so, which one.
I had learned early on to consult first with The Great Physician. In 2000, I had noticed a strangely tender spot on my skin and had been praying for the Lord's wisdom on it. When I mentioned this tenderness to my physician he told me he thought it was linked to my spine. That was the beginning of a process that culminated in a diagnosis of Multiple Sclerosis (MS). My first reaction was to pray: "What do You want for my healing, Lord?" Like most Believers with a serious health diagnosis, I have prayed for miraculous healing, but to this point the Lord has chosen medical healing for me. And he has carefully husbanded the medicine I've taken to prevent exacerbation of the condition.
At one point, my insurance company was refusing to pay for the branded version of the daily injection I take, so I defaulted to the generic. But a couple of days into that medical regime, the Lord sent me a dream that I tested and found true. In this dream, it was clear that the generic medicine would react with my body to cause brain cancer. So I stopped taking that drug and fought to take the brand name. The Lord secured that medicine and has used it for my healing. At this point, I have been in remission with MS since the diagnosis — 21 years! Praise the Lord!
Does the Lord use medicine? For sure! As the One who knows our bodies intimately, He knows best — far better than any earthly physician — how medicines will affect us. Psalm 139: 13-16 (ESV) affirms this truth:
For you formed my inward parts;
you knitted me together in my mother's womb. 
I praise you, for I am fearfully and wonderfully made.
Wonderful are your works;
my soul knows it very well.
My frame was not hidden from you,
when I was being made in secret,
intricately woven in the depths of the earth.
Your eyes saw my unformed substance;
in your book were written, every one of them,
the days that were formed for me,
when as yet there was none of them.
The fact that our Lord is so solicitous of our physical being should be a point of great praise and comfort for us; It helps me to know that He not only cares for us, but He is able to cut through the noise of fear and clamoring voices to make known His will for this earthly tabernacle that is my body.
These reflections lead me back to my original musings. Is the question "To Vax or Not to Vax?" Or is it: "What is Your choice for me in this matter, Lord?"
Share your prayer to the Great Physician below, in the comments!
(Article by Joyce Swingle, IFA contributor. Photo Credit: CDC/Unsplash).
Partner with Us
Intercessors for America is the trusted resource for millions of people across the United States committed to praying for our nation. If you have benefited from IFA's resources and community, please consider joining us as a monthly support partner. As a 501(c)3 organization, it's through your support that all this possible.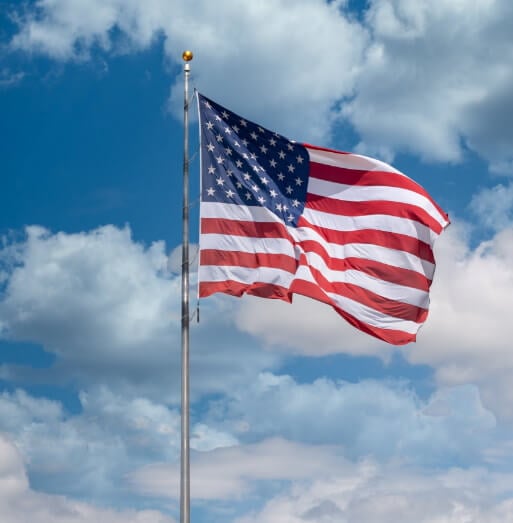 Become a Monthly Partner