THE SECRET TO PRAYING IN THESE TIMES
Kris Kubal, IFA Staff
|
May 30, 2020
THE SECRET TO PRAYING IN THESE TIMES
Kris Kubal, IFA Staff
|
May 30, 2020
I Prayed
have prayed
Father, direct us. We pray for discernment and stamina in our prayer for our nation. Show us how we can pray with our eyes open. We need you, Lord.
My role at IFA includes gathering, sourcing, framing, and sharing news that "Christians need to pray about every day" for IFA's HeadlinePrayer.  I will be honest, lately, it seems like being a watchman is like drinking from a firehose.  There is so much happening. On so many fronts. With so many issues and agendas. And I don't think that it is going to let up.
We are approaching a monumental election, we are in month 4 of a pandemic, we are facing record unemployment and economic havoc as a result, we are experiencing the sad reality of the racial divide and the violent reactions, we are watching the slow, slow wheels of justice turn in the SpyGate scandal, we are watching neighbor turn on neighbor for simply not wearing a mask, and freedom of speech appears to be gasping for air in our nation.  It is overwhelming. Can you feel it?
As I connect dots and pray about these issues, asking God for discernment on what intercessors need to know, I struggled with the thought that there is just too much information to share with intercessors for prayer.  Too much for anyone to adequately keep a handle on. You may feel like this too.  But I felt like the Lord gave me a phrase, a philosophy, even a strategy to handle watching and praying at this critical time in our nation. "Pray with your eyes open."  Okay, I am pretty sure that God wasn't indicating a literal "eyes open" prayer time, but He was indicating a posture. To remain engaged.  To be ever-aware of the issues facing us. And to seek to see things with a spiritual lens. Keep. Careful. Watch.
Our prayer is to be a constant conversation, as 1 Thes 5:17 tells us, and now is the time when continual prayer with the Father is ever important. Be deliberate about praying into all these heavy issues. Press in. God has placed you and me as intercessors at this time in our nation's history to be the front lines in prayer for our country and His purposes. We have been called as intercessors "for such a time as this."  Believe that!
The news is just one dimensional (and much of the time not even factually accurate), but as intercessors, we seek to see what is behind what is being reported.  There is always more than meets the eye and there are spiritual forces at play.  That discernment and insight helps us to be better equipped to pray strategically about what our nation is facing.
Our team will be sharing a lot of information in Headline Prayer–more than our Informer alerts can contain. There are so many weighty stories to follow that need prayer. I strongly encourage you to visit HeadlinePrayer DAILY to get it all.  We will do our best to update you, organize information, provide prayer points and perspective, and engage you in this process by asking for your comments. Issues we are facing today are issues that can determine the future of freedom in our nation.  Derek Prince, in his iconic book Shaping History Through Prayer and Fasting, aptly states that "history is in the hands of the intercessors."  Meaning, the course of our nation is dependent on the prayers and action of those who are praying (or not praying!).
Buckle up.  It is going to be a wild, rough, and busy ride for the next 6 months. As things are being brought to light, the enemy is throwing every trick in the book at us.  Our nation should not expect to "make our paths straight" without expecting a counter-offensive from Satan. The people on the front lines of these issues who are bringing truth and justice need our constant, fervent prayer.  We will be asking you to pray for them repeatedly—they need it.
What a blessing that we have a community of intercessors who can uplift, inform, encourage, and pray for one another.  This is important in these heavy days. No time for distraction.  No time for putting our heads down.  Today, we pray with our eyes open.
Here are 3 issues I think you don't want to miss praying about that could go unnoticed:
 The Election is looming. Mail-in ballots are being pushed nationwide. President Trump is resisting due to high rates of fraud and abuse. Plans are moving forward in some states, with some mail-in ballots already being distributed. This will be a battle. Read more about that effort here. Find out three ways you can help fight voter fraud from home–click here to get our new Vote Your Values resource.
 Contact Tracing on Smartphones is here. While tech companies promise that these features that are now built-in to phones with the recent updates, there are worrisome reports that more tracking is being done that they admit. Some states are creating programs to facilitate high-tech tracking of COVID results, your location, your contact with others, and even integrate medical results. This is a disturbing development.  Apple has long been a stalwart for protection of data–even refusing to participate with subpoenas for information on a suspect's phone. Now, Apple is leading the way, along with other tech overlords to provide this COVID information to authorities. Read more about what you can expect on your phone by clicking our article here.  Find out more ways that we are being surveilled, tracked, and controlled with our Special Report, Big Brother. Click here to download it.
Pelosi creates Vote Proxy Scheme. The Senate is back to work, but the House is still nearly empty. Speaker Pelosi has created a vote proxy system, that empowers 20 representatives "to control the votes of 220."  This creates a power core, with only 20 handpicked like-minded Democrats who will vote for all other Democrats who can then stay home "for health reasons."  Members of the House GOP are challenging this unconstitutional representation and have filed suit. Due to the other high-profile news stories, this issue has largely been under the radar. It needs prayer. Read here and pray!
(Kris Kubal is IFA's Director for Strategic Resources and Engagement.)
Partner with Us
Intercessors for America is the trusted resource for millions of people across the United States committed to praying for our nation.
If you have benefited from IFA's resources and community, please consider joining us as a monthly support partner. As a 501(c)3 organization, it's through your support that all this possible.

Dave Kubal
IFA President
& CEO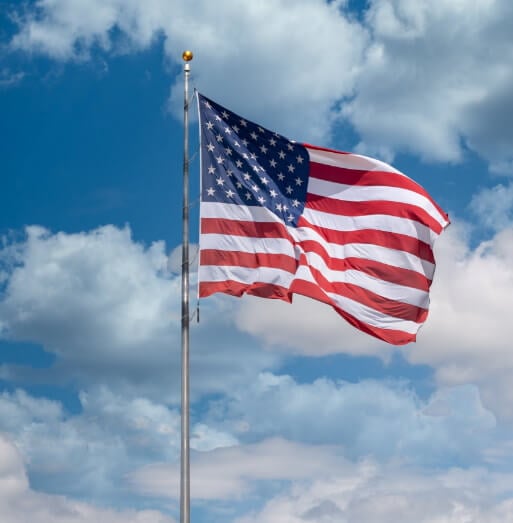 Become a Monthly Partner