THE VEIL OF DECEPTION IS LIFTING
Michael Guidera, IFA Contributing Writer
|
November 17, 2020
I Prayed
have prayed
Father, lift any scales off our eyes and remove the spirit of deception that entangles so many of us in this nation. We ask for Your healing.
Did you know that many prayers of IFA intercessors are being answered in uncovering corruption in our government? Last week,  I watched the entire Senate hearing about Andrew McCabe's handling of the Crossfire Hurricane investigation concerning Trump's team and Russia.  Here is the link to the hearing: https://www.youtube.com/watch?v=5oDhFNb-tmc.
View Comments (32)
I was impressed with the questions posed by the Republicans.  At 1 hr:55 min, Senator Cruz questions McCabe on his treatment of General Flynn's testimony to the FBI.  He also questions McCabe on an apparent discrepancy between his testimony and that of former FBI Director Comey concerning McCabe's leak to the media.
At 2hr:39 min, Senator Marsha Blackburn begins questioning McCabe.  She points out the gross incompetence of the investigation and of McCabe who was in charge of it.
At 2hr:57 min, Senator Joe Kennedy continues on this vein of questioning and identifies McCabe's incompetence for not exposing the Steele dossier as false information when he had proof. He goes on to say that McCabe's actions during the investigation show incompetence at the least and possibly even  conspiracy and fraud.
At 3hr:00 min, Senator Graham picks up on Kennedy's theme and expounds even more.  The evidence is quite overwhelming that McCabe and members of his team were biased and that the case against General Flynn should have been dropped.  Senator Graham paints a clear picture that the FBI did not show the same level of scrutiny to Hillary Clinton as they did to Trump, thus identifying bias.  He points out that no one has yet taken responsibility for all the discrepancies used to get FISA warrants against people in the Trump administration.  He argues that the large number of major discrepancies points to not only incompetence, but also to a coordinated attempt to discredit the President.
On the Democratic side of questioning, I noticed not much change on their stand against the truth.  They basically took unrelated jabs at the President concerning current events, whined about the irrelevance of the hearing, and stood on a few sentences in the IG report of this investigation about no bias found.  When the IG was questioned about that statement in an earlier hearing, he made it clear that this statement referred to the fact that no one claimed they were biased when asked.
I watched McCabe answer questions.  I noticed he used the term "I can't recall" many times, even when asked the important question if he was the one who decided to continue the investigation of General Flynn after FBI agents recommended closing it due to lack of evidence.  He was in charge yet he couldn't remember!  He seemed to not understand the gravity of opening an investigation of the Republican nominee for President.  This was a big deal, yet the gross misconduct of his department did not bother him.  He saw it as simply a few mistakes made.  He would not take responsibility for the FISA warrant on Carter Page, when it was his department that provided the evidence for the warrant.  That evidence turned out to be false information that his team collected, yet he signed off on the warrant as being truthful information.
McCabe told the committee that he disagreed with the IG report that listed 17 major issues with the Crossfire Investigation.  He felt the IG investigation was not conducted fairly.  He also said he did not think he should have been fired and has filed a lawsuit over his termination.
When Senators Kennedy, Graham, and Blackburn described the incredible harm he had done to the integrity of the FBI, McCabe showed no remorse, took no responsibility, and downplayed the accusation.  He is in denial of his own malfeasance.
I think this hearing has important spiritual implications.  We have all been praying about this investigation.  I believe that our prayers have made progress in exposing the corruption.
We are in a spiritual battle for our nation.  Behavior by people like Andrew McCabe and others in high positions in government is a being used by demonic forces to attempt to transform our country from freedom to tyranny.  When people are influenced by demonic activity, they do things they believe are right and are in denial when confronted with their wrongdoing.
The way this hearing was conducted led me to believe that something is happening to the spiritual structure of our nation. Even though McCabe denied his wrongdoing, he was on the defense the whole time.  Senators Cruz, Graham, Blackburn, and Kennedy truly had him on the ropes. Overwhelming evidence demonstrated his malfeasance.  He had no offense to strike back.
The enemy was retreating not advancing. I sensed a weakness coming from the enemy for the first time. I sensed the veil of deception lifting ever so slightly from our nation. The Republican senators have put the dots together to finally see this attempted coup for what it really was. Their words of truth struck the enemy and weakened his hold on our nation. They made it clear: We know what you did and we are not done with you. Senator Graham said he will not stop these investigations until he finds out who is responsible for this abhorrent behavior.
We intercessors know this is just one battle of many we are dealing with. We also understand it's the same enemy. When the enemy starts losing its grip in one area, it will also affect the other areas he controls.
I believe we are now seeing the effects of our prayers beginning to manifest in the natural.  We must not let up, much like when a car is pushed out of a ditch, when you first see the car move, you push harder to get it freed.  So let's continue to pray with all our strength.
With the current election chaos, its like we are all in a poker match where it comes down to the last hand and both sides have gone all in. Each side thinks they have what it takes to win. But God dealt the cards, he already knows the outcome.
Michael Guidera is an IFA intercessor, retired from a 35 year career developing implantable medical devices that have brought help and relief to thousands of people. (Photo Credit: Getty Images.)
Share your prayers in the comments below for the spirit of deception over our nation to be lifted!
Partner with Us
Intercessors for America is the trusted resource for millions of people across the United States committed to praying for our nation. If you have benefited from IFA's resources and community, please consider joining us as a monthly support partner. As a 501(c)3 organization, it's through your support that all this possible.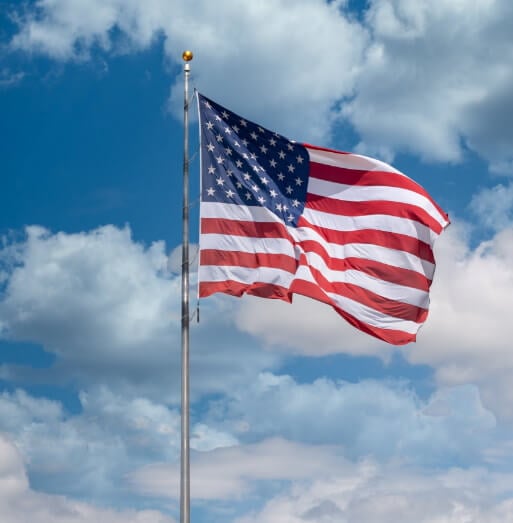 Become a Monthly Partner