INTERCESSOR, YOU ARE CORDIALLY INVITED . . .
Gloria Robles, IFA Contributing Writer
|
November 17, 2020
INTERCESSOR, YOU ARE CORDIALLY INVITED . . .
Gloria Robles, IFA Contributing Writer
|
November 17, 2020
I Prayed
have prayed
Father, thank You for the encouragement from believers around the world. We cry out to You for America and for the world.
Do you read the comments on the articles at IFApray.org? I was recently stirred up by a comment from an intercessor. Not only did they get prophetic words from God for America, they have faithfully prayed for over 30 years. Did I mention this intercessor was from Africa? Amazing! Here is the comment by Funmi on the article Prophetic Words from IFA Writers:
I am not a prophet, neither do I live in the U.S. I am an intercessor in Africa. God has been speaking so precisely about his second Azusa revival that will spread all across the nations of the earth and how Donald Trump was his Cyrus to use this in. Don't let anyone deceive you by saying the prophets have egg on their faces. God has been speaking to me for more than 30 years about the rising of the remnants. Don't be discouraged, Gideon won the war with only 300 men, so that men will not take the glory. Only Joshua and Caleb stood up for God. Dare to stand up for God in this season. If God is motivating us to be in fasting till January, 30 days counting, you can imagine the warriors doing this across the earth. This not just the U.S. my brethren, it is about our Christian liberty all across the world. Think beyond America, think of God's plan for Israel, for Africa, and other nations. See the boldness of Trump in obeying God's plan about Israel.
Pls don't give up and FIGHT. We are fighting and the word of the Lord will definitely come to pass.
Stand up REMNANT!

View Comments (70)
Intercessors, we are in Kairos moment. That's just a fancy word for the time we are in now. Kairos is a time of opportunity.  In the Greek it translates as the right time. You were born for this Kairos moment and God is inviting you to participate. What will you do?
Will you dare to be a David, who stood face to face with the giant? He ran to the battle and said, "I come to you in the name of the Lord of heaven's armies- whom you have defied." (1 Sm 17:45-50)
Will you dare be an Esther who saw the time of opportunity to save her people and trusted in God? Her actions ended up reversing an edict that would have led to the destruction of God's people. (Est 4-5)
Will you dare to be a Deborah? The only female judge, she not only led the nation, but also led them into battle. Perhaps it was Deborah's courage that inspired Jael ( a woman) to strike Sisera. (Judges 4)
Will you dare to be a Caleb or a Joshua, two of twelve sent to spy out the promised land? While the other ten were filling the camp with fear and bad reports, Caleb declared " Let us go up at once and occupy it, for we are well able to overcome it." (Nm 13:30)
David was a youth, fighting a seasoned man of war who was a giant. Esther was an orphan, taken from her home, but selected and became a queen. Deborah led in a time when women leaders were not prominent. Caleb stood up to the majority when he offered to go and occupy the land. God didn't care about class, gender, age, or qualifications. All God wanted was men and women who would say yes to the invitation. Because they said yes, they became history makers.
Each of these instances were Kairos moments to be seized. They were invitations to get involved. They were now or never moments and this is where we are as a nation right now.
We are able. We are equipped. We have the armor of God. We have His word. We have the name and blood of Jesus. We have community. We have the power of fasting and prayer. We have great and precious promises to pray back to Him. Let's be those intercessors like Isaiah 62:6,7 describes. watchmen on the walls, who pray day and night, continually, who take no rest until the Lord completes his work.
If you study the history of revivals, they are not usually contained to just one region or nation. Let's take Azusa as an example. William Seymour was a student of Charles Parham in Houston, Texas. He then moved to Los Angeles, California and eventually the Azusa Street Revival was born; however, it didn't end in California. Much evangelism and missionary work came from this revival. By 1907, missionaries from the revival reached three continents and several countries. One revival, many souls won, global impact.
Much is at stake right now. When we cry out for awakening, our hearts' cry is also for the nations. We are a united body of Christ. We are one body, though we are made up of many. I have been joining online prayer meetings almost daily. I join with multitudes of intercessors who are crying out for justice and the future of America. Like our dear friend from Africa, I have seen many people from different countries saying, "I am praying for America." In fact,  here is a message IFA just received:
Dear brethren in America,
Be kindly encouraged that you are not alone in this battle for the soul of America. There are many platforms in Nigeria praying for you. I know of two groups at least in my city of Port Harcourt here in Nigeria. On Wednesday, another group of intercessors met in the afternoon at the Ecumenical Centre pray for President Trump and the nation of America. Be encouraged. You are not alone. It shall come out fine, soon, and you all shall dance. We are persuaded that God does not and has not lied. A new America shall emerge despite the satanic oppositions in the air. Shalom.
Prof Kontein
Port Harcourt, Nigeria
The enemies of God are defiantly watching. The next generation is watching. Nations that look to America for support, like Israel are watching. The world is watching to see what will happen.
What will you do? Will you say yes to God's invitation to see this nation turn around?
Rev. Duncan Campbell of the Hebrides Revival said this, "God is the God of revival but man is the human agent through whom revival is possible."
Author Gloria Robles is a passionate intercessor with a prophetic voice for today. For more from Gloria, go to Spotify or Anchor to listen to her podcast Something To Share. (Photo Credit: Unsplash.)
Share your prayers below!
Partner with Us
Intercessors for America is the trusted resource for millions of people across the United States committed to praying for our nation. If you have benefited from IFA's resources and community, please consider joining us as a monthly support partner. As a 501(c)3 organization, it's through your support that all this possible.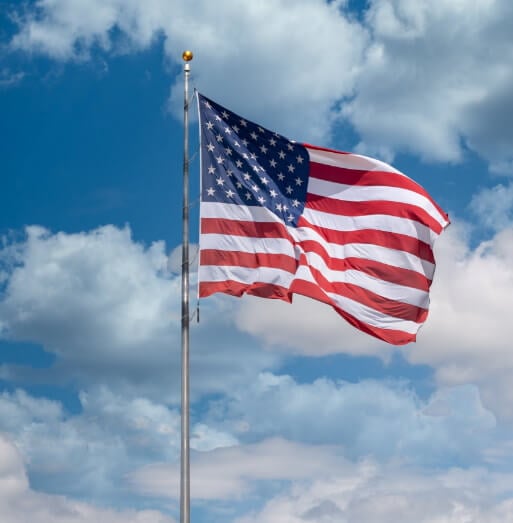 Become a Monthly Partner