SENATE SEEKS TO ENSURE FREE SPEECH ON COLLEGE CAMPUSES
Nancy Huff, IFA Contributing Writer
|
August 26, 2020
SENATE SEEKS TO ENSURE FREE SPEECH ON COLLEGE CAMPUSES
Nancy Huff, IFA Contributing Writer
|
August 26, 2020
I Prayed
have prayed
Lord, We thank You for the commitment our founding fathers made to allow free speech to be a part of America's heritage. We ask You to bring respect and civility in the exchange of ideas on the campuses of our universities and colleges.
If a speaker with a controversial political viewpoint is invited to speak at a university or college campus, there exists the likelihood of fierce opposition by the more liberal members of the student body. When this happens, the school administration often, in anticipation of riotous protests, may decide to disinvite the speaker, which was the case when Ben Shapiro, a conservative, who was scheduled to address California State University at Los Angeles. Mr. Shapiro is not the only one pushed out of his exercise of free speech on a university campus. The list is long and includes Condoleezza Rice, George W. Bush, Ann Coulter, among others. This free speech issue–an increasing number of conservative speakers disinvited or shouted down if they are brave enough to show up for their speaking engagement–has come to the attention of President Trump and the U.S. Senate.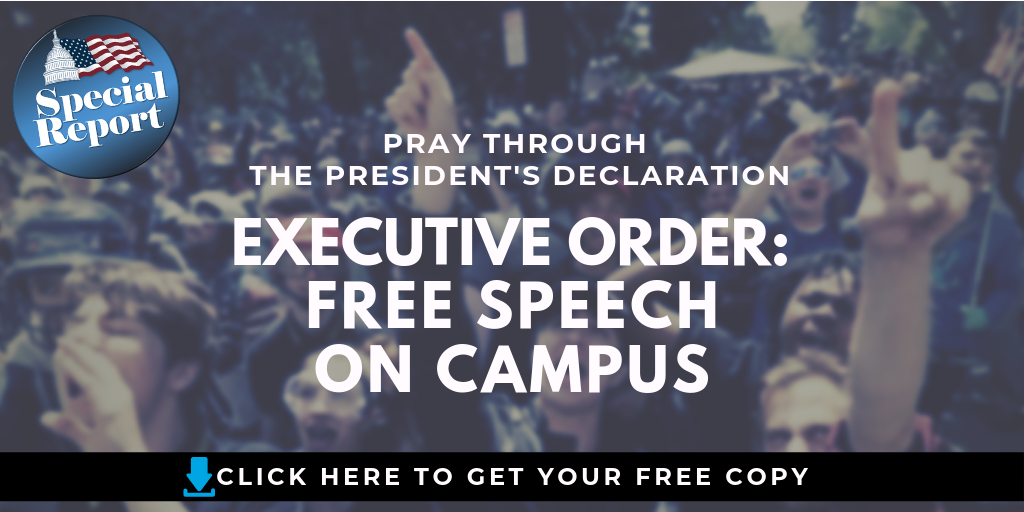 View Comments (1)
On March 21, 2019, President Trump signed an Executive Order designed to promote free and open debate on college and university campuses, with meaningful steps to address the problems. The Executive Order was promptly dismissed by two liberal education groups: The American Council on Education (ACE) and the National Education Association (NEA). Both organizations argued that free speech on university and college campuses is not an issue. Ted Mitchell, the president of ACE, quickly issued a statement denouncing President Trump's Executive Order as unnecessary and unwelcome, a solution in search of a problem.
In an article published shortly after President Trump's Free Speech press release, National Education Association (NEA) senior policy analyst Mark F. Smith dismissed the need for any action whatsoever and accused President Trump of only focusing on the free speech rights of conservatives. According to Smith, public universities already abide by the First Amendment, and students in our classrooms regularly enjoy the free discourse of controversial ideas. Mr. Smith's statement is true if those ideas fit the narrative of liberal campus ideology. If a speaker holds a conservative political ideology or a pro-Israel stance, like Bassem Eid, a Palestinian who began his career investigating Israeli human rights violations then broadened his research to human rights abuses committed by the Palestinian Authority. Pro-Palestinian students shouted him down at the University of Chicago.
In addition to President Trump's Executive order, recent legislation introduced by U. S. Senator Tom Cotton could help to break the free speech dam. The Campus Free Speech Restoration Act would require universities to support a variety of free speech measures or face penalties. The Act would create a system whereby students could file complaints on First Amendment violations. The Department of Education could investigate those complaints and, if needed, revoke eligibility for federal funding from public and private colleges that violate protected free speech. The bill co-sponsored by Senate Majority Leader Mitch McConnell stands a good chance of passing.
LET YOUR SENATORS KNOW YOU SUPPORT THIS LEGISLATION AND THAT YOU ARE PRAYING FOR THEM!
The NEA and the ACE staunchly deny free speech does not flow freely on campuses. Still, the adverse actions of the students and administrators at the universities and colleges they represent, speak otherwise. The lack of First Amendment rights in our institutions of higher learning can no longer be dismissed or ignored. Disinvites and student protests have taken on a violent nature, especially for speakers students perceive as being politically conservative.
The public can no longer expect universities and colleges to discipline their shouting, rude students who show outright disregard for the First Amendment. Professors and Administrators have the authority and the right to address disrespectful behavior but have failed to do so.
According to John Ellis, author of The Breakdown of Higher Education, funding is the one large lever the government has to break the absence of the free speech dam on our university and college campuses. His first suggestion is for state and federal legislatures to garner the political will to withdraw funding as a means of reforming education. Once they decide to act, they should put in place the plan to do so.
Free speech on the campuses of America's universities and colleges is a glowing ember that needs the flame of prayer to bring it back to life. With the introduction of the Campus Free Speech Restoration Act combined with President Trump's Executive Order, we have a start toward the reinstatement of free speech and holding administrations accountable when free speech is suppressed.
About the Author: Nancy Huff is an educator with a mission to equip believers to pray strategically for the Cultural Mountain of Education. She has authored Taking the Mountain of Education: A Strategic Prayer Guide to Transform America's Schools. She leads prayer groups to pray at key educational locations across the U.S. Currently, Nancy serves as the Heartland Apostolic Prayer Network (HAPN) Lead Prayer Coordinator for the Mountain of Education. For additional information go to: https://takingthemountainofeducation.com/author/nancyahuff/
(Photo Credit: Flickr.)
Partner with Us
Intercessors for America is the trusted resource for millions of people across the United States committed to praying for our nation. If you have benefited from IFA's resources and community, please consider joining us as a monthly support partner. As a 501(c)3 organization, it's through your support that all this possible.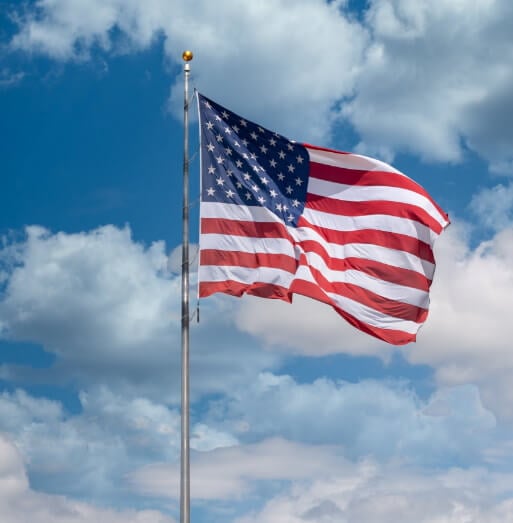 Become a Monthly Partner