DAVID KUBAL: DHS WHISTLEBLOWER PHIL HANEY FOUND DEAD
David Kubal, IFA President/CEO
|
February 25, 2020
DAVID KUBAL: DHS WHISTLEBLOWER PHIL HANEY FOUND DEAD
David Kubal, IFA President/CEO
|
February 25, 2020
I Prayed
have prayed
Lord Jesus, please reveal the truth about the death of Philip Haney, our brother in Christ and friend of IFA.
You may have heard an Obama Administration Homeland Security Whistleblower, Philip Haney, was found dead on Saturday under mysterious circumstances in California.  Here is my recollection of this wonderful man:
Philip and Frannie (Francesca) Haney joined our family for Thanksgiving dinner in 2018. Although my wife Kris and I had heard Philip's story before, we never tired of hearing it. We knew that our kids and extended family were in for a treat. My family sat mesmerized by Philip's story of being a founding member of the Department of Homeland Security. Philip did not follow the usual path of joining the intelligence community. He was an entomologist (entomology is the study of insects) by education, and often compared the movement of insects to the movement of terrorists. I believe God gave him that insight–who would think of that?! He also was self-taught in middle eastern languages, culture, and geopolitical issues. He became a recognized expert in radical Islam and was not deterred by the increasingly politically correct culture in referencing Islam.
View Comments (52)
He recollected how his attention to details (and, I would add, genius IQ) enabled him to see patterns of behavior few could pick up. He gathered his findings and quickly became noticed by his superiors as one with incredible knack and talent.
My family was so caught up in the awe and gravity of Philip's story that nobody could even ask for seconds. They just sat and listened. They listened to the story of how Philip began to rise to the surface of the agency and become noticed by high ranking members of the Obama administration, who quickly flagged him as one who could be trouble.  As the Thanksgiving story turned to Philip's recollection of how he was indicted nine times by the Obama administration, how he saw top secret evidence he had gathered disappear before his eyes, and how he was called in for questioning, my family could not believe the hero and patriot who was sitting at our Thanksgiving table.
All the while, dear Frannie sat by his side, so familiar with the story, yet commenting how proud she was of him for doing what was right even though it was costly. We didn't know it at the time, but she was in her final months in her fight with cancer. Phillip's tenderness toward her left an indelible mark in my mind. He would pause just long enough to show her how uncomfortable he was with all the attention being on him during the meal and not on her. She didn't seem to care because she was as committed to Philip's story being told as he was.
I can still remember that at the end of the evening I felt a deep sense of the significance of the night. Frannie needed two canes to walk; Philip backed the car down the drive to help her. Kris and I stood in our stocking feet on the cold driveway and watched them drive off into the dark to go to their home just a few miles away.
I had sensed that night was special, now I know how special it was.
Frannie passed a few months later, with Philip constantly by her side until the end. He would send us pictures of her as she lay in her hospital bed, fully expecting the treatment and their prayers to bring complete recovery.
Philip was a constant friend to my family and the IFA family. He was at our office regularly because in his heart of hearts he was an intercessor. If he could do anything, it would be pray because he fully believed in its power. He appeared many times on our prayer calls because of his great insight and intercession. After many of the prayer calls which he faithfully participated in, he would text how he was moved by the prayer call, encouraging us in what we were doing, and grateful to be a part of the intercessory family of IFA. Kris remembers when she asked him many questions about radical Islam, as she was writing a special report on it at the time, and he solemnly told her, "What I am going to tell you is life-changing. You will not be able to un-see it once you have been made aware." It was true.
I once asked him what motivated him. I expected a long response, but he simply said (this is exactly what he said), "I just want to make a difference." This motivation caused him to structure his life so that he could be anywhere he felt there was an assignment from the Lord. Speaking engagements, TV shows, radio interviews, church conferences, etc. He didn't care about possessions, his own reputation, or positions of authority. He just wanted to make a difference.
His life was often in danger because of what he knew.  He and Frannie spent years living in an RV just to stay under the radar, but were still able to go places to share the message God gave him. Much has been said about his passing and that there must be foul play. He said to many, including myself, that if he passed under strange circumstances it would be because of foul play.  I just pray that his passing will make as much difference as his life did.
I  want you to know that we have lost a wonderful man. He was as bright as he was kind. He was great at giving speeches and he was great at listening to God. He showed superhuman effort to make the truth known, while making all who walked with him feel important just to have known him. He was the kind of patriot who would lay down his life for our nation because he knew the uniqueness and divine origin of it.
He will be greatly missed, but I am so glad he is reunited with his dear Frannie and in the glorious presence of the One he served so faithfully.
Phillip Haney, may you rest in peace knowing you made a difference.
Click here to read the initial coverage of Philip Haney's death and and his connection with IFA. 
Partner with Us
Intercessors for America is the trusted resource for millions of people across the United States committed to praying for our nation. If you have benefited from IFA's resources and community, please consider joining us as a monthly support partner. As a 501(c)3 organization, it's through your support that all this possible.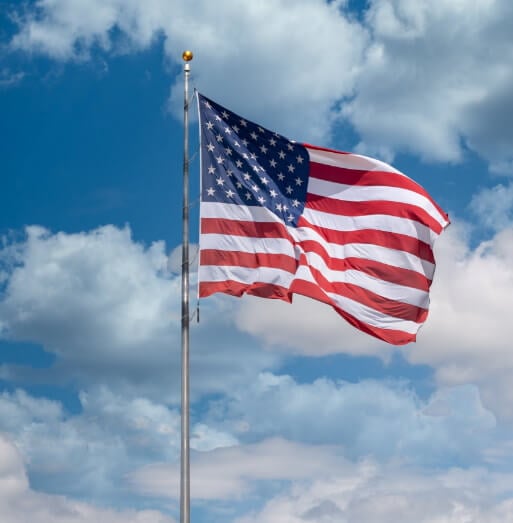 Become a Monthly Partner