August 8, 2020 | From The White House
Heavenly Father, please protect our president from the many threats on his life. We ask that You create a hedge of protection around him and use him strongly for Your kingdom.
On Thursday, in a speech at the Whirlpool factory in Ohio.  President Trump said, "I have a lot of enemies out there. You may not see me for a while." What did he mean? Here are excerpts from the speech.
From The White House:
…My third promise is to build on these gains to turn America into the premier medical manufacturer, pharmacy, and drugstore of the world. . . .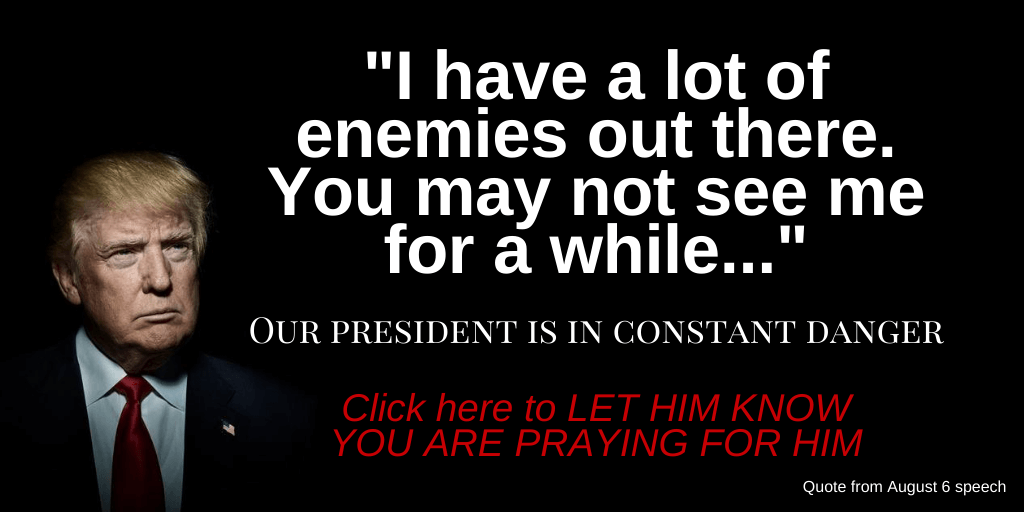 As we've seen in this pandemic, the United States must produce essential equipment, supplies, and pharmaceuticals for ourselves.  We cannot rely on China and other nations across the globe that could one day deny us products in a time of need.  We can't do it.  We can't do it.  We have to be smart.
And speaking of pharmaceuticals, we instituted four moves — rebates, favored nations, and other things — buying from other nations where they have the product — the same exact pill, identical; made in the same factory — for a fraction — just a small fraction of the cost.  We buy from other countries, as opposed to buying through this ridiculous quagmire of political scam that we've been going through for many years.
And what I've done, in terms of favored nations, if — as an example, Germany has a pill for 10 cents and we have a pill for $2.  We institute favored nations on the drug company.  We get the pill for the same amount as the lowest pill anywhere in the world.  Anywhere in the world.
And that could drop your price of pharmaceuticals, of drugs — prescription drugs — it could drop your price 50, 60, 70 percent, maybe more than that.
This is something — now, I have to tell you, I have never seen so many bad commercials about me as in the last three days since I did this.  So, will you remember that when you see this horrible commercial that I'm a "socialist" — I was called a "socialist" for the first time in my entire life.  Actually, what I am doing is I'm using socialist countries, who are buying our product for far less than we're allowed to — I'm saying, "Well, if you're going to sell it to this country…" — might be socialist — "…for a lower price, then we're going to get that same price."  So, you know.
But I have been called everything in the book.  And I say — I said, the other day, "Whenever you see a drug company advertising that Donald Trump is a bad guy, remember: Your drug prices must be coming down very big.  Very big." . . .
But during the course of the next four years, we will bring our pharmaceutical and medical supply chains home.  We're going to bring them home where they belong.  And we'll end reliance on China, just like we did with the washers and dryers, just like we did with many other things.  We'll be making our product here safely, beautifully, and inexpensively.
We're reasserting American economic independence.  And I've been doing that from the first day I came into office.  To this end, a short time ago, I signed the new executive order to ensure that when it comes to essential medicines, we buy American.
The executive order will require that U.S. government agencies purchase all essential medicines that we need from American sources.  The executive order will also sweep away unnecessary regulatory barriers to domestic pharmaceutical production and support advanced manufacturing processes that will keep our drug prices low and allow American companies to compete on the world stage.  We'll be able to compete on the world stage, but we're now going to have the lowest prices, as opposed to, by far, the highest prices. . . .
So I have a lot of enemies out there.  This may be the last time you'll see me for a while.  A lot of very, very rich enemies, but they are not happy with what I'm doing.  But I figure we have one chance to do it, and no other President is going to do what I do.  No other President would do a favored nations, a rebate, a buy from other nations at much less cost.  Nobody.  And there are a lot of unhappy people, and they're very rich people, and they're very unhappy.
(Don't forget to subscribe to the IFA YouTube channel.)
Here's my fourth promise to American workers: Beyond our medical supply chains, over the next four years, we will onshore millions of new manufacturing jobs across many other critical sectors that are vital to our national security and prosperity — from electronics to machine tools, to shipping, aerospace, autos, and, of course, to iron and to steel.  And we'll never forget your washers and dryers. . . .
What do you think about Trump's comment about fearing for his safety? Discuss and share with your friends!
My fifth promise to American workers is to bring back American jobs in factories using every tool at my disposal, including tariffs — I love properly-put-on tariffs, because they bring unfair competitors from foreign countries to do whatever you want them to do — countervailing duties, and new trade deals based on the principle of fairness and reciprocity.
And I'll be signing something very important.  Watch over the next week.  I think you'll be very proud of your President.  I'm going to be signing something that's very important over the next, probably, week.  And it'll have a tremendous impact on fairness and trade.
As part of this commitment, earlier today I signed a proclamation that defends American industry by re-imposing aluminum tariffs on Canada.  Canada was taking advantage of us, as usual, and I signed it, and it imposes — because the aluminum business was being decimated by Canada.  Very unfair to our jobs and our great aluminum workers. . . .
My sixth and final promise today is to forever uphold the commitment I made from the beginning: I will always put American workers first.  Always.  They'll always be put first. . . .
As part of this commitment, on Monday, I signed an executive order to prevent government agencies, like the Tennessee Valley Authority, from replacing American workers with cheap foreign labor.  There's a very big utility run by a man that gets $8 million a year.  Would anybody in this room like that job?   Eight million.  Eight million a year, right?  Highest-paid — he's really — he doesn't work for me; I wouldn't pay $8 million.  If you paid him — the President gets $400- — $450,000.  I give up my salary.  Nobody ever says that.  I might as well, every once in a while, say it.  I believe I'm the only President to do that.  And I'm saying, "That's not too smart."
But over the last four years, we've made extraordinary strides, and over the next four years together, we will turn the United States into the unrivaled manufacturing superpower of the world.  We've been through a lot together. . . . .
But to achieve the vision that we've been talking about for so long, we must finish the job and drain the Washington swamp once and for all.  And we're doing it.  . . .
Under this administration, those days have been over, and we're not going back.  We're respected again as a country.  You know, we're respected again.  You may not feel it, although I think you do.  You may not see it.  You don't read about it from the fake news, but this country is respected again.  We don't let people take advantage of us, including our allies, who took tremendous advantage of us.  Tremendous. . . .
As long as I am President of the United States, I will fight for you with every ounce of energy and strength that I have.  I will be your voice.  I will defend your jobs.  I will stand up to the foreign trade cheaters and violators that hate our country.  I will never let you down.  I will have your back, 100 percent. . . .
For more than a century, the workers of this company have continued the proud tradition of American greatness embodied by your legendary founder, Lou Upton.  It's a heritage grounded in the values of hard work and determination, innovation and excellence, faith and family, loyalty and patriotism passed down from one generation to the next.  You have an incredible heritage.  These are the values that have defined this company and defined our country from the very beginning, and they are the values that will define our future, that will ensure our success, and that will allow America to thrive and win for many generations to come.  There is nobody that can defeat us.  Nobody. . . .
(Excerpt from The White House. Photo from The White House Flickr.)
What did you think about President Trump's address? Share your comments and prayers for our president!