Prayer to Destroy Demonic Experiments
Jamie Rohrbaugh, IFA Contributor
|
July 7, 2022
Prayer to Destroy Demonic Experiments
Jamie Rohrbaugh, IFA Contributor
|
July 7, 2022
I Prayed
have prayed
Dear Heavenly Father, people with evil intentions in this world are performing experiments to hurt mankind, not help us. We humbly ask in Jesus' name that You would hinder, thwart, derail, and destroy all demonic experiments and any unholy equipment used to perform them, in Jesus' name.
Over the last two years or more, much information has been coming to light about demonic experiments that evil people are performing. Whether it's illegal gain-of-function research or searching for the "God particle" at the Large Hadron Collider, those who align themselves with the dark side have been busy trying to harness science to pervert God's creation, control people, remove freedom, and implement their nefarious agendas.
View Comments (341)
When I think of these things, I am reminded of God's Word from Psalm 2:1-6:
"Why do the nations rage, and the people plot a vain thing? The kings of the earth set themselves, and the rulers take counsel together, against the Lord and against His Anointed, saying, 'Let us break Their bonds in pieces and cast away Their cords from us.'
He who sits in the heavens shall laugh; the Lord shall hold them in derision. Then He shall speak to them in His wrath, and distress them in His deep displeasure: 'Yet I have set My King on My holy hill of Zion'" (Psalm 2:1-6 NKJV).
Beloved, God's hand is not shortened, that it cannot save; nor His ear dull, that it cannot hear.
Even though the wicked plans of evil men may seem too big for us to pray about, they are not. Our God is the Alpha and Omega; the First and the Last. He gets the first word, and He gets the last word, and He always has.
Therefore, if you—like me—are concerned about the dark and evil experiments being conducted by those who espouse the globalist agenda, all we have to do is pray—and we will, in fact, see God move in answer to our prayers.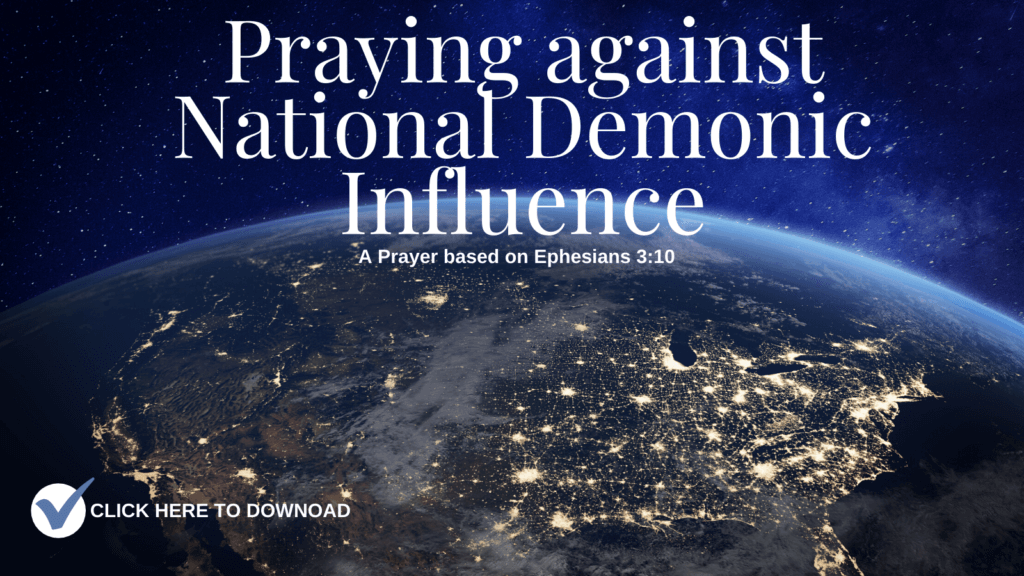 Join me in praying this prayer to destroy demonic experiments today:
"Dear Heavenly Father, I come to You in Jesus' name.
Abba Father, we thank You today for inclining Your ear to hear our faintest whisper. We thank You that one word spoken into Your ear can truly shake heaven and earth, and we thank You in advance for moving on our behalf with Your mighty hand and Your outstretched arm.
Father God, You and You alone sit in judgment above the circle of the earth.
You are God alone, and Your throne is the governmental seat of the universe. You are the First Word and the Last Word. Your voice makes Heaven tremble, and You are King of kings and Lord of lords—stronger than all the politicians, armies, and experiments in this world. We praise You for that, Father.
Abba Father, we petition You for Your help today.
Your Word says that we should boldly come before Your throne of grace, that we may obtain mercy and find grace to help in time of need. That's what we're doing right now, Lord. Thank You in advance for granting us this petition, and thank You that You will do everything we ask of You today.
Father, You see the nefarious plots and agendas of men. You see the wicked experiments that people are performing:
trying to create matter;
trying to create a super-human hybrid race with supernatural strength and dominance;
trying to clone things that shouldn't be cloned;
trying to alter the structure of molecules and diseases in order to weaponize them for evil purposes—and more.
Father, You are the great and wise God. You are the only Creator. And because wicked men and women are interfering where they ought not, all in an effort to implement additional evils on the earth, we ask right now that You would interfere on behalf of the righteous:
Reach down from Your throne, O Lord, and demonstrate Your superiority to them in every area.
In Your derision toward them, Father, we humbly ask that You would destroy their wicked tools and evil devices.
Convict, confuse, and scatter the intelligentsia; confuse their language as You did at the tower of Babel.
Frustrate, hinder, and bring to no effect every demonic experiment that people are performing.
If You allow any experiments to continue, let it be only to reveal Your existence, Your goodness, and Your power in additional ways through science—that many would see and hear, and put their trust in You, Lord.
We ask in Jesus' name, Father, that You would destroy every unholy product of wicked experiments that has already been produced.
Let every piece of unholy machinery and equipment cease working, and prevent each one from being repaired.
Let every wicked and evil laboratory become unfit for use for any evil purpose.
Let every plan of the wicked be frustrated and come to nothing.
Halt, hinder, and confuse all gain-of-function research.
Destroy, break, and annihilate any devices used to create matter, open wormholes, open black holes, or open portals to hell.
Expose every work of darkness, and let the people of the world reject these evil works soundly.
Father God, we collectively repent on behalf of our nation and the world for our involvement in these demonic experiments.
Forgive us, Lord. Cover us with the blood of Jesus. Wash us clean and let us turn to You again. Fill us as individuals with Your Holy Spirit.
Lord, we ask that You would convict every person involved with these things.
Change their hearts; let them see Your Holy Son Jesus and bow the knee to Him, making Him their Savior and Lord. It is not Your will that any should perish, but that all should come to repentance. So convict them, Lord; let them see visions of Jesus, the Man in white, and let them repent of their sins and forsake all works of the devil, in Jesus' name.
And then, Father, we ask that You would pour out Your Spirit upon all flesh, as You promised in Joel 2:28-29—and let Jesus be glorified in the place of all the intentions of the wicked and evil forces on the earth.
Thank You, Abba Father. This is a big prayer, but we know You can do it—for You are so much bigger than any force or work of darkness could ever be.
And we know and confess in faith that good news regarding Your work on this matter is coming, for You are light, and in You is no darkness at all; and in Your light, we see light. As we continue to dwell in Your light, we will see Your light dawning and making darkness flee in every corner of the earth, and in every area—including in the destruction of demonic experiments.
Thank You, Holy Father. Thank You, Lord Jesus, and thank You, Holy Spirit. It's in the mighty and matchless name of Jesus Christ of Nazareth, the True and Risen King, that we pray and ask all these things. We give You all the praise.
In Jesus' name we pray, amen."
Did you pray and ask the Lord to destroy every demonic experiment today? If so, leave a comment below and confess your faith that He is working in this area even now!
Please share this prayer!
Jamie Rohrbaugh equips people to walk in the manifest presence of God. She is the author of 21 Days of Breakthrough Prayer: A Guided Prayer Journey. She blogs for a global readership at FromHisPresence.com, where she writes about prayer, the prophetic word, living supernaturally, inner healing, and Kingdom wealth. Her writing is featured on YouVersion, Charisma Magazine, The Elijah List, Spirit Fuel, and various other ministry outlets. Download her free prayer tool, Praying the Names of God: 555 Biblical Names of God and How to Use Them in Prayer and Worship, here. Photo by Joel Filipe on Unsplash.