PRAYER FOR CHIEF JUSTICE JOHN ROBERTS
Jamie Rohrbaugh, IFA Contributing Writer
|
January 5, 2021
PRAYER FOR CHIEF JUSTICE JOHN ROBERTS
Jamie Rohrbaugh, IFA Contributing Writer
|
January 5, 2021
I Prayed
have prayed
Father God, we lift Chief Justice John Roberts up to You. Father, use him for Your glory. If he is no longer ruling on the side of justice, convict him and deal with Him as You see fit. Help him to uphold the Constitution and judge fairly and justly in all things.
As the Chief Justice of the United States Supreme Court, John Roberts has tremendous power in our nation today. In addition to his vote in Supreme Court decisions, he also:
View Comments (38)
Presides over Court sessions when the Court is hearing arguments;
Presides over private debate sessions between the justices; and
Presides over the Judicial Conference of the United States, which reviews the administration of justice (or lack thereof) in lower courts.[1]
Additionally, history has shown that the Chief Justice, if he has a strong personality, can sometimes sway the Associate Justices around him when deciding cases.
Perhaps this is why the apostle Paul told us in 1 Timothy 2:1-4:
"Therefore I exhort first of all that supplications, prayers, intercessions, and giving of thanks be made for all men, for kings and all who are in authority, that we may lead a quiet and peaceable life in all godliness and reverence. For this is good and acceptable in the sight of God our Savior, who desires all men to be saved and to come to the knowledge of the truth."
As with all people in authority of any kind, we as Christians should pray for Chief Justice Roberts as often as possible.
We need the nation's top judge to adjudicate cases based on the Constitution; to uphold righteousness and justice; and to use his influence in the Supreme Court and in lower courts to ensure that true justice is administered across the land.
Would you join with me today and pray for Chief Justice John Roberts?
Pray this prayer for Chief Justice Roberts if you agree:
"Father God, in Jesus' name, we lift Chief Justice John Roberts up to You.
Father, we do not know the state of Justice Roberts' heart, but You do. We do not know what, if anything, is happening behind the scenes in his life—but You do.
Father, we in this nation need a Chief Justice who rules and judges fairly. We need a Chief Justice who makes decisions on behalf of righteousness and justice; who does what is right because it is right, without coercion and without wavering. We need a Chief Justice who defends the Constitution; who is not an activist, but who rather recognizes the unique role granted to this position by the Constitution, and who remains within that role.
Father God, it is Your will for Chief Justice Roberts to judge fairly. It is Your will for him to act righteously. So we lift Him up to You today, Lord, and we say:
Search him, O God, and know his heart. Try him and know his thoughts. See if there be any wicked way in him; and if there is, then get it out—and lead him in Your way everlasting.
Convict him if there is any compromise away from true righteousness and justice in his heart.
Show him his sin if he is in sin. Show him what Jesus looks like, and what true righteousness and justice look like.
Show him that Your enemy, the devil, is already judged and has already lost because of Christ Jesus. Show him that there is no hope or future for him if he continues in sin.
Bring repentance where repentance is necessary.
Turn him around and cause him to begin judging fairly and rightly, no matter the cost, if in any way he has not been judging fairly or rightly in Your eyes.
Expose anything in his life and judgeship that You need to expose.
And Father, we ask You to protect him from anything that would hinder his fair and righteous judgments:
Protect him and his family from the threats and violence of those who hate You.
Protect his health, his mind, and his ability to reason wisely.
Give him wisdom, understanding, prudence, and discretion.
Cause him to love righteousness and hate lawlessness.
Bring him to love everything that is right, and to hate every false way.
Father, we pray that Chief Justice John Roberts would uphold the Constitution in all things.
Let all his decisions be fair, and not influenced by any unholy or personal preferences. Let him rule in every decision as You desire him to rule.
We ask You to extend his judgeship if he will judge fairly and rightly. However, Father, if Justice Roberts kicks against Your goads and refuses to bow to You, we ask You to fight against him however You deem necessary in order to preserve the integrity of the Supreme Court of the United States.
Finally, Father, we ask You to remind Chief Justice Roberts of the ancient paths.
Remind him how the ancient judges used to fast and pray before making decisions—paying the price in their own bodies and approaching the bench with fear and trembling, lest they pervert justice. Convict him to do the same, being willing to sacrifice his own personal preferences in order to preserve true justice in all things.
Thank You, Father. We give You all the praise. In Jesus' mighty and precious name, amen."
Intercessors, we cannot assume that our judges are doing well just because they are often cloistered in their chambers. The judges in our land have tremendous power, and we must continually pray for their safety, for their wisdom, and that they will rule on behalf of righteousness.
***
[1] https://supremecourthistory.org/htcw_chiefjustice.html Accessed on December 28, 2020
Jamie Rohrbaugh is an author and speaker who equips people to walk in the manifest presence and power of God. Jamie blogs for a global readership at FromHisPresence.com, where she writes about radical prayer, the prophetic word, the supernatural lifestyle, inner healing, and Kingdom wealth. She is a frequent contributor to Charisma Magazine, The Elijah List, Spirit Fuel, and various other ministry outlets. You can contact her here or download her free ebook containing 555 names of God for prayer and worship here. (Photo Credit: Getty Images.)
Partner with Us
Intercessors for America is the trusted resource for millions of people across the United States committed to praying for our nation. If you have benefited from IFA's resources and community, please consider joining us as a monthly support partner. As a 501(c)3 organization, it's through your support that all this possible.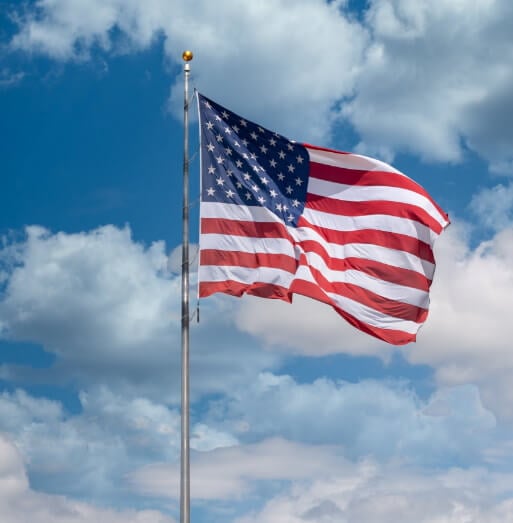 Become a Monthly Partner