PRAY AND PRAISE THROUGH ADVERSITY
Wanda Alger, IFA Field Correspondent
|
March 23, 2020
I Prayed
have prayed
Lord, show us how to praise and worship even when we don't feel it in our minds. Transform us through the act of worship!
At a time when spiritual warfare is increasing on all fronts, I believe the Lord is calling upon believers to lift up praises as our primary weapon of warfare. In 2 Chronicles 20 Jehoshaphat's band of worshipers went out ahead of the army in praise to defeat their enemies. The power of their song to the Lord totally confused the enemy and shut down the attack against God's people. Their song was simply "Give thanks to the Lord, for His steadfast love endures forever" (2 Chronicles 20:21).  One of the smallest songs recorded in the Bible, and expanded in Psalm 136, defeated a huge host encamped against Israel – and they didn't even have to fight!
We recently heard from one of our intercessors who confirmed this word with a similar call to "Sing, sing, sing" in the midst of our enemies. Here is what she wrote:
View Comments (8)
"As spiritual warfare increases throughout the world, intercessors can grow weary – but there is a way for us to fight and be refreshed in the Spirit at the same time. In Ephesians 6, the apostle Paul tells us how to put on the armor of God. But, in Ephesians 5, he gives us a huge clue to an often unused piece of warfare: singing His Word.
Instead, be filled with the Spirit, speaking to one another with psalms, hymns, and songs from the Spirit.  Sing and make music from your heart to the Lord, always giving thanks to God the Father for everything, in the name of our Lord Jesus Christ. (Ephesians 5:18-20)
While praying and declaring the Word gets His sharp two-edged sword into the middle of soul and spirit, joint and marrow – singing gets to the heart of the matter.  It revives the spirit. It refreshes. It strengthens. Singing in praise to our God calms our fears and anxieties and breathes life into a situation.
Though the airwaves are filled with Christian artists, it is time for us to pull out God's greatest hits – as penned by David, the Sons of Korah, and Asaph. Singing Psalms directly from God's Word stills us in the Spirit with sound theology, and praises the Lord in the way that we were called to operate – as one body, as one faith, as one bride.
After confronting a demonic spirit that was harassing him through witchcraft (see Acts 16:16-40), Paul was thrown into prison. While in prison, he did not complain. He and Silas sang hymns and prayed.  About midnight, their prayers and songs were answered with an earthquake, broken chains, and the opportunity to convert their captors. What a great pattern of warfare for us to observe!  Read what the Word says and put it into action through faith and love for our fellowmen who were created in the image of God and need to be set free." (Shelley Hendrix McLaughlin, LA)
We would like to suggest that at this time when spiritual warfare is high and our spiritual adversary tries to advance, we not only pray through this COVID-19 crisis, but praise through it! We believe our collective voices lifted in praise to the Most High God has power to nullify every curse and demonic assignment levied against the people of God.
Lift up your heads, you gates; be lifted up, you ancient doors, that the King of glory may come in. Who is this King of glory? The Lord strong and mighty, the Lord mighty in battle. Lift up your heads, you gates; lift them up, you ancient doors, that the King of glory may come in. Who is he, this King of glory? The Lord Almighty – He is the King of glory. (Ps 24:7-10)
Wanda Alger has been a field correspondent with Intercessors for America and written for Charisma, The Elijah List, Spirit Fuel, and The Christian Post. She is an author of numerous books, including "Moving from Sword to Scepter: Ruling through Prayer as the Ekklesia of God." Follow her blog at wandaalger.me. 
Partner with Us
Intercessors for America is the trusted resource for millions of people across the United States committed to praying for our nation. If you have benefited from IFA's resources and community, please consider joining us as a monthly support partner. As a 501(c)3 organization, it's through your support that all this possible.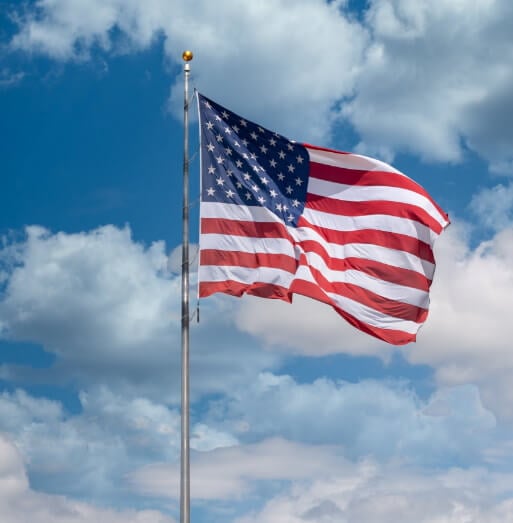 Become a Monthly Partner