MAJOR RELIGIOUS FREEDOM REPORT: GOOD NEWS AND BAD NEWS
Aaron Mercer, Contributing Writer
|
May 2, 2020
MAJOR RELIGIOUS FREEDOM REPORT: GOOD NEWS AND BAD NEWS
Aaron Mercer, Contributing Writer
|
May 2, 2020
I Prayed
have prayed
Lord, please watch over our brothers and sisters in Christ abroad. We pray for an embrace of light, life, and liberty to prevail.
A small government agency made waves with global friends and foes alike this week.
The U.S. Commission on International Religious Freedom (USCIRF) is an independent federal commission established by the 1998 International Religious Freedom Act. Its 9 commissioners are appointed by the President and leaders of both political parties in the House and Senate. The agency's job is to take stock of religious liberty trends abroad and then recommend action to the Administration and Congress.
View Comments (12)
When it released its annual report on Monday, USCIRF made full use of its independent watchdog status. It did not mince words about some of the problems it observed around the world in the last year.
Perhaps most controversial was USCIRF's recommendation that the State Department elevate India – along with Nigeria, Russia, Syria, and Vietnam — to its "Country of Particular Concern" (CPC) religious freedom category. That is a bad list to be on. The State Department says the CPC list is for foreign governments that have "engaged in or tolerated systematic, ongoing and egregious violations of religious freedom."
Currently on the CPC list are Burma, China, Eritrea, Iran, North Korea, Pakistan, Saudi Arabia, Tajikistan, and Turkmenistan. If the U.S. puts a country there, it's a serious step and can lead to economic sanctions.
India is the largest democracy in the world. It has a strong parliamentary system and an independent judiciary. It is also a nation with whom the U.S. — particularly under President Trump — is working to strengthen bonds. That effort was underscored earlier this year in India's "Namaste Trump" celebration, as well as a similar welcome for Indian Prime Minister Narendra Modi in Texas.
However, India also has a real problem with religious persecution. The significant Muslim minority faces attacks from Hindu extremists, and, as I noted in a (hope-filled) article last month, those extremist also make India one of the most perilous places in the world for Christians. In fact, Open Doors USA ranks India as the 10th most dangerous country in the world for believers (worse than China).
USCIRF recognizes the growing U.S.-India relationship, but it also reports, "The national government allowed violence against minorities and their houses of worship to continue with impunity, and also engaged in and tolerated hate speech and incitement to violence."
At least 2 commissioners did not think USCIRF's India recommendation was correct. Commissioner Gary Bauer was one of them. He, too, was concerned with India's trajectory, but he said the democracy is "is not the equivalent of communist China, which wages war on all faiths; nor of North Korea, a prison masquerading as a country; nor of Iran, whose Islamic extremist leaders regularly threaten to unleash a second Holocaust."
This situation is complicated. The Trump Administration will certainly need prayers for navigating this budding friendship in a way that is both righteous and respectful.
The U.S. will need prayers, too, for wisdom in its relationship with Turkey, a NATO ally. USCIRF says the situation there is "worrisome." Among problems are interference with religious groups, the nation's blasphemy law, and propagation of anti-Semitism.
On that note, USCIRF included a new section in its report dedicated entirely to alarming new expressions of anti-Semitism around the world, especially in Europe. The commission encouraged the Trump Administration to make sure fighting that scourge remains a priority for it and the United Nations.
There is good news in the fight for freedom, too. USCIRF Chairman Tony Perkins, appointed by Senate Majority Leader Mitch McConnell, highlighted an "upward trajectory overall" and particularly noted the work of Sudan and Uzbekistan to improve their records.
Vice Chair Gayle Manchin, an appointee of Senate Democrat Leader Chuck Schumer, commended the Trump Administration for prioritizing international religious freedom, especially in its work to safeguard holy sites. She also welcomed the establishment of a new senior staff post dedicated to these matters in the White House National Security Council.
There are many challenges to religious liberty abroad, but good is happening.
"But let all who take refuge in you be glad; let them ever sing for joy. Spread your protection over them, that those who love your name may rejoice in you.." (Psalm 5:11)
Aaron Mercer is a Contributing Writer with two decades of experience in Washington, D.C.'s public policy arena and Christian associations. A seasoned strategist, he aids organizations with research, analysis, and writing services, and he reflects on faith, technology, and the public square at FTPolicy.com.
Partner with Us
Intercessors for America is the trusted resource for millions of people across the United States committed to praying for our nation. If you have benefited from IFA's resources and community, please consider joining us as a monthly support partner. As a 501(c)3 organization, it's through your support that all this possible.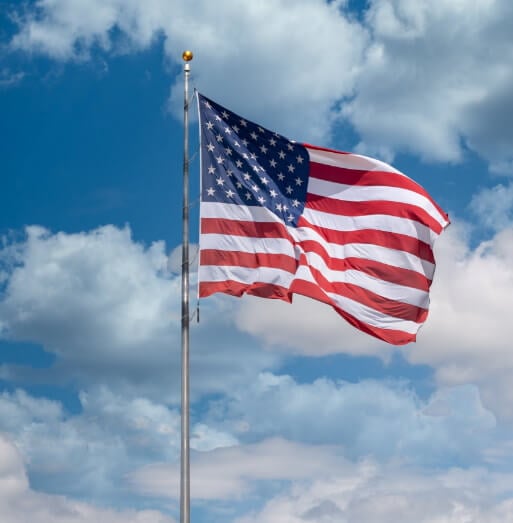 Become a Monthly Partner