Lifemark Film Proclaims the Value of Life
Rich Swingle, IFA Contributing Writer
|
September 9, 2022
Lifemark Film Proclaims the Value of Life
Rich Swingle, IFA Contributing Writer
|
September 9, 2022
I Prayed
have prayed
Lord, thank You for giving Kirk Cameron the idea for Lifemark and the Kendrick brothers the passion to make the film, despite the obstacles. Thank You for all the cast and crew, who put their hearts and souls into this film. May it inspire many to adopt children, as states are closing down the option for killing them in the womb.
There were many answers to prayer in the creation of Lifemark, the ninth film by the Kendrick brothers. James Hirson reported to IFA how Hollywood studios ignored the Kendricks' track record because of the pro-life message in Lifemark, but the Lord answered their prayers when Fathom Events arranged to have the film in 1,400 theaters across 48 states.
But there were a number of miracles that went into the creation of this timely film.
View Comments (1)
Speaking of timely, the first answered prayer is the one the Kendricks always start with: "Lord, what do You want us to do next?" Because of his passion for adoption, Kirk Cameron convinced them to make a film based on the documentary I Lived on Parker Avenue, which makes Lifemark the first film the Kendricks have produced that is based on a true story. In Part 4 of my interview with the Kendricks, which you can see during the special IFA prayer webcast and call at 12:15 p.m. ET, Friday, Sept. 8, 2022 (or watch anytime after at IFApray.org/watch). Stephen said:
We shot Lifemark … in the spring of 2021, and had no idea that this would be coming out … right after the Roe v. Wade decision. And if you think about it, the timing is so perfect, because everything has been shifted now to the state level. The fights and the battles are … in local communities across the nation. And as a result of it, those that are operating out of truth and love and compassion, they need to be encouraged that their position to speak up for those that can't speak for themselves is good and pleasing and beautiful and wonderful and just. And at the same time, the body of Christ has an amazing opportunity to show compassion at every level … for these girls that are in unwanted pregnancies. They don't need to see Planned Parenthood as their savior in order to kill their unborn. … They need to hold that baby before they make that decision if they want to keep it or not. … They can be surrounded with resources to raise that child if they so choose, or they can allow that baby to be adopted by a loving family that longs for a child. So every level the body of Christ has an opportunity right now to step up with compassion. Well, Lifemark is an inspirational true story. … It lays out what could happen if a girl makes a decision to put her baby up for adoption, and how can it be a blessing to the world, a blessing to that child, a blessing to the family, and you find out a blessing to her later on, years down the road. …
It's their hope that people will use the film, in their words:
… as a tool in your community. We hope that women centers will be able to use it as a tool to hand a girl that's in a crisis pregnancy. Pastors will be able to use it to encourage people to start women's support centers, to start adoption ministries in their community. We can hand it to legislators… to business owners… This movie can be an inspirational… way of communicating truth at such a time as this.
The Lord moved mightily in behind-the-scenes prayer because the Kendrick Brothers were faithful to ask what they should do and to follow through.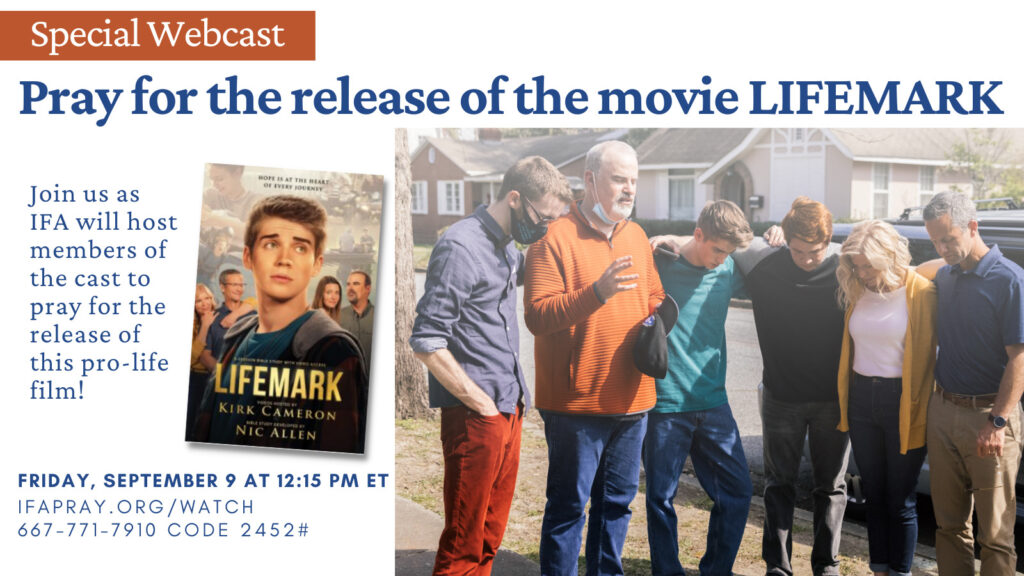 Obedience blessed
In an interview with IFA you can see below, Justin Sterner said he turned down a role in a film because in reading the script he discovered, "There were some things that didn't align with our values as a couple, also as believers. So I said no to that." These decisions are very challenging for Christian actors. Justin added, "It was not without a little bit of begrudging attitude." He and his wife needed the money, and the role would have provided a week of income. But he went on:
Little did I know that God had planted a seed through that decision to honor what He was asking me to do, and a couple of weeks later was when Stephen and Alex (Kendrick), Kirk Cameron, Beverly Holloway (casting director) and Kevin Peeples (director) were on a Zoom call with me and asked if I would play the character of Nate in Lifemark.
Justin Sterner plays Nate, a friend of David, the main character of Lifemark who is contacted by his birthmother when he turns 18. In our interview at the Christian Worldview Film Festival Justin tells how he turned down a role he didn't feel would honor the Lord, and that was when he was cast in Lifemark. We also interviewed his wife, Amber Sweet Sterner, holding their daughter, Evangeline, born on the day Roe v. Wade was abolished.
Had Justin accepted the role in the film he knew the Lord didn't want him to do he wouldn't have been available to be a part of Lifemark, which provided a month-and-a-half of income! The Lord gave Justin about six times what he gave up in obedience. He said,
God is so good…. It was Him showing up more and more and more…. (This) has been the catalyst to changing a lot in my heart personally, a lot in my family's heart, and more importantly has changed what I am committed to as a filmmaker and an actor, which is to make faith-based films… and television shows which redeem and bring people into the Kingdom of God.
But the Sterners' prayers weren't wrapped with filming. They had been praying that their daughter would be born on June 24. Justin said, "My wife and I have a very special number: 24. The year we got married my wife turned 24. I proposed on September 24." So they were hoping their baby could be born on the 24th. The due date was June 19, but they kept praying. The Lord answered that prayer. Not only was their daughter, Evangeline, born on June 24, but also that was the exact day the Dobbs decision overturned Roe v. Wade. Justin said, "She was born on a momentous day for all lives and all babies. It was just the best blessing in the world!" Justin was so grateful to celebrate with his wife Amber, their brand new daughter and "…these people that we love who we spent so long with making a great movie, pro-life movie about adoption, about the value of life and why God values life so much. This happened.… Blow my mind."
Dear intercessor, if you've faced a disappointment you can hear Justin praying for you in the interview below.
The Leading Ladies of Lifemark
Rebecca Rogers plays the adoptive mother and wife of Kirk Cameron's character. She said being cast is…
…so completely God as my career focus has been on writing and producing more than acting for the past several years. My husband and I have five children, four adopted, so in reality I'm a busy mom. But this film felt like a calling. It's a marriage of my passions— film and raising awareness for the "adoption option." Lots of amazing things happening for my career lately but this film is my mission above all else— it's an opportunity to speak into people's lives about adoption. And honestly, I don't think it's necessarily going to be all happy and pretty. Adoption is hard sometimes. I believe that this film is going to open the conversation on many levels! Transparency is key! The more that we come together as a community of Christians and help each other with this call to adopt, the better!
While Marisa Lynae Hampton was preparing to audition to play teen Melissa Coles (the birth mother in the story), her mother Lisa Marie Harms Hampton shared details about her own teen pregnancy with her daughter. She'd never shared this with anyone before. See the interview with the Hamptons here: "Lifemark Movie Star Shares Personal Story."
Coles contacted Dawn Long before she was cast as adult Melissa in Lifemark. In fact, Dawn told IFA:
Melissa started praying for me to get the role to play her before I ever knew about her or the film; it was a move of God, along with others, that gave me faith when it was needed that I was chosen, and He would equip me in every way. I give Him the glory for it all! … I believe God is pouring His love on every person who receives Lifemark, validating their LIFE, their pain and bringing the hope of His victory, as we are adopted children of God.
See if Lifemark is playing near you and get tickets now at www.LifemarkMovie.com. It's only scheduled for one week, with one showing per night, but if it does well they'll expand the schedule.
You can see Parts 1-3 of my interview with the Kendrick Brothers in these articles: "Christians Censored by Woke Hollywood," "Kendrick Brothers' Church Hosts Christian Worldview Film Festival," and "The Powerful Backstory of Praying Coach Kennedy." I also interviewed all three Kendrick Brothers watching and blessing Coach Joe Kennedy: "Coach Kennedy and the Filmmakers Who Inspired Him."
And tune in Friday, September 9, 2022 at 12:15 pm ET for Part 4 of the interview, an interview with the director, Kevin Peeples, and a live interview with Rogers, Marisa Lynae Hampton, and Long.
Lifemark will be in theaters nationwide for one week only, starting September 9. Visit www.LifemarkMovie.com for more information and to book tickets. IFA will have a special program focused on Lifemark September 9 at 12:15 p.m. Eastern: www.IFApray.org/watch. You'll also be able to call in to participate in All Pray sections of the program. Call (667) 771-7910 and press 2452#. During the program we'll show a spoiler Justin Sterner shared that we can't share before opening day. We'll also show Part 4 of my interview with the Kendrick Brothers, an interview with Kevin Peeples (the director), and Marisa Lynae Hampton will be on the program live with Dawn Long (who plays adult Melissa) and Rebecca Rogers Nelson (who plays the adoptive mother).
Will you pray that this movie, Lifemark, will change hearts and minds about abortion and adoption? Share your prayers and scriptures below.
Rich Swingle has taught and performed in 39 nations on six continents, mostly with his own one-man plays. Rich adjudicated at an acting competition in which Justin Sterner competed as a youth. Rich and his bride, Joyce Swingle, another contributing writer for IFA, now have 37 screen children. The Swingles live in New York City. www.RichDrama.com. Photo Credit: Lifemark.
Partner with Us
Intercessors for America is the trusted resource for millions of people across the United States committed to praying for our nation. If you have benefited from IFA's resources and community, please consider joining us as a monthly support partner. As a 501(c)3 organization, it's through your support that all this possible.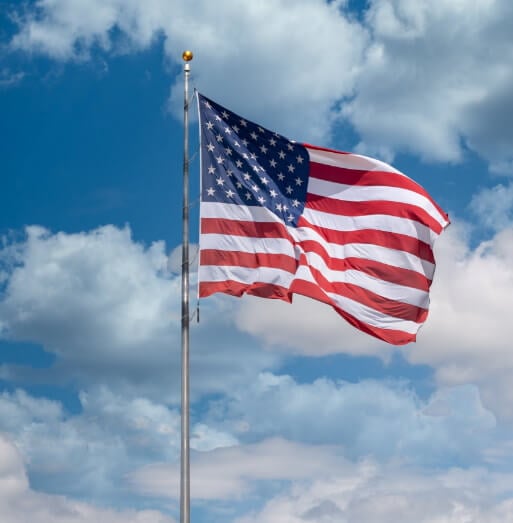 Become a Monthly Partner