Lies of the Left
Rich Swingle, IFA Contributing Writer
|
May 31, 2022
I Prayed
have prayed
Lord, thank You You are Truth! Help us to walk in You and discern the lies shouted from what used to be the loudest amplifiers.
I grew up thinking Yuri Gagarin was an atheist because I was taught that — as the first man to leave our atmosphere — he said, "I went up to space, but I didn't encounter God." Turns out those weren't his words, but those of Nikita Khrushchev, the premiere of the Soviet Union at the time. Gagarin was a baptized member of the Russian Orthodox Church. He actually said, "An astronaut cannot be suspended in space and not have God in his mind and his heart."
View Comments (26)
If a friend or family member has forwarded this article to you, please understand I wrote it from a place of love and concern. It's my prayer this article not divide but rather unite us around Truth. Jesus said in John 18:37b, "Everyone who is of the truth listens to my voice."
Lies, Communism, and the Left
On the April First Friday IFA Prayer Webcast David Horowitz said, "The left is generally communist these days. I don't recognize any difference in the Democrat party than what my parents believed, and they were card carrying communists." This has been a goal of the communist party since at least 1958, when The Naked Communist was written by former FBI agent, W. Cleon Skousen. He identified 45 goals of communism, which were read into the Congressional Record, and number 15 is "Capture one or both of the political parties in the United States."
Horowitz explained communism is…
"… a message of redemption. The world is a fallen place. People are at each other's throats…. It's obviously modeled on the Judeo Christian religion. There's a big difference, though. People on the left think they can create the Kingdom of Heaven on earth, and they look on themselves as the saviors. That's a criminal mentality right there. If you believe that you can end poverty, prejudice, war, inequality and so forth, what crime would you not commit or support, and what lie would you not tell?"
My wife Joyce, also a contributing writer for IFA, and I experienced the lies of communism at the borders of North Korea. While in China we were looking into the hermit kingdom across the Yaloo River, and there was a Ferris wheel! Then we rented binoculars and could tell it was two-dimensional.  It had been constructed to give the impression that people in North Korea had a better life than the rest of the world may have thought.
Later we were in the Demilitarized Zone (DMZ) between North and South Korea and visited one of four tunnels that were dug underneath the DMZ. Combined they would have allowed North Koreans to funnel more than 60,000 troops per hour as much as a mile into South Korea. When the one we toured was discovered, the North Koreans spray painted the walls black and said they were coal mines.
Here are three of the goals in The Naked Communist that encourage lying:
Eliminate prayer or any phase of religious expression in the schools on the ground that it violates the principle of "separation of church and state." (That term comes from a letter by Thomas Jefferson assuring the Danbury Baptist Association the government would not be interfering with the Church.)
Discredit the American Constitution by calling it inadequate, old-fashioned, out of step with modern needs, a hindrance to cooperation between nations on a worldwide basis. (Our constitution is the oldest on earth and has proved itself to be worthy of preserving.)
Discredit the American Founding Fathers. Present them as selfish aristocrats who had no concern for the "common man." (Praise God projects like Washington's Armor tell the truth about our founders.)
All 45 goals encourage subverting America in deceptive ways.
Horowitz explained: "…If you watch the people on the left today, particularly the leadership of the Democrat party, they lie almost every time they open their mouths. They lie about everything."
Litany of Lies
They lied about Hunter Biden's laptop being Russian disinformation, and then Hunter's lawyer lied about being a documentary film maker while spying on the set of the upcoming film My Son Hunter. They lied about covid-19 on several fronts, including asserting vaccines are essential when more than 150 studies have proven natural immunity is as strong or stronger. They lied about Russian collusion in the 2016 election, and now we know Hillary Clinton ordered the false information to be sent to the press. The Washington Post revealed private information about the creator of Libs of Tik Tok but said they hadn't. The Wayback Machine on www.Archive.org proved they had. The czar of the Disinformation Governance Board was caught promoting many lies, before the agency was put on hold.
In fact leftists lie about the very nature of those who want less centralized power by calling them Nazis. That's so ironic, since Nazi is short for Nationalsozialist, German for National Socialist. Of course, socialism is the last step leading to communism.
The chairman of the Communist Party USA endorsed Joe Biden, who has proven adept at shading the truth. Biden's son Hunter's laptop proved the "Big Guy" lied about having knowledge of his son's business dealings. The Naked Communist goal #26 is "Present homosexuality, degeneracy and promiscuity as 'normal, natural, and healthy.'" Biden and his administration are fulfilling it by helping to tell the lie that people are better off living in their sin, boys can be girls and girls can be boys, there are 81 genders, men can be pregnant and menstruate, marriage can mean whatever we decide. Then  Biden said the "MAGA crowd" is "the most extreme political organization that's existed in recent American history," in the face of Black Lives Matter, led by self-described Marxists and Antifa, which uses anarchy to establish communism.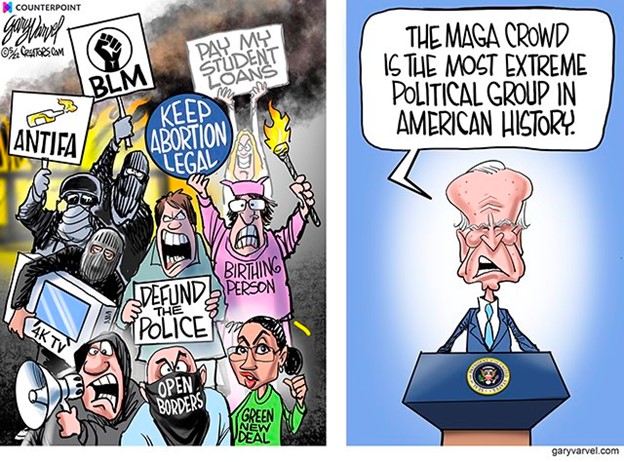 Biden made this truthful statement: "We have put together…the most extensive and inclusive voter fraud organization in the history of American politics." Documentaries like 2000 Mules have proven Biden's slip of the tongue was accurate, and yet I know first hand social media platforms remove any discussion of that, and legacy media ironically calls election fraud evidence "The Big Lie."
Here are a couple more communist goals from Skousen's list:
Infiltrate the press. Get control of book-review assignments, editorial writing, policy-making positions. 
Gain control of key positions in radio, TV, and motion pictures.
The left has largely succeeded there.  Now six corporations control 90% of media in America, and they're run by 232 mainly left-leaning media executives.
What is the end game?
I recently reconnected with someone I hadn't seen in a dozen years. I had some wonderful conversation with her and her husband about our lives, steering clear of what was going on in the world until the subject of Covid vaccines came up. Then we talked non-stop for 90 minutes about the communist take-over we're living through.
It struck me my friends and I are getting our information from many different sources on the free internet, but we're very aware of the basics: Globalists are striving to form a one-world government, Covid-19 was created in a lab, pandemic guidelines allowing expanded voting were used to influence America's election, so a president aligned with their ideals could lead the U.S. into that one-world government.
I interviewed Peter Puhek (Editor's note: This interview is fascinating and reveals the roots of the cultural shifts that we are living today and especially confirms what Archbishop Vigano has reported about the Catholic Church and links the Franciscans in Portland to Antifa!). Peter Puhek is a science analyst for the U.S. Air Force, who considered the priesthood in 1988 until he realized the priests who were recruiting him were a part of Antifa. He told me that story in an interview, embedded below. I asked him about where all the lies are leading. He was clear he wouldn't reveal any classified information, but his analysis of what we all see is this:
The left has been taking over governments for a long time. They're very well organized, they're very secret, they meet behind the scenes, they've got their hidden agendas. And they will lie, cheat, steal, kill anything they can to get into power, they'll slander the good people, they'll assassinate good people, anything to eventually, little by little… get all the power. And once they get it, they have ungodly agendas. They don't care about God; they want to eventually lord it over all of mankind.
What can we do?
In the 1800s, Seattle plumbing was affected by the tidal patterns of the Puget Sound. People could tell who didn't read the newspaper's tidal charts because they'd use their latrines at high tide and bear the stench of exploding sewage. Today, we can tell who isn't reading from the free internet because they're repeating the legacy press lies.
Russian novelist Aleksandr Solzhenitsyn wrote this on Feb. 12, 1974, the day he was arrested and sent to a Siberian Gulag:
The simplest and most accessible key to our self-neglected liberation lies right here: Personal non-participation in lies. … It is the easiest thing to do for us, but the most devastating for the lies. Because when people renounce lies it simply cuts short their existence. … Let us refuse to say that which we do not think.
Or, as dramatist Dennis Cole says, "Declare the emperor's not wearing any clothes!"
Every time I run into someone calling out the lies, we're both energized, but I do have to guard against ungodly anger. In fact I specifically repented of that before writing this article. James 5:16 encourages us to pray with clean hearts: "The prayer of a righteous person has great power as it is working."
During those lie-stomping conversations I also try to end by reminding us that all of these lies are making people hungry for truth, and it's ultimately found in the Person of Jesus Christ. Puhek said, "These elections coming up in November mean nothing if there isn't a great repentance…. We pray for awakening and revival." The lies from the left can fuel the greatest Revival and Awakening in world history. Let's pray into that!
Post your prayer for truth to win out…
Rich Swingle has taught and performed in 39 nations on six continents, mostly with his own one-man plays. He posts IFA articles and others from the free internet via Gab, Rumble, Telegram and Truth Social. He and his bride, Joyce Swingle, another contributing writer for IFA, now have 37 screen children. The Swingles live in New York City. www.RichDrama.com.  Photo credit: Adobe Photoshop.
Partner with Us
Intercessors for America is the trusted resource for millions of people across the United States committed to praying for our nation. If you have benefited from IFA's resources and community, please consider joining us as a monthly support partner. As a 501(c)3 organization, it's through your support that all this possible.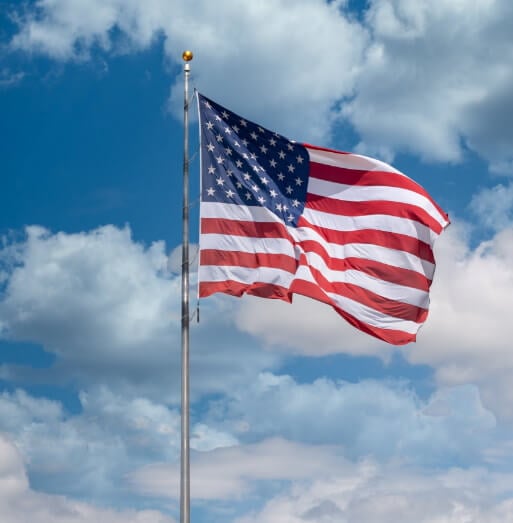 Become a Monthly Partner
You can post a prayer to share with others.
Vicki R
May 31, 2022, 11:03 am
Lord, thank You You are Truth! Help us to walk in You and discern the lies shouted from what used to be the loudest amplifiers. Father, we praise You that only Jesus can penetrate the darkest dark ; He is the Light of the world. Lord, bless the ones You have raised up to hear and obey Your call to expose all the lies; it has to be an ominous, overwhelming job but truth is power. Protect these anointed ones with more wisdom, courage and diligence even in the face of criticism and threatening. You are our Refuge, our Defender, our Anchor and our Shield. Our hope is in You. In Jesus' name. Amen
Alan V
May 31, 2022, 8:11 am
Lord, thank You You are Truth! Help us to walk in You and discern the lies shouted from what used to be the loudest amplifiers. As we saturate ourselves with You, enemy propaganda will fade. LIes make inroads when we pull away from You. Help us abide, Lord.