INSIGHTS FROM RECENT PROPHETIC ROUND TABLE
Wanda Alger, IFA Field Correspondent
|
October 5, 2019
I Prayed
have prayed
Because intercession is a core value in our church and there are many prophetically gifted people who attend, we meet once a month in a Prophetic Round Table to share and process the different insights the Lord is giving each of us. Our hope is to not only gain a better understanding of what the Lord might be saying to us corporately, but it also greatly encourages and inspires us to keep pressing in for all the Lord wants to accomplish in our lives. As we each shared what the Lord was speaking to us, the pieces all fit together to reveal some encouraging insights for those who are watching and praying:
1- PERSONAL TESTING. It seems many intercessors are being tested in very personal ways, specifically in areas where they previously had great victory. I know I'm personally praying through something that I thought was already dealt with and overcome. It seems the Lord wants to increase my endurance and level of faith in the very area where I've always seen success. Thankfully, it's not my lack, but His desire to increase my spiritual authority in that particular area. I'm now even more determined to press in.
View Comments (14)
Consider it pure joy, my brothers and sisters, whenever you face trials of many kinds, because you know that the testing of your faith produces perseverance. Let perseverance finish its work so that you may be mature and complete, not lacking anything. (James 1:2-4)
2- DISTRACTIONS, DISTRACTIONS! When our faith is being tested, we can waste a lot of time in self-evaluation and doubt, searching for other ways to experience breakthrough. Sometimes our greatest faith is activated when we are standing in a blind spot. It is only then that we truly know where our faith lies and how confident we are in God's Word over our lives. Don't get distracted by doubt! Revisit what God has already spoken and then repeat it – out loud. Stay focused and don't look to lesser things for relief.
You need to persevere so that when you have done the will of God, you will receive what he has promised. (Hebrews 10:36)
3- WORSHIP AND PRAY IN THE SPIRIT. Several people indicated the challenges experienced in praying about things which were totally out of their control. Repeatedly, it was only when they prayed in tongues and worshiped that the presence of the Lord came, along with greater authority and confidence. Many times, breakthrough came soon after. We are coming into some battles that are so beyond our human comprehension, the only way to pray is by the Spirit. Rather than always seeking greater understanding, we need to engage in greater worship and let Holy Spirit do the praying.
In the same way, the Spirit helps us in our weakness. We do not know what we ought to pray for, but the Spirit himself intercedes for us through wordless groans. And he who searches our hearts knows the mind of the Spirit, because the Spirit intercedes for God's people in accordance with the will of God. (Romans 8:26-27)
4- THE SPIRIT IS NOT JUST HOVERING, BUT POSITIONING. We are in a time where the Lord is positioning believers in specific roles and assignments. We are not only watchman in the spirit, but ambassadors of God's Kingdom with unique assignments that must be fulfilled. The Lord is aligning relationships and connections so that we are linked with those who have similar calls and passions. Pay attention to those people. Pray them into your life by calling forth those whom the Lord desires to connect you with for a greater good. Just this past week I did that and two people contacted me who had dreams about me – one whom I've never even met. These are divine appointments and opportunities if we engage them.
Therefore if you have any encouragement from being united with Christ, if any comfort from his love, if any common sharing in the Spirit, if any tenderness and compassion, then make my joy complete by being like-minded, having the same love, being one in spirit and of one mind. (Philippians 2:1-2)
5- THE ANGELS ARE WAITING – We must remember that we are not helpless or without aid. The angelic host are with us and look to US to give them the needed cues to go and neutralize our spiritual enemies. We need to SPEAK the word of the Lord so they can accomplish what they were commissioned to do. They are the ones uniquely qualified and equipped to battle the principalities at work in high places. Our job is to declare Gods Word so they can hear it and do their job.
Praise the Lord, you His angels, you mighty ones who do His bidding, who obey His word. Praise the Lord, all His heavenly hosts, you His servants who do His will. (Psalms 103:20-21)
As you prayerfully consider these insights for prayer, I encourage you to get with others who watch and pray and then compare notes. Regardless of your position, title, or level of spiritual understanding, when we come together and share our pieces things will make sense and we will speak AS ONE. If we desire to have corporate spiritual authority to defeat the demonic forces at work among us, we must come into agreement with one another and declare that which will shake the heavens and bring the needed breakthroughs for all.
And they devoted themselves to the apostles' teaching and the fellowship, to the breaking of bread and the prayers. And awe came upon every soul, and many wonders and signs were being done through the apostles. And all who believed were together and had all things in common. (Acts 2:42-44 ESV)
Partner with Us
Intercessors for America is the trusted resource for millions of people across the United States committed to praying for our nation. If you have benefited from IFA's resources and community, please consider joining us as a monthly support partner. As a 501(c)3 organization, it's through your support that all this possible.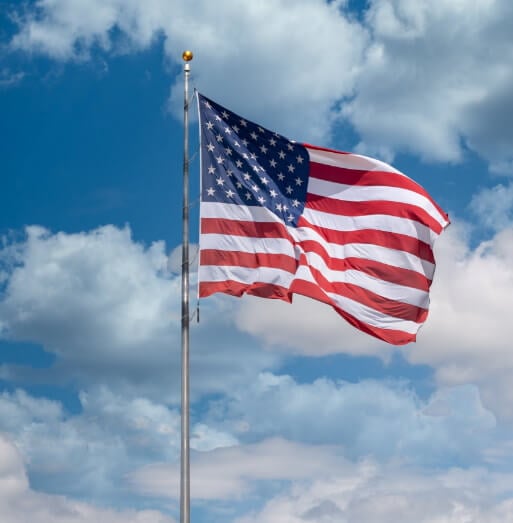 Become a Monthly Partner