Insider Reveals Surprising Connection to Abortion
November 20, 2021
Pray
have prayed
Lord God, thank You for exposing the roots of abortion in America. Open our eyes to the source and the wide impact of this great evil.
Lord God, thank You for exposing the roots of abortion in America. Open our eyes to the source and the wide impact of this great evil.
Last week, a doctor contacted IFA leaving a message about an incident that occurred in 1970. She really wants her story to be shared so intercessors can pray into this and take action to spread the truth. Due to the personal nature of this story, her name will not be released.
In 1970, the doctor, her husband, friends, and other professionals would meet together regularly. These were pro-life meetings. People would often send them various information and propaganda. Once, a folder was sent to the parish. In this folder, a young woman was shocked by what she found and decided to share it.
On the paper it said, "How To Destroy America." Underneath was a list of ways to destroy the nation. The first item listed was abortion. Also on the list was divorce, addiction, and homosexuality. But what stood out to the doctor was abortion. Being a doctor, she saw firsthand the way abortion hurt women, and as a God fearing woman she could never justify killing an innocent life.
She recognized this propaganda, as communism began to be a topic in the U.S. in the 1970s. Occasionally, someone would infiltrate the meetings and say what the group was doing in favor of pro-life was wrong because the nation was overpopulated.
They would have regular meetings that consisted of prayer with priests. They would discuss and set up plans to picket or pray on site at Planned Parenthood. The physician and her friends were relentless and began to share what they found on that paper as they protested abortion. Once a young woman infiltrated the meeting singing the praises of Russia and how communism works. When they tried to talk to her and photograph her, she did not want to be found out. After some digging around, it was revealed she was in fact a communist. One by one the doctor and her friends began to be targeted. They made enemies by sharing the truth.
One friend "lost" her health insurance, life insurance, and the lease to her home.
Another friend had his office broken into and left in ruins, leaving thousands of dollars in damage.
The physician was home alone one night. Her husband had left for a meeting at the church. She was with her two year old, one year old, and newborn baby. All of a sudden a bluish green gas began to fill the room from a small tube. She grabbed her children and gave them to her neighbor through a window and called the police. After the investigation, they realized she had been under surveillance in her own home for days. In fact, the "meeting" her husband was called to wasn't even real. It was just to get him out of the house.
Once law enforcement called her in to show her something. They found a coke can with pin holes. They showed her how the infiltrators surveilled the meetings and found out who she and her friends were. While it looked like they were drinking soda, they were actually photographing all of them.
As for the young communist woman who infiltrated the meeting, the police called the doctor and shared that she was found dead. The police said, "They're just going to send in another one." After the three were threatened, they decided not to reveal that to anyone besides their spouses. They did not want anyone else who joined their meetings to be targeted or hurt in any way.
But they continued to pray and stand against abortion. The doctor and her friend with a gathering of pro-life believers gathered where a medical association was meeting about abortion, marching around the convention center. They were met by 10 pro-choicers who came to oppose them with the local news. But she and the group stood their ground and refused to stop marching for life.
On another occasion, the doctor and her friend were praying at Planned Parenthood, when a couple of angry pro-choice women began to scream and try to intimidate them. She said, "You will never get through this! The Supreme Court said, `We will win this.' " Her friend courageously stepped forward and confronted this woman and said, "We will never ever stop fighting for them." The protester looked startled and walked away.
This story is so much greater, but the doctor wants every intercessor to know that abortion was brought into America to destroy the nation. It was never about women's reproductive health, it was about population control. It was about eugenics, which was widely promoted by Margaret Sanger. Abortion doesn't help women. Abortion doesn't heal women. Abortion hurts women.
Although this happened in the 70s, I believe this information was revealed right now for such a time as this. We are in the middle of the fight for life. The time we are in now is more crucial than it has ever been. We must continue to stand for life and intercede for the unborn, the Supreme Court, and this nation. She states that Russia first introduced abortion before communism, and they did the same in Poland and other countries they invaded. The brave woman who shared this story believes that communism is the root that planted abortion in America.
Communism operates in the anti-Christ spirit. The heart of communism is to eradicate Christianity. Christians worship and serve the One True God. Communism believes the government (the government they enforce by violence) is god. We are seeing this more now and openly too. The list that she shared is something that we can be interceding about because she has talked about the paper and abortion being the number one way to destroy America. Now that the root has been exposed, we can specifically target this with intercession. Let's pray together.
Father, we come before You and cry out for mercy. Have mercy on America once again. Forgive us for the millions of innocent lives killed by abortion. Lord, we need You. Our leaders need You. This nation needs You. Without You, we will go under and lose everything that You had purposed for America when it was founded.
Lord, we pray that the barbaric roots of abortion be exposed for all to see. Shine Your light in the hidden places of darkness and reveal the truth about the abortion and it's connection to communism. We have many enemies, Lord, and these enemies that are pushing their propaganda are in our own nation. See how they are seeking to destroy our liberty and justice from the inside out. Even now, we know that we are not wrestling against flesh and blood, but principalities and powers that move and inspire mortal men to commit atrocities.
You are the Lord God seated above the circle of the earth. We pray "let there be light!" Let blind eyes be opened to the truth of the gospel message. Open their eyes to see Jesus in dreams and visions, open their ears to hear Your word, open their hearts to see abortion for what it truly is. We pray for women to be set free from the deception that abortion is healthcare. Open their eyes to see the truth and be healed. Give them a mother's heart. We pray for a great wave of deliverance and healing for women who have been held captive by the lies of the devil for too long, and for healing and forgiveness for those who've had abortions. We pray for revelation of truth and salvation to a young generation who has bought into the lies. We pray for deliverance from the abortion industry. Father, we are asking for an Exodus. We are praying for nurses and doctors who practice abortions to be saved and to expose and sound the alarm about what is really going on in those clinics.
We pray for the younger generation that is deceived by the rebranding of communism into socialism and wanting this for America. Lord, open their eyes, so they would see how disastrous that would be. We do not worship the government. We worship You Lord, the Creator, all the power, honor, and glory will only be to Your name. We lift the name of the Messiah Jesus Christ as a banner over America. The government rests on His shoulders where He is the Bridegroom, the King, and the Judge.
We pour out our hearts to You with prayer and tears, and repentance for the unborn and for the future of America. Would You reveal Yourself as Lord of the breakthrough? Come and break in. Come and breakthrough. Come and break out! Take what the enemy meant for evil and turn it around for Your good. We will stand in the gap for the next generation and for this nation until we see in America and the nations as it is in Heaven.
In Jesus' name, amen.
Partner with Us
Intercessors for America is the trusted resource for millions of people across the United States committed to praying for our nation.
If you have benefited from IFA's resources and community, please consider joining us as a monthly support partner. As a 501(c)3 organization, it's through your support that all this possible.

Dave Kubal
IFA President
& CEO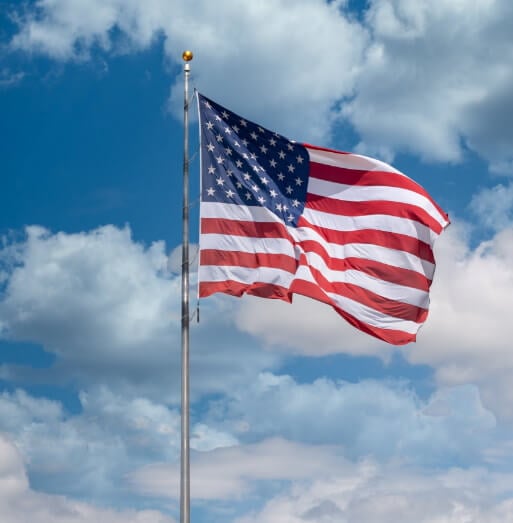 Become a Monthly Partner
You can post a prayer to share with others.
Anita B
November 22, 2021, 5:37 am
I PRAY for the Supreme Court to be Supremely led DEC 1st by Truth. . .Jesus Justice. . .God Our Father Righteous Action. . .Holy Spirit And OVERTURN ROWEvsWADE we have been ROWing wrong WAY. . .for too long Put dreams in the justices sleep to startle them as Pilates wife into right action In the mighty name of Jesus the Christ of Nazareth, I ask You, Father. Amen
Christine S
November 20, 2021, 4:48 pm
Dear Heavenly Father and Lord Jesus Christ we ask that You would stop all abortions, not only in the United States of America, but all over the world, and let Your beautiful creations, Your gorgeous little babies live!