HOW TO RESPOND IF GOVERNMENT AGENTS COME KNOCKING
Suni Piper, IFA Contributing Writer
|
July 20, 2021
HOW TO RESPOND IF GOVERNMENT AGENTS COME KNOCKING
Suni Piper, IFA Contributing Writer
|
July 20, 2021
I Prayed
have prayed
Lord, help us to be a people of confidence and boldness, not of fear. Help us to walk as You lead us in the murky waters of government oversight.
Recently President Biden spoke out on the risk he thinks unvaccinated people pose to the country. He has enlisted "surge response teams" to raise our vaccine numbers and stop the spread. His plan includes increasing vaccine access for children ages 12-18, bringing in mobile vaccine clinics, as well as sending government representatives door-to-door to ask about personal health decisions. Arizona Attorney General Mark Brnovich calls this a "government intrusion into American's health care privacy."
Kathleen Sebelius, former Obama administration Health and Human Services Secretary stated "that Americans who have not received a coronavirus vaccine should not be allowed to work or have access to children and be limited on where they are allowed to go."
View Comments (28)
Pray over this with IFA Writer Suni Piper and IFA President/CEO Dave Kubal.
Tuesday, July 27, 2021 at 12:15 pm ET
IFApray.org/live or (712)775-7431 access code 2452#
Fear, shame, and intimidation are the tools the Biden Administration is using to force the general public to submit to their narrative "for the greater good. The struggle here is getting "the people" to comply with what the government has decided is the answer, and the only answer. Even some people who have had adverse vaccine reactions in the past are denied the "right to decline," as are those who are simply choosing to say no or not yet – risking school enrollment, employment, and access to a variety of services and programs.
No long-term studies, not FDA approved, zero liability for drug companies…  To date, there are over 9000 reported deaths, more than 400,000 adverse events (tens of thousands of these are "serious" injuries) reported to the federal Vaccine Adverse Event Reporting System (VAERS) since the COVID vaccines rolled out in December 2020.
What to do? I believe we need to educate ourselves and pray about how to navigate these murky waters. We must protect the rights of people to make their own informed decisions – one way or the other – informed consent, not blind or forced consent.
While unsolicited knocks at our doors may or may not become a reality, we all benefit from thinking through this and being prepared. And know it may not be a government official who knocks. Communities across this nation are soliciting and training up Community Health Ambassadors to do their part in educating and preventing the spread of this disease. California has already commenced their campaign. Gov. Gavin Newsom's office has hired 2000 workers "to make peer-to-peer appeals and provide support to help overcome barriers to vaccinations."
Lake County, Illinois has published "Helpful Hints" for their ambassadors who go knocking door-to-door. These include ignoring "no soliciting" signs and keeping accurate notes on vaccine status. They have also included a script for those who argue they are trespassing, for in their words: "I understand but I am not selling anything, we want to provide accurate information to the seniors in your community. Our goal is to maximize the vaccination effort so that ALL of your seniors receive the COVID vaccine when the clinic comes on-site. All I want is to see your seniors protected against COVID."
Leo Hohmann suggests we be ready with our response (or not answer the door) when agents want to tell us how safe and accessible the vaccine is. "Is this why roughly half of America refuses to get this injection? Because it's not accessible? Surely it has nothing to do with the dismal safety record, with record numbers of reported deaths and injuries. And the seemingly limitless pressure to get the shots, with multinational corporations leveraging all their power against us, threatening our jobs and livelihoods, surely this wouldn't set off any red flags in people's minds, would it?"
How to Respond
In the effort to be better informed and ready to give an answer to those who might knock, I have collected some great tips from around the web:
Intercessor Richard Butterfield shared how we can share the Gospel with those who might knock, "Imagine the conversation when the government worker tells us we can be saved from COVID by taking a shot and we tell them they can be saved from death by trusting in Jesus." He suggests having tracts ready to hand out.
John Whitehead, founder and president of the Charlottesville, Virginia-based Rutherford Institute suggests placing a "No Trespassing" sign at your door and/or knowing your rights if you decide to answer the door."I think the problem in America is people, most people, have no idea what their rights are," he added. "Under the First Amendment you don't have to speak to government officials, you have a right against unreasonable searches and seizures under the Fourth Amendment and the right to remain silent under the Fifth Amendment. Anyone can knock on your door unless you have a no trespassing sign, but if you look out the window and see government officials and you see them looking around, peering through windows, in my opinion you have a violation of the Fourth Amendment. They can ring the doorbell but once you put them on notice it's time for them to leave, they can't stay on your property."
Don't answer the door.
Have someone in your home come to the door with you as a witness and as a support person.
Record the interaction.
For "safety reasons" inquire about the results of their recent Covid test or other contagious diseases.
Some of you may think there is no reason to be concerned, but after reading some notes from Mat Staver, founder and chairman of Orlando, Florida-based Liberty Counsel, I think it is wise to have our eyes wide open. He highlights similarities to 1930s Germany, where Hitler used IBM to collect racial census data.  "Hitler actually hired IBM and IBM hired thousands of employees to execute a racial census to identify the Jews and once Hitler had that data, IBM created a system to cross-reference the data against employment records and also financial institutions' records to help Hitler ultimately pulverize the Jews," Staver said. "That's when they used the mass transfer of Jews to ghettos and ultimately prison camps. So we've been down this road before where a government tries to coerce people by going door to door and gathering personal information on people."
Being educated and informed are our best weapons of defense. Know your rights, communicate them as succinctly as possible or choose to not answer the door. Your personal health decisions are no business of the government. And as Richard Butterfield and Peggy Hall point out, our hope and immunity come first and foremost from the Lord. HE is the author and creator of life!
What will YOU do if they come knocking at your door? Please share this helpful information with others–they are not going to find it anywhere else.
Suni Piper is a writer and passionate intercessor for the nation and for the Church. She is determined and surrendered to be a voice of truth and encouragement to the Body of believers. Follow Suni at her website ASurrenderedLife.com.
Partner with Us
Intercessors for America is the trusted resource for millions of people across the United States committed to praying for our nation. If you have benefited from IFA's resources and community, please consider joining us as a monthly support partner. As a 501(c)3 organization, it's through your support that all this possible.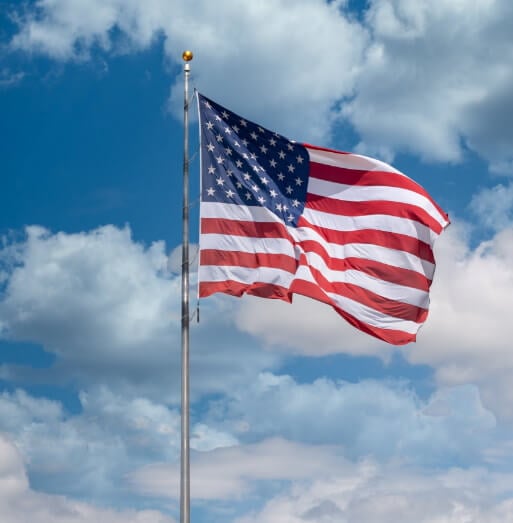 Become a Monthly Partner