Speaker Johnson: A Modern Day David
Dave Kubal, IFA President/CEO
|
October 28, 2023
Speaker Johnson: A Modern Day David
Dave Kubal, IFA President/CEO
|
October 28, 2023
I Prayed
have prayed
Lord, we praise you for this miracle! Thank You for choosing the person for the job.
The selection and election of new Speaker of the House, Rep. Mike Johnson of Louisiana, was a decisive victory of a spiritual battle that has been raging for months. I have sensed in my spirit that what we have seen in the natural was the surface of the supernatural battle happening behind the scenes.
I sensed a tug of war in the spiritual realm that was ultimately won.  Let me describe. I have nothing against the first candidate, Representative Steve Scalise, but his connections to the political establishment made him a doubtful warrior against the demonic agenda of woke ideology, out of control spending, open borders, etc.
View Comments (93)
The second candidate was Congressman Jim Jordan. He is certainly one of the most popular candidates, who clearly is willing to battle for policy issues we care about. Ultimately, I believe God desires to keep him laser-focused on his investigations into government corruption.
Then came Congressman Tom Emmer, who was a spokesperson for a Soros-funded organization attempting to eliminate the electoral college. Yes, you read correctly, he wants to eliminate the electoral college.  This globalist represented a huge step backwards for our nation if elected.
Back and forth we went — a battle between darkness and light. A battle fought in the heavenlies by you, an intercessor.
I believe Congressman Mike Johnson is a David for today. That may sound dramatic until you learn the back story, and watch Speaker Johnson's acceptance speech, and see how his first action as Speaker was to call his Caucus to prayer.
Last night after being elected candidate for Speaker, Congressman Mike Johnson asked the Republican conference to bow their heads and join him in prayer.

We need more leaders like this in DC 🙏🏻 pic.twitter.com/Ja05Bbj6IS

— Benny Johnson (@bennyjohnson) October 25, 2023
Let's review the facts with spiritual eyes.
When Republicans clinched the majority of the House, Speaker Nancy Pelosi resigned in January of 2023. At that time, Rep. Mike Johnson prayed on the floor of the House with a small group of congressmen.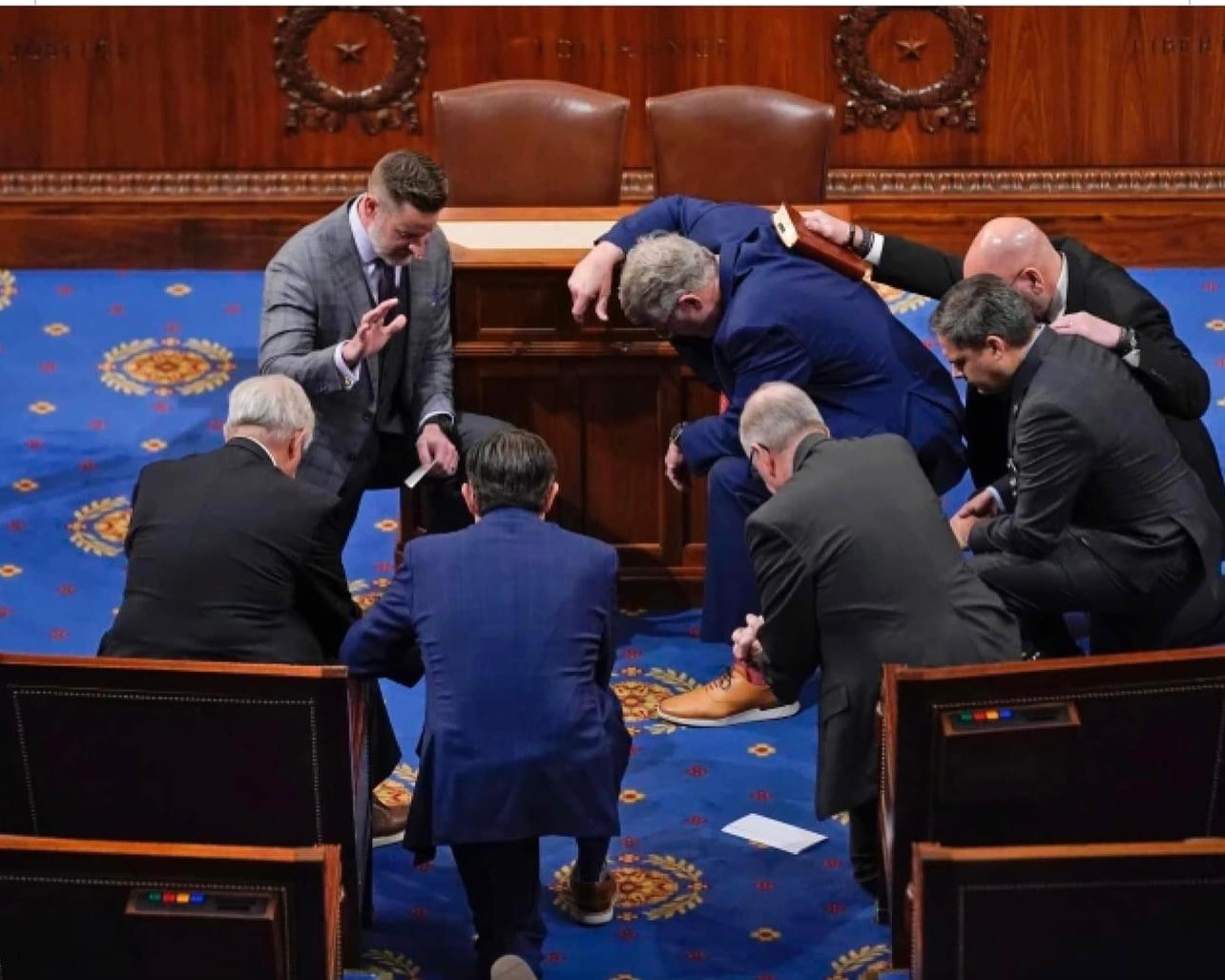 Multiple votes over days resulted in California Republican Rep. Kevin McCarthy's election as Speaker, based on promises and commitments he made.
Ten months later, on October 3, 2023, Speaker McCarthy was ousted through a forced vote. First, Rep. Steve Scalise was selected, but not confirmed. Then, Rep. Jim Jordan was selected, but not confirmed. Next, Rep. Tom Emmer was selected, but dropped out in a matter of a few hours.
What Bible story does this sound like? We'll get to that in a minute.
IFA has been reporting on and holding prayer calls over this office, which is third in succession to the President. It is no light matter. If the President and Vice President cannot fulfill their office, the Speaker is next in line. We needed someone with strong biblical roots and who loves the Constitution and this nation. God knew what and who we needed, and on October 25th, 2023, He answered.
What I love about the IFA community is that the intercessors hear from the Lord and IFA offers a place to share what God is doing. As a result, we are all built up in faith.
As IFA intercessors prayed about the Speaker of the House, in January and again in October, they heard from the Lord how to pray and what kind of person to pray for. Essentially, the prayer that was confirmed over and over was something like this: "Lord, may the David of our time be brought before the House and anointed by You for this speakership assignment."
Susan Jacquith, with the IFA Virgin Islands prayer group (yes, we have prayer groups in every state and a handful of territories) was praying on October 15, 2023, and sensed this: "I originally received and shared the word I got while praying for a speaker – about Jesse bringing all his sons to Samuel and Samuel saying not this one. He then asked, "Do you have any other sons?" And then the young shepherd boy was brought to him. Samuel anointed him."
Betsy West, State Prayer Leader for Pennsylvania, told IFA, "On the Pennsylvania call, one of our intercessors, Regina, had connected via conference call with Sue from Louisiana and sensed God tell her 1 Samuel 16: 'Is there no other?' Yes, David, who was tending sheep."
On October 21, 2023, IFA Board Member Cynthia Dunbar was praying. During that time of the prayer, the Lord spoke clearly and said, "Pray boldness over Michael Johnson in this season. Pray that he may walk in strength tempered in grace, that he may boldly speak forth truth, and that his words will be a beacon of hope to the nation." She called her friend who is a congressional district director and they prayed together. Her friend was puzzled at first because Rep. Johnson's name was not being considered, but they prayed in obedience. Wednesday afternoon Cynthia's friend called to share the news that Rep. Johnson was now the new Speaker of the House in a unanimous vote. (You can read more about Cynthia Dunbar's experience in the article that she wrote that was also shared by Dutch Sheets on Give Him 15.)
Then, Lisa Townsend, State Prayer Leader for Louisiana, reported that on Monday, October 23, 2023, when the Lord dropped this possibility of Louisiana Congressman Mike Johnson coming into this position into our hearts, two of our IFA Louisiana intercessors, Blanche and Karen, began to pray over him with the "David and Goliath" scriptures. They prayed and declared that Mike is a man after God's heart and anointed for this spiritual fight for our nation.
But God wasn't only telling IFA intercessors, he was telling His servants in Congress. Rep. Elise Stefanik (R-NY) shared what was said about Johnson in the GOP conference when he was nominated. Chair of Energy and Commerce, Rep. Cathy McMorris Rodgers (who has been featured in IFA's The Connecter newsletter). Stefanik quoted McMorris Rodgers as describing the need for a leader like King David: "'Trust has been broken and we have come to a standstill. How do we restore trust between Members, leadership, and ultimately, between Congress and We the People?'
You can watch Stefanik's remarks in this video at 49:54.
Cathy went on to say, 'There's a sense that it cannot be business as usual.' She went on to note, 'Above the Speaker's chair in the House chamber is our nation's motto: 'In God We Trust!' Ms. McMorris Rodgers went on to say, 'The times in which we are living demand boldness…unity…and transformational leadership – that begins with trust in God and each other.' Trust is when the magic happens. In the story of King David, we are reminded that man looks at the outward appearance, but the Lord looks at the heart.'"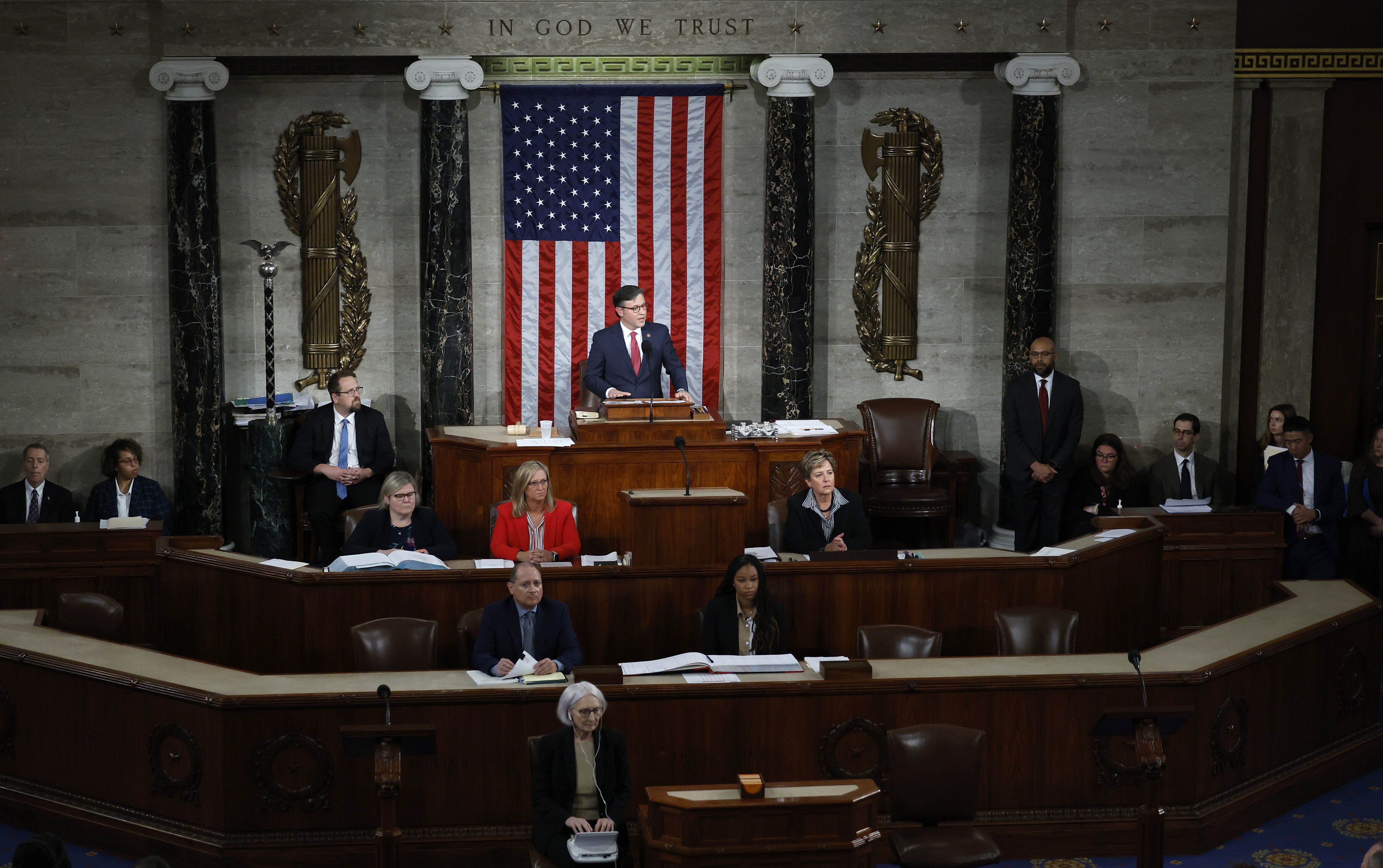 When the Lord told Samuel to go to the house of Jesse to anoint a king, David was at first excluded. He was overlooked by everyone, and even his father didn't invite him to gather with his brothers. Jesse left him in the fields with the sheep. The prophet Samuel looked upon the physical appearance of Eliab the firstborn son, and said, "Surely this must be the Lord's anointed" (see 1 Samuel 16:6). The Lord had a gentle reminder for the prophet, which Rep. McMorris Rodgers quoted: But the Lord said to Samuel, "Do not consider his appearance or his height, for I have rejected him. The Lord does not look at the things people look at. People look at the outward appearance, but the Lord looks at the heart" (1 Samuel 16:7).
All six sons passed before Samuel, and one by one the Lord said, "The Lord has not chosen this one." I love how the Message translates verse 11: Then he asked Jesse, "Is this it? Are there no more sons?" "Well, yes, there's the runt. But he's out tending the sheep." Samuel ordered Jesse, "Go get him. We're not moving from this spot until he's here."
How many people have asked the same question in the last few weeks as one by one candidates were rejected, especially on Monday to Tuesday when 9 candidates for Speaker were eliminated one by one. Is this it? Is there not an appropriate just and God-fearing person to serve?
Samuel had to eliminate all the brothers and then wait for David to arrive before hearing the Lord tell him, "Rise and anoint him, this is the one (see 1 Samuel 16:8-12). The rest is history.
Perhaps, like Samuel, you were certain it was the Lord's will to anoint people like Rep. Jordan or someone else. But the Lord's ways and thoughts are so much higher than ours (see Isaiah 55:9).
The Lord's choice was the man, Mike Johnson, conceived in an unmarried, teen mom's womb. A man whose firefighter father was disabled and then died of cancer before he was sworn in to Congress, A man whose wife is an intercessor. A man who prayed along with six other members of Congress after Nancy Pelosi lost the speakership. A man who prayed for the right person to fill that office and then became the answer to his prayer.
It is an answer that only God could have divinely orchestrated. We are in full agreement that Speaker Mike Johnson is the man who has been anointed by God for such a time as this.
Lisa Townsend, who is IFA's dynamic and gutsy state leader for Louisiana, knows firsthand. She has witnessed the commitment and hard work of Rep. Johnson. She said, "Mike Johnson is a man of prayer and holds the Word of God dear. His wife is also an intercessor." In Speaker Johnson's first speech, he glowed with pride about his state and his nation and emphasized the need for the House to get back to work on the nation's business.
This is confirmed by a prophetic word Townsend received.  "A couple of years ago, I had been a part of intercessory groups. At a gathering, a word of prophecy came. It said, God was preparing Louisiana to be a steel-toed worker boot- to help kick this nation back into gear. A covenant nation under God Almighty," Townsend said.
Doesn't this stir you with hope? A Spirit-filled man of God, a praying man who loves the Word, from the state that is shaped like a boot, has been placed in a significant seat of authority in our nation. Don't you love God works?
The story of David's anointing told in 1 Samuel 16, reminds us where David received his power, and this is our prayer for Speaker Mike Johnson, "…from that day on the Spirit of the Lord came powerfully on David." Can we praise God for this answer to prayer that is nothing short of miraculous?
Lord, we praise you for this miracle! Thank You for choosing the person for the job. Thank you for alerting the intercessors to pray for Your David. We know that the job is not done yet. We pray that all intercessors would come together and lock arms to cover Speaker Johnson and his family. We thank You that just as David was anointed to lead, that strong anointing would rest on him as well. We pray that just as You protected David from his enemies, you would keep a hedge of protection around him and his family. In Jesus' name, Amen.
Are you encouraged? Please share!
(Photo by Chip Somodevilla/Getty Images)
Partner with Us
Intercessors for America is the trusted resource for millions of people across the United States committed to praying for our nation. If you have benefited from IFA's resources and community, please consider joining us as a monthly support partner. As a 501(c)3 organization, it's through your support that all this possible.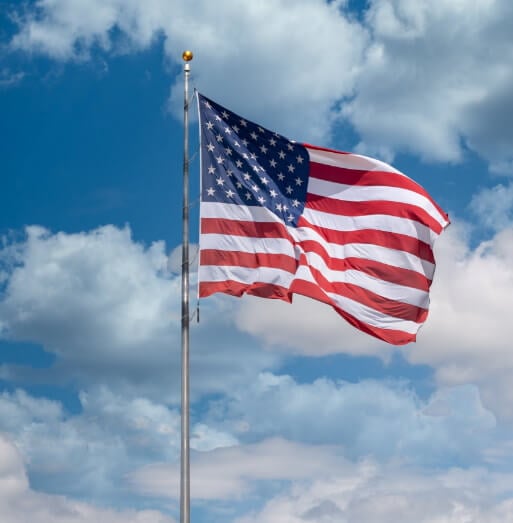 Become a Monthly Partner
You can post a prayer to share with others.
Christine S
November 1, 2023, 6:52 pm
Lord, we praise you for this miracle! Thank You for choosing the person for the job.
Dianna P
October 28, 2023, 6:58 am
Lord, we praise you for this miracle! Thank You for choosing the person for the job.
Dianna P
October 28, 2023, 6:58 am
Lord, we praise you for this miracle! Thank You for choosing the person for the job.