April 22, 2021 | Camille Solberg, IFA Legislative Director
Father, help us to step up and take action when You move us to. Help us to choose righteousness above comfort.
Through years of working in politics, including in the office of a United States Senator and at the White House, I have picked up a few tips and tricks for effectively communicating with your lawmakers.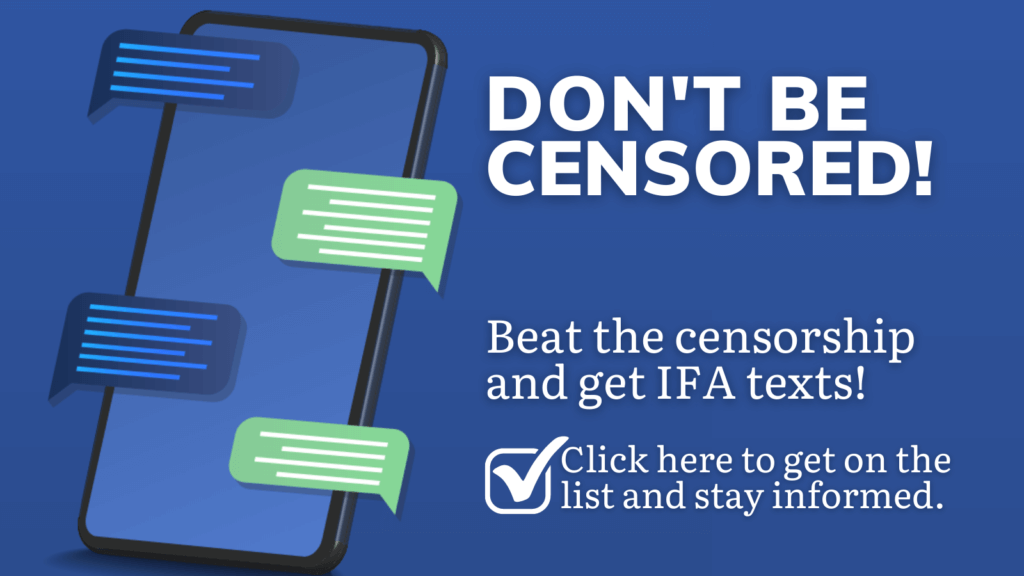 How?
The first and fastest way to connect with your official is to dial their direct number rather than calling a switchboard. You can find this number through the search for leaders function on the IFA home page, IFApray.org. You may also find a fax number there. Many lawmakers still have fax machines and it is actually a great way to connect. No email provider can censor your message—it is guaranteed to get through. I used to fax the White House all the time and I would get a very quick turnaround.
What?
Always identify yourself as being a constituent from their municipality, district, or state. If you choose to phone, don't be discouraged if you have to leave a message–staffers will listen to your message. They keep count of every call and they pass the information to your elected official.
Be specific but brief about what bill/issue you're referring to and how you want them to vote.
Most importantly, don't think of your contact as a one and done effort. Think of it as building a relationship with a staff member or an intern. Be respectful and kind. They will remember you by your actions. Recently, an IFA intercessor was invited by her U.S. Congressman to attend a special Town Hall meeting after developing a relationship by sending messages through IFA. Your investment in the relationship may open doors for more strategic intercession and action.
Be sure to thank the staffer and lawmaker for their public service. A little bit of gratitude goes a long way.
Who?
The more calls, faxes, letters, and emails addressing any issue, the better! We have all heard that there is strength in numbers—it is true. Try to get your peers involved. You need to understand the goal when you are contacting your lawmaker about specific legislation. You want the lawmaker to know that his or her position on that issue could impact the outcome of his or her next election.
When?
Don't wait until after a bill has been voted on in the lawmaker's chamber. Share your concern when the lawmaker can do something about it. Be timely. Contact when the measure in question is alive. They will appreciate having your views while the bill is ripe for study and action.
Constituents often call when only when they disagree. You can make a difference by being different–contact your elected officials often, thanking them for their service or for actions you appreciate.
Sample Letter to Lawmakers:
Date
Your Name
Your Address
Your E-mail
Your Phone Number
Use the proper form of address:
Governor -The Honorable (full name) Governor of (state) – Dear Governor (last name):
Lt. Governor – The Honorable (full name) Lt. Governor of (state) – Dear Lt. Governor (last name):
State Senators – The Honorable (full name) State Senate – Dear Senator (last name):
State Representatives – The Honorable (full name) – Dear Mr./Mrs. (last name):
Mayor – The Honorable (full name) Mayor City of (city) – Dear Mayor (last name):
City Council – The Honorable (full name) Council Member City Council City of (city) – Dear Councilman/Councilwoman (last name):
County Judge – The Honorable (full name) County Judge – Dear Judge (full name):
(In your first paragraph include personal information as a constituent in the district and about the issue concerning you)
(Be specific about what you are asking for)
I ask that you support or oppose (Insert name of bill here).  Describe why.
Thank them for their service and let them know you are praying for them.
Sincerely,
(Signature)
Your Name
You can contact your lawmaker right now . . .
Are you opposed to court packing? Click HERE.
Are you opposed to mandated vaccine passports? Click HERE.
(Photo Credit: Canva.)