GOD INTERVENES: A STORY OF RESCUE AND HOPE
Friend of IFA
|
June 15, 2020
GOD INTERVENES: A STORY OF RESCUE AND HOPE
Friend of IFA
|
June 15, 2020
I Prayed
have prayed
Father, we are grateful that your hand never leaves us. Help us to look for the ways that you are intervening in our lives daily.
Then Asa called to the LORD his God and said, "LORD, there is no one like you to help the powerless against the mighty. Help us, LORD our God, for we rely on you, and in your name we have come against this vast army. LORD, you are our God; do not let mere mortals prevail against you. (2 Chronicles 14:11)
We are in a spiritual war for our country.  The devil—the enemy—is scared; he and his forces are being backed into a corner and they are lashing out.  Antifa is professionally trained in how to get others involved and arrested instead of themselves.  But if they are arrested they are promised that George Soros-funded organizations will pay to bail them out.  We have been praying that subversive and deep state people will be exposed and they are.  Image the fear surrounding them! They are desperate.
Good has come out of the coronavirus.  God has been raising up an army of prayer.  God has given us spiritual armor to face the enemy and equipping his army of believers to advance forward (there is no armor on the back).  Let us keep pressing in with fervent intercession!
PRAY these points:
Take away fear. (We cannot pray with an attitude of fear.)
Raise us up to be a people of prayer.
Trust that God intervenes.  (See the scripture above–notice the phrases indicating His intervention!)  "LORD…no one like you… help the powerless…Help…rely on you…in your name…")
God, raise up "unexpected" people to intervene. (See the story below for inspiration!)
Let's not forget to PRAISE! Our God is a God of Peace and intervention.
Amazing first-hand story of God's Intervention
We lived in a country where riots were quite common. I would tell our new people to be prepared to spend two or three weeks in each year locked in as riots took place. Riots burned, destroyed and often turned over every brick and sometimes large sections of cities.  Many governments were overturned. The Gulf War erupted and we suddenly were seen as the infidel and enemy.  Many missions withdrew their personnel which meant they lost their visas and could not return. I felt God saying times will be hard but I will protect you.  The rest of our mission followed suit. God was to be our biggest intervener and protector.
God was to provide people to intervene. In a very unusual way, God had allowed me to help the governor and he became a close friend. He often said if I was ever in trouble he would help me.  Marwan was another man who worked right under the governor.  He almost became a nuisance as he continually came in the middle of meetings which I had to stop and take him to our home to give him tea and entertain him.  The first day of the Gulf War 10,000 people marched by our mission property cursing us. Our property consisted of almost two blocks with a large hospital, two large girls schools (K -8 and a high school), several other smaller institutions, and homes for many who worked in these institutions besides a half-dozen missionary homes.
The second day 20,000 people were to join these riots. Inside were people praying in small groups that God would intervene and spare them.   The governor phoned me several times each day to ask how we were doing. Then came Friday when he phoned and said the crowds have more than doubled.  He had his own people in these riots but was not sure he could control the riots that day.  The rioters had big weapons. His words were troubling as he said, "Prepare your people to climb over the walls and flee."
Friday the rioters indeed shook the ground as they rumbled past our home to the other end of the property at the hospital gate. Here they got a large tree trunk and prepared to smash down the gate and the walls of the hospital and then destroy the rest of the property and those inside. Marwan suddenly appeared in front of the rioters, riled them up more, and said, "Let's go somewhere else and do something big so the whole city will see flames going up."  He led them off to a large city park where they tore down every tree, building, and anything on that property completely destroying it and setting it all on fire.
Later Marwan told me that as those demonic people were at the gate ready to kill everyone and destroy every brick on the property all he could see was my face and my being destroyed. He said, "You don't know who I am but I am the government's lead man in this state trained in riot control. I had to do something."
God was our intervener–people were praying all over that property that was destined to be destroyed. God also used two unlikely interveners–the governor and Marwan.
As we see our country being destroyed, PRAY, and look for God to work.
God calls us to intervene before His throne.
Reinforce our prayer groups (those little prayer groups inside).  "Call and I will answer."
Pray for God to raise up people to intervene.
Pray for government authorities such as law enforcement and the military.
Pray for our leaders: the President, the Attorney General, our Governors….
People (like Marwan) to step out. Give thanks!
How have you seen God provide intervention in a hard or seemingly impossible situation?
Let's join together and give him Praise for his provision and intervention!
Partner with Us
Intercessors for America is the trusted resource for millions of people across the United States committed to praying for our nation. If you have benefited from IFA's resources and community, please consider joining us as a monthly support partner. As a 501(c)3 organization, it's through your support that all this possible.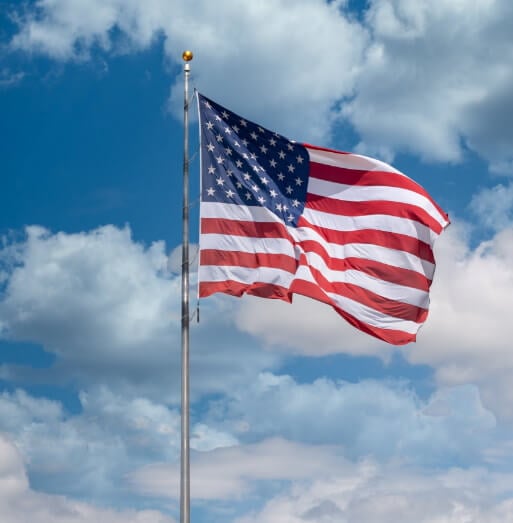 Become a Monthly Partner