FOR SUCH A TIME AS THIS: SIGHT & SOUND QUEEN ESTHER
Rich Swingle, IFA Contributing Writer
|
June 3, 2022
FOR SUCH A TIME AS THIS: SIGHT & SOUND QUEEN ESTHER
Rich Swingle, IFA Contributing Writer
|
June 3, 2022
I Prayed
have prayed
Lord, use Sight & Sound's Queen Esther to give courage to those in our generation who need to stand up to what is wrong.
We posted this article while Queen Esther was playing live at Sight & Sound's theatre in Lancaster, PA, but we're reposting because they're now offering it online in a Pay-What-You-Want event tonight at 8 p.m. Eastern. 
I've known for seven years that the world needs the story of Esther! I felt led to direct Jean Racine's Esther in 2014, and though that production didn't happen, in 2018 my friend Christopher Monroe directed that very script at The Salvation Army's Theatre 315, on the very stage where we would have brought the play four years earlier had things worked out. He even added original music!
View Comments (11)
Now the Lord has inspired Sight & Sound Theatre to bring the story of Esther to life in the way only this acclaimed musical theatre group can do it!
Early in this production, Hadassah (soon to be given the Persian name of Esther) is given a myrtle tree by her neighbor. Hadassah is from the Hebrew word for myrtle tree, a symbol of the righteous followers of God. The neighbor tells her it is planted in ash, which will help it to grow stronger and have a sweeter fragrance. When Mordecai covers himself with ashes, we remember good will come through the horrible circumstance of the Jewish people being marked for genocide.
It also reminds viewers that Sight & Sound itself rose from the ashes when their previous theatre burned to the ground. What replaced it (in Lancaster and later in Branson, MO) is nearly four times as wide as most Broadway stages, with a 300-foot panoramic stage that wraps around the audience on three sides, and they use every inch of it and then some! Actors and animals (camels, horses, dogs, birds, and giant puppet elephants) spill into the aisles and soar into the air. Costumes flow and dazzle. The ceiling lights up with lanterns and stars (reminding us that Esther means "star" in Persian). Set pieces, one too large to fit on a Broadway stage, open, turn, ascend, and descend through the stage floor. Video images are incorporated with the set pieces in ways that surprise and delight at every turn.
I've lived in New York City since 1993, where I've seen dozens and dozens of Broadway plays and musicals, and Sight & Sound honestly makes them look like high school productions in comparison.
Praise the Lord that this level of excellence is being used to bring the Word of God to vibrant life!
I had seen their production of Queen Esther on the internet, and I was impressed, but there is really nothing like being there.
I also saw Queen Esther online before November 3. So, to watch the Biblical story unfold, where a people lived under a government they didn't choose, was quite profound, and even more relevant.
When Hadassah was ripped from her home, it reminded me of a photo a friend showed me of an American girl next to a Taliban soldier who had taken her as his "wife." To watch Hadassah's kidnapping onstage led me to pray for girls in Afghanistan.
When Mordecai is told he must bow to Haman, it reminded me of how businesses are forced to refuse patrons and fire employees if they refuse to bow to the largest drug experiment in human history. I was moved to pray for those in the crosshairs of the mandates and praise the Lord for those with the courage to stand up against tyranny.
Haman twists the truth to make Mordecai, the hero who saved the king's life, into a villain. The Persian governor pitches his idea to destroy the Hebrew people to King Xerxes by saying it will be stopping a rebellion. It reminded me of how people who are pointing out the inconvenient truths of a stolen election and a plandemic — real heroes — are labeled "domestic terrorists" by cancel culture. I was moved to pray that these heinous attempts to glorify censorship will be shown for what they are.
Haman offers to pay the king so that exterminating the Jewish people will cost the Persian Empire nothing, and it reminded me of how politicians have been taking money from special interest groups. For instance, Free Oregon revealed that the Kate Brown Committee received at least $90,000 from the Soros family and Pfizer since she became governor of Oregon. The Pfizer gifts were given before the virus was released, and it's no surprise that many in Oregon are mandated to vaccinate.
Early on, Mordecai warns Hadassah, "There are people in this world who hate us." After explaining the Persian meaning of Esther, he tells her it's Hebrew for "hidden." Later he tells her she must reveal that she is a Hebrew, and it reminded me of an interview we saw with Andrew Brunson, who spent two years in a Turkish prison. Brunson said Christians are very close to extreme persecution in the U.S. because we are already being blamed for being haters and anti-vaxxers. This is the time to reveal to the world how many of us there are, not to shrink back and hide. Consider what Jesus said in Matthew 10:33, "… but whoever denies me before men, I also will deny before my Father who is in heaven." Mordecai sang, "I don't want things to get easier, I want them to be right." Let's pray for a vibrant Church to rise up while we can.
Haman's wife, Zeresh, sang about "spreading the web," and it reminded my bride Joyce Swingle of how witchcraft is covering our society. Her article on reclaiming October can be found on www.HeadlinePrayer.org, and "Warring Against Witchcraft: Cutting the Demonic Cords,"  includes a link to a prayer guide addressing witchcraft.
Every year I read through the whole of Scripture, and every year I'm perplexed as to why Esther used the first banquet to invite King Xerxes and Haman to a second banquet. The Sight & Sound team came up with a possibility: Haman kept Esther from bringing her true request by entertaining the king to distraction. It made me think of how the false prophet of mainstream media distracts the people from what's really going on. Headline Prayer reported nearly 300,000 illegal votes were discovered during the Maricopa County audit, but the mainstream media distracts with their spin, reporting that the audit confirmed Joe Biden won in that county, as if it was only a recount. That scene got me praying for Esthers to rise up and do something about the findings!
After Esther's first banquet doesn't go so well, Mordecai and the Jewish people believe she has failed them. Mordecai says, "We keep praying." No matter what things look like in America, we keep praying.
I'm glad Esther is on the minds of many these days. On October 9 www.HeadlinePrayer.org ran an article titled, "For Such a Time as This 117th Congress," and it ended with Mordecai's words to Esther: "For if you remain silent at this time, relief and deliverance for the Jews will arise from another place, but you and your father's family will perish. And who knows but that you have come to your royal position for such a time as this?" (Esther 4:14)
And our prayers for Mordecai's and Esther's to arise is already being answered! The following articles on www.HeadlinePrayer.org report people bravely standing up to the kings and Hamans of their worlds:
"Parents Are Taking a Stand and Refusing to Be Labeled as Terrorists"
"Video: Pfizer Emails Reveal Aborted Fetal Tissue Used in Covid Vaccine Lab Tests" reports Melissa Strickler leaking emails that show how Pfizer has been trying to cover up the fact that they used aborted babies to test their vaccine.
"Will the Election Audits Bring Revival?" is by Joyce, who reports on Cyber Ninjas CEO Doug Logan and Virginia State Senator Amanda Chase, who were on IFA's Pray with America's Leaders talking about how they are standing against corruption through the Maricopa County audit and beyond.
And there are others, but let's use Esther's story to inspire us to pray for many, many more.
When Mordecai tries to communicate with Esther once she's in the king's palace, Mordecai's friend Ezra tells him it will be easier to cross the Red Sea. Mordecai's response is, "Then it's possible!" Let's use the miracles of Scripture and modern life to inspire us to pray for things only God can accomplish!
Esther runs through December 23, but if getting to Lancaster, PA, isn't an option, I encourage you to pray through it online, or if musicals aren't your thing, pray through the Book of Esther with our current circumstances in mind.
And, you can join Joyce, fellow intercessor Cindy Sebring, and myself as we pray outside Sight & Sound Theatre, just after watching Queen Esther:  https://rumble.com/vnm0jr-praying-outside-sight-and-sound-theatre-after-queen-esther.html.
Here is the trailer of Queen Esther: https://youtu.be/fDDH9qTUMlQ
Will you watch? We think it will inspire! Share in the comments below!
Rich Swingle has taught and performed in 39 nations on six continents, mostly with his own one-man plays. He's also performed in more than forty film projects. He and his bride, Joyce Swingle, another contributing writer for IFA, now have 37 screen children. The two of them live in New York City. www.RichDrama.com
Partner with Us
Intercessors for America is the trusted resource for millions of people across the United States committed to praying for our nation. If you have benefited from IFA's resources and community, please consider joining us as a monthly support partner. As a 501(c)3 organization, it's through your support that all this possible.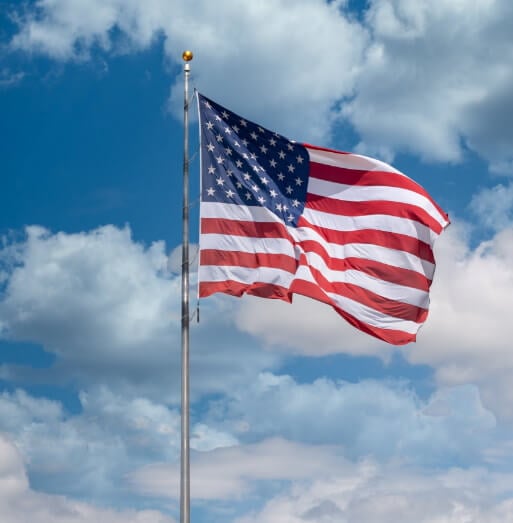 Become a Monthly Partner