FOR SUCH A TIME AS THIS 117TH CONGRESS
From DC Insider
|
October 9, 2021
FOR SUCH A TIME AS THIS 117TH CONGRESS
From DC Insider
|
October 9, 2021
I Prayed
have prayed
Father, You hold the hearts of kings in Your hand. We ask You to move our lawmakers' hearts to wisdom and discretion. We ask You to intervene to protect our nation and future generations from political ambitions and reckless spending.
Anyone following the news cycle knows that Congress is currently locked in a battle over several legislative measures.
Fresh off preventing a government shutdown and reaching a temporary agreement on the debt ceiling, their attention will likely now turn to the $1 trillion infrastructure bipartisan bill and the $3.5 trillion Democratic reconciliation bill.
View Comments (18)
Insider Intercessory Information
The difference between these bills may be confusing, but I'll try to quickly summarize. The $1 trillion infrastructure bill is pretty straightforward. Members on both sides of the aisle supported it, however many progressive Democrats say they only voted for the $1 trillion bill because they were promised a separate, more liberal $3.5 trillion bill would be passed through reconciliation.
Congress is able to use this method called "reconciliation" that allows them to pass budgetary spending with a simple majority, instead of the normally required 60 votes. However, a couple of moderate Democrats are unwilling to support the more expensive bill in it's current $3.5 trillion form. As a result, some of the more liberal Democrats have said they will not vote for the smaller bill until they get a guarantee on the larger bill. Meanwhile, Republicans have refused to support the larger bill, though some supported the smaller bill.
As you can, see there are a lot of moving parts, which means more opportunities for Spirit-led intercessors!
I spoke with a Republican legislative staffer on Capitol Hill who made clear that things hang in the balance. Particularly with the $3.5 trillion reconciliation bill, prayer is of utmost importance right now:
From my source:
Truly, everything is up in the air. We will probably not know what [the legislation] is going to look like until the day-of [the vote]. Right now they are still in negotiations. What are they going to give up to get more moderates or left-leaning [members] on?
My source went on to emphasize that Democrats really have control of what makes it in the bill.
It's truly on the Dems side of it. It's not on the Republican side. Whatever is happening in their party is going to define what happens and what doesn't. 
On our side, [it's about] ensuring if we have any moderate Republicans, and ensuring that we are doing a no [vote] unanimously. We do have some stragglers. 
My source has had conversations with Democratic staffers who see this legislation as getting as much passed as they can before Republicans take over the House next year. The Democrats my source spoke with assume Republicans will retake control in 2022.
These insider insights may surprise you, but this is often how Capitol Hill works. Regardless, as intercessors who are part of God's royal family, we must recognize critical moments like these. Congress is on the brink of passing several trillion dollars in spending, tax increases, new entitlements, and more.
If prayer warriors do not rise up now to ask for God's wisdom to permeate these discussions and decisions, in a few weeks…it may be too late.
With this in mind, let us pray:
-Holy Spirit, we ask that you move on the hearts of our elected officials so that they operate out of your wisdom, not man's wisdom.
-Father, we ask that you protect our nation from reckless debt, that we would be free from indebtedness. Convict Congress of the need to get our debt under control and eventually paid off for good.
-Father, we ask for grace, Holy Spirit intervention, and angelic assignments to be mightily at work as members on both sides of the aisle go into negotiations in the coming weeks. We need a divine intervention, Lord!
Verses to press into as you intercede on this issue:
The rich rule over the poor, and the borrower is slave to the lender. (Proverbs 22:7)
But seek first the kingdom of God and his righteousness, and all these things will be added to you. (Matthew 6:33)
For if you remain silent at this time, relief and deliverance for the Jews will arise from another place, but you and your father's family will perish. And who knows but that you have come to your royal position for such a time as this? (Esther 4:14)
Will you pray? Share in the comments below!
Article written by Casey Harper. Casey Harper is a writer in the Washington, D.C. area covering national politics. He has worked for The Daily Caller, The Hill, and Sinclair Broadcast Group. A graduate of Hillsdale College, Casey's work has also appeared in Fox News, Fox Business, Washington Examiner, and USA Today. Follow him on Twitter: @CaseyHarper33. (Photo Credit: Canva.)
Partner with Us
Intercessors for America is the trusted resource for millions of people across the United States committed to praying for our nation. If you have benefited from IFA's resources and community, please consider joining us as a monthly support partner. As a 501(c)3 organization, it's through your support that all this possible.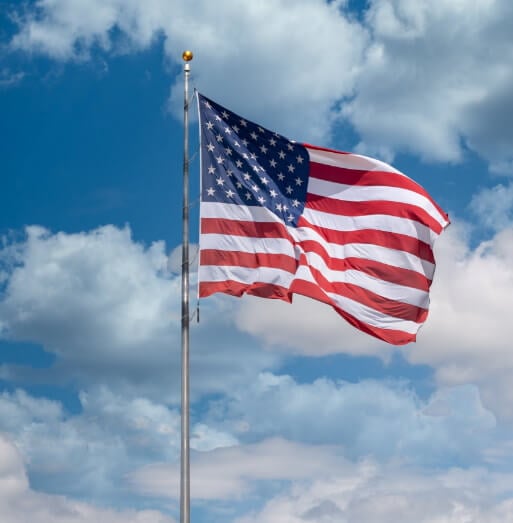 Become a Monthly Partner