Famine in the Land
Kim Potter, IFA Contributing Writer
|
July 5, 2022
Famine in the Land
Kim Potter, IFA Contributing Writer
|
July 5, 2022
I Prayed
have prayed
God, Your plans for us are full of hope. You have a great future planned for us – we trust You in that. God, we declare evil forebodings have no place in our life.
As the COVID pandemic continues to wane and the anger and frustration of the 2020 election takes a back seat, a new threat is on the horizon. We only need to step into a local grocery store to see food shortages continue to be a problem. If that wasn't enough, we  now see crop failures across the nation as intense heat settles into many cities and states. Could this be the beginning of the famine that many are predicting?
View Comments (9)
While this latest news causes many to fear, we must keep a few things in mind.
Fear is not from God.
First, one of the main weapons of the enemy is fear. The Word of God assures us fear does not come from God. 2 Timothy 1:7 declares, "For God has not given us a spirit of fear, but of power and of love and of a sound mind."
Proverbs 15:15 says, "All the days of the desponding and afflicted are made evil [by anxious thoughts and forebodings], but he who has a glad heart has a continual feast [regardless of circumstances]" (AMP).
We are to be those who have a glad heart and therefore, have a continual feast, as we keep our eyes on God.
Famine is not new to God.
Throughout the Bible we read of famine after famine. It is not new and it certainly has not taken God by surprise. The enemy tries to cause fear with this threat, but he has forgotten something vitally important. God has given us His Word to know His will during seasons like this. We can flip through the pages of the Bible to see exactly how God handled famine and its effect on those who belong to Him.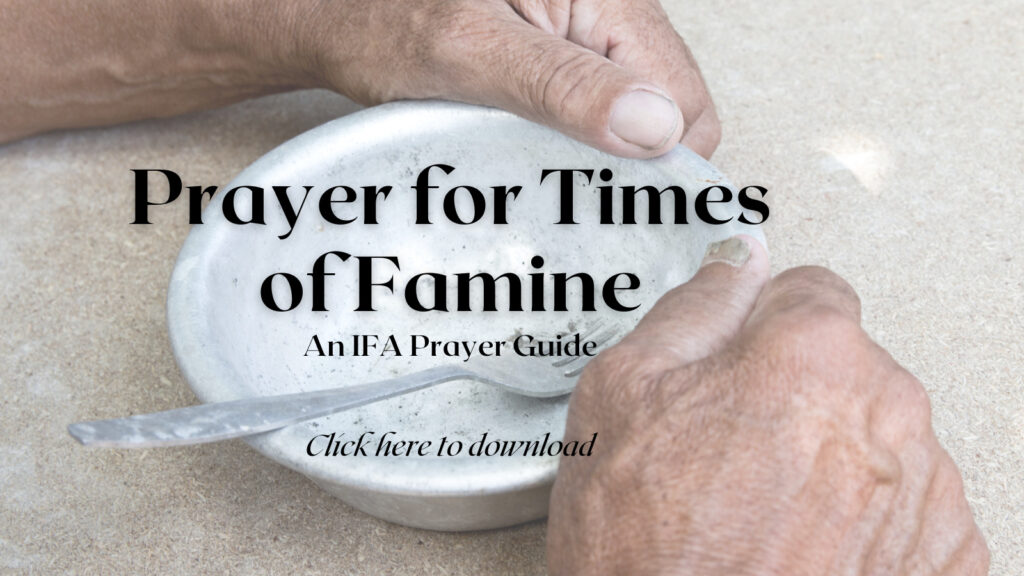 God always makes a way of escape.
Concerning famine, God has made promises to those who belong to Him and trust in Him and His Word.
They shall not be ashamed in the evil time, and in the days of famine they shall be satisfied (Ps 37:19).
You shall laugh at destruction and famine (Job 5:22).
Behold, the eye of the Lord is on those who fear Him, on those who hope in His mercy. To deliver their soul from death, and to keep them alive in famine (Ps 33:18-19).
As God's own, we can laugh at this threat from the enemy. We can be at peace, fully assured that we will be satisfied in times of famine. God, Himself, will keep us alive if need be. We see this truth revealed in the life of the widow woman in 2 Kings.
Then Elisha spoke to the woman whose son he had restored to life, saying, "Arise and go, you and your household, and stay wherever you can; for the Lord has called for a famine, and furthermore, it will come upon the land for seven years."

So the woman arose and did according to the saying of the man of God, and she went with her household and dwelt in the land of the Philistines seven years. It came to pass, at the end of seven years, that the woman returned from the land of the Philistines; and she went to make an appeal to the king for her house and for her land. Then the king talked with Gehazi, the servant of the man of God, saying, "Tell me, please, all the great things Elisha has done."

Now it happened, as he was telling the king how he had restored the dead to life, that there was the woman whose son he had restored to life, appealing to the king for her house and for her land. And Gehazi said, "My lord, O king, this is the woman, and this is her son whom Elisha restored to life." And when the king asked the woman, she told him. So the king appointed a certain officer for her, saying, "Restore all that was hers, and all the proceeds of the field from the day that she left the land until now" (2 Kgs 8:1-6).
We also see this truth in the life of Isaac.
There was a famine in the land, besides the first famine that was in the days of Abraham. And Isaac went to Abimelech king of the Philistines, in Gerar. Then the Lord appeared to him and said: "Do not go down to Egypt; live in the land of which I shall tell you. Dwell in this land, and I will be with you and bless you; for to you and your descendants I give all these lands, and I will perform the oath which I swore to Abraham your father. And I will make your descendants multiply as the stars of heaven; I will give to your descendants all these lands; and in your seed all the nations of the earth shall be blessed; because Abraham obeyed My voice and kept My charge, My commandments, My statutes, and My laws" (Gen 26:1-5).
God gave Isaac instruction for the time of famine, just as He did with the widow woman. If Isaac would obey God's instruction, He promised to bless Him – even during famine.
Then Isaac sowed in that land and reaped in the same year a hundredfold; and the Lord blessed him. The man began to prosper and continued prospering until he became very prosperous (Gen 26:12-13.)
Isaac did obey God and God blessed him, just as He promised. Isaac reaped a hundred-fold return from all he sowed during a time of famine. This happened in a season when others were not reaping from what they had sown, but Isaac did!
That, my friend, is the God we serve. We have no need to be in fear, dread, or anxiety. He is the same God, today, yesterday, and forever more. What God did for the widow woman and Isaac, He will do for you and me. The Bible tells us so.
Romans 2:11 assures us that God is no respecter of persons.
For God shows no partiality, undue favor, or unfairness; with Him one man is not different from another (AMP).
We, as Christians, have endured more threats against our nation and our family in the past two years than I thought possible. They seem to be unending. However, not one of them has caught God off-guard and none of them have shaken Him. Therefore, we must not be shaken either.
Whether it is pandemics, food shortages, rising gas prices, or famine, God remains faithful. What He has promised, He will fulfill. There is no need to fear. We simply must keep our eyes and hearts upon Him, and His Word and He will bring us through whatever chaos is happening in the world – not only through – but He will bring us out into an abundant place. He's done it before, over and over – He will do it again.
How are you praying for our country as it grapples with food shortages and famine? Share your thoughts and prayers below.
Author Kim Potter is a writer and the founder of A New Thing Ministries, which sends a daily teaching to thousands of people all around the world. Her articles have appeared on The Elijah List, Charisma, Spirit Fuel and iBelieve.com. Kim's message is one of hope. She speaks to the heart of those who have grown discouraged or disappointed by the circumstances of life, imparting hope. To receive her daily inspirational writings, go to www.anewthingministries.com. Photo Credit: Canva.
Partner with Us
Intercessors for America is the trusted resource for millions of people across the United States committed to praying for our nation. If you have benefited from IFA's resources and community, please consider joining us as a monthly support partner. As a 501(c)3 organization, it's through your support that all this possible.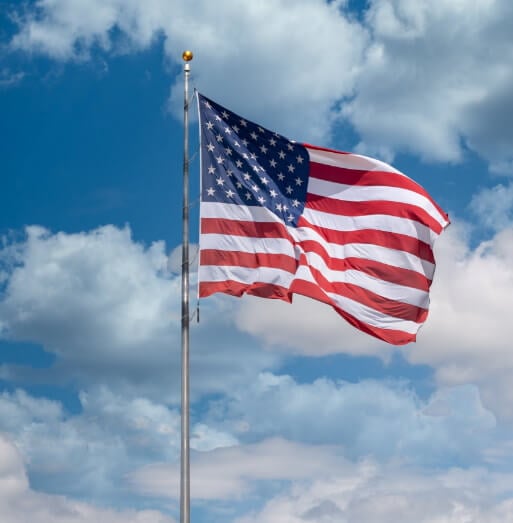 Become a Monthly Partner
You can post a prayer to share with others.
christine s
July 5, 2022, 6:29 pm
Fther of Jesus Christ. We have a famine of the heart...Please give us a hunger for You, Your Word, Your Works, Your Love.
Alan V
July 5, 2022, 8:34 am
God, Your plans for us are full of hope. You have a great future planned for us – we trust You in that. God, we declare evil forebodings have no place in our life. Defeat the plans of the enemy, Lord, as You have so many times before.