ENCOURAGEMENT FOR INTERCESSORS
Jamie Rohrbaugh, IFA Contributing Writer
|
April 29, 2021
I Prayed
have prayed
Father God, I'm so tired of being misunderstood. Please help me find the place in the Body of Christ where I fit in, where I can be effective, and where this intercessory call on my life will be celebrated, not tolerated, in Jesus' name.
Dear intercessor, do you feel lonely and misunderstood today? If so, I want to encourage you.
Feeling like you're running alone can be very painful. Being an intercessor can be a lonely job. However, it doesn't have to be that way. We can and should pray for covenant friends, and the Lord will lead us to them. However, even before we get there, I want to encourage you today by talking to you about the depth and riches of loneliness.
View Comments (23)
The pioneer life can be lonely sometimes.
People with a pioneering, intercessory call are separated – not separated from things, but separated unto—usually separated unto the presence of the Lord. As intercessors, we minister directly to the heart of God.
And that separation means that we are often misunderstood.
Loneliness is a feeling, so it can come and go and there can be reprieve from it. But 'being misunderstood' isn't a feeling. It's reality; as an intercessor, you will often be misunderstood and misjudged. I would wager that you know this from your personal experience already. People who don't share the same call simply cannot understand you.
Take heart: That's not the encouraging part.
But, my friend, there are people out there who have battle-scars like you do. There are people out there, just like you, who are separated unto the glory of God—who have borne the cross of loneliness all their lives. Even when they are surrounded by dear friends, there are still people who—just like you—feel the separation, the tug of Heaven pulling you to come aside and rest awhile.
And beloved, if you're lonely today, I want you to know this: There are people who will understand you.
There are people who also bear on their bodies the marks of the Lord Jesus Christ and of their lonely walk with Him. THOSE, and only those, are the people who will understand. Like you, there are people who have survived; who are running the race, come what may.
You will not fit in with any other kind of people … and it's okay to stop trying. It's okay to have boundaries; to operate in discernment; to love people and be friends with them without trying to establish a spirit-level covenant friendship with people who could never understand, because they do not share your DNA.
It's not that your DNA is better. We are all equal in Christ Jesus. But, we are also unique. We are individuals, with individual DNA. And the closer someone else's spiritual DNA is to yours, the more likely it is that a person will understand you and be able to run with you.
This is key: Stop trying to get people to run with you who cannot fathom where you've been; who don't understand who you are; and who can never identify with your assignment.
And stop worrying about what they think, too.
There will be people who look at you and form their own opinions. There will be people who will not bother to truly know you. They will shape their perception from their own perspectives, and often based on their own bias; and from that position, they will try to tell you who and what you are.
Don't listen.
Some things are illegal in the Kingdom, and this is one of them. It is absolutely illegal in the Kingdom for someone who doesn't know you and doesn't have relationship with you to tell you who you are and what your DNA is.
Some people will try, but don't listen. This doesn't mean not to listen to godly correction; we must be humble and receive it when godly correction from appropriate people comes our way. But godly correction will be from people who have taken the trouble to know you, understand you, and find out the truth of the matter—not from people who judge you with zero knowledge of your heart, calling, or assignment. From such people flee away.
My friend, it's okay to have boundaries.
Every battle is not worth fighting. Every person is not going to be a "bosom friend," as Anne of Green Gables said. Every person who judges you is not going to do so from a legal place of knowing you.
Sometimes it's good to simply walk away, shaking the dust off your feet if necessary.
This doesn't mean we become harsh or hard in our hearts.
We should never become harsh or hard; we should and must carry the Father's heart both for ourselves and for other people at all times. We have no license to carry offense; getting offended blocks the anointing of the Holy Spirit from flowing in our lives. And we certainly cannot get into unforgiveness, which is a horrible sin.
But you have to understand that the pioneering life is between you and God alone.
We still have to dwell in community. We still need one another, for we are parts of the Body of Christ. But there are depths of your relationship with the Lord that no other person can ever see; those depths are too private. And the jewels of your intimacy with our Father are not to be traipsed about and displayed to all others, in the hopes that someone will see and understand.
You are called to live facedown, and only a few people will be able to live in that place with you.
Facedown before God is the only place you will find Someone who really, really, understands. He is the one who made you, and the Creator knows and understands His created. He is the only Person who can.
Well-meaning people can try to understand. Many will try to befriend you, but they have not trodden the courts of the eternal where you have been—and they will never be able to understand you because of it. The Lord will send you kindred-spirit, covenant friends when you ask Him to do so, but be aware that those friends are likely to only be pioneers like you are.
The pioneering path is a lonely path. By its very nature, it is walked alone.
A.W. Tozer said it best in his brief essay called "The Saint Must Walk Alone" (click here to read it). Tozer wrote:
"Again, Abraham had Sarah and Lot, as well as many servants and herdmen, but who can read his story and the apostolic comment upon it without sensing instantly that he was a man "whose soul was alike a star and dwelt apart"? As far as we know not one word did God ever speak to him in the company of men."
He goes on:
"The prophets of pre-Christian times differed widely from each other, but one mark they bore in common was their enforced loneliness. They loved their people and gloried in the religion of the fathers, but their loyalty to the God of Abraham, Isaac and Jacob … drove them away from the crowd and into long periods of heaviness. "I am become a stranger unto my brethren, and an alien unto my mother's children," cried one and unwittingly spoke for all the rest."
He also wrote:
"There are some things too sacred for any eye but God's to look upon."
and
"The man who has passed on into the divine Presence in actual inner experience will not find many who understand him. … [True] spiritual fellowship will be hard to find. But he should not expect things to be otherwise. … He walks with God in the garden of his own soul and who but God can walk there with him?
He is of another spirit from the multitudes that tread the courts of the Lord's house. He has seen that of which they have only heard, and he walks among them somewhat as Zacharias walked after his return from the altar when the people whispered, "He has seen a vision.""
The words above make me cry, then whisper. It's true: "There are some things too sacred for any eye but God's to look upon." Such is the state of nearly every intercessor and pioneer in the Kingdom of God … and that can be hard. The lonely path of pioneering new territory in the Kingdom can be hard.
Nevertheless, my friend, God fashioned your DNA so that you will be able to endure the difficulty.
You were made of sterner stuff. I know you hurt sometimes, and I know you can be lonely. I know people don't understand you.
But beloved, you were born for this. And if you're like me, you know in your inmost heart that you wouldn't be happy doing anything else.
Therefore, beloved intercessor, the encouragement I want to offer you today is this:
Don't quit. Don't get angry at people for not understanding you. Simply find your companionship, your being-known, and your being-understood, in Father. Locate the pioneering posse that Father has for you, so you can be rightly connected with the Body of Christ. This is the secret to thriving, surviving, walking in victory, taking new territory, and living a joy-filled life despite being lonely sometimes and misunderstood most of the time. Father is the One who sustains you, and He will walk with you all the way.
Beloved, the pioneering call of God on your life is important.
The Lord created you to be who you are because He needs you to fulfill this role in the Kingdom. And precious one, He understands. He knows that your call will bring you great joy, but that there will be hard times too.
When hard times come, crawl into the lap of Father. The One who knows you best loves you most, and He will sustain you.
Does this message encourage your heart today? If so, please leave a comment below. We'd love to hear from you!
Jamie Rohrbaugh is a prophetic pioneer who equips people to walk in the manifest presence of God. She blogs for a global readership at FromHisPresence.com, where she writes about radical prayer, the prophetic word, the supernatural lifestyle, inner healing, and Kingdom wealth. She is a frequent contributor to Charisma Magazine, The Elijah List, Spirit Fuel, and various other ministry outlets. Her podcast, Take Your Territory with Jamie Rohrbaugh, can be found on iTunes and Spotify. Read her free series of encouraging Letters to Pioneers here. (Photo Credit: Canva.)
Partner with Us
Intercessors for America is the trusted resource for millions of people across the United States committed to praying for our nation. If you have benefited from IFA's resources and community, please consider joining us as a monthly support partner. As a 501(c)3 organization, it's through your support that all this possible.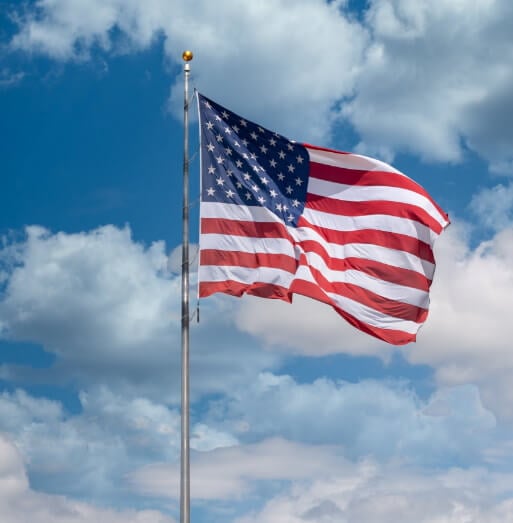 Become a Monthly Partner