DEFUNDING THE POLICE IS A TERRIBLE IDEA
David Kubal, IFA President/CEO
|
June 9, 2020
I Prayed
have prayed
Lord God, we look to You to show us how to look at and to solve our nation's problems.
Defund the police? Have you ever heard of this? Have you ever thought that people would think that defunding the police would be a good idea?
For the first time in the history of our nation, the leaders of a major city, Minneapolis, intend to defund and disband their police force! So many city council members plan to vote in favor of this radical move that their decision will be veto-proof. The mayor, who opposes this move, would not be able to stop it. But he will certainly have to deal with the consequences.
View Comments (41)
This decision illustrates the most basic question we need to answer: Is man's nature essentially good or eternally flawed?
If you believe that man's nature is essentially good, then you would come to the same conclusion as the Minneapolis City Council. If man's nature is good, then if we do everything we can to give people the opportunity to do right, they will rise above circumstances, make moral decisions, and see the scourge of racism removed from our society. Law authorities could be replaced by education, social programs, and agreement about collective thought.
If you believe man is good, you believe in external solutions.
However, if you believe that man is eternally flawed (original sin nature), you would come to a completely different conclusion. You would believe what the Bible says in Romans 13:4—government's most basic role is as "God's servants, agents of wrath to bring punishment on the wrongdoer." You would see that because of the sinful nature of man, societies need rules and authority to retain law and order that protect everyone's freedoms. This structure is needed because sin will always be with us and only the moral teaching of Scripture (and the regenerative power of the Holy Spirit) give our society hope.
If you believe man is essentially flawed, you believe in internal solutions.
I don't think it was a mistake that on May 1, 2020 President Trump issued a Proclamation on "Law Day":  "More than 230 years ago, the Founding Fathers of our Nation crafted a revolutionary and unique form of Government rooted in the rule of law.  Today, we continue to enjoy liberty, justice, and equality under the law as set forth and preserved in our Constitution.  On Law Day, we celebrate the distinctive framework of our system of Government, which secures individual liberties and protects against arbitrary exercise of government power so that all citizens have the right and the freedom to pursue their American Dream. . . . "
History has shown us that law "protects (us) against arbitrary exercises of government power." Law and order provide the environment for racism to be addressed. Policies based on misplaced hope in the essentially good nature of mankind will only result in chaos and anarchy.
In light of more recent events, it is very interesting that President Trump also went on to say: "This year also marks both the 150th anniversary of the ratification of the 15th Amendment, which prohibited denial of the right to vote based on race, color, or previous condition of servitude, and the 100th anniversary of the ratification of the 19th Amendment, which prohibited denial of the right to vote based on sex. The women and men who fought to win a voice for people of color and women in the electoral process strengthened our Union and helped the country better fulfill the founding promise of our Nation — that the power to enact and enforce laws be truly derived "from the consent of the governed." As we mark these milestones, we pay tribute to the courageous spirit of the trailblazers who made this achievement possible, and take inspiration from their righteous struggle as we continue working to root out and destroy injustice."
We need to pray for our nation: Lord, we are grateful that You invented government, that You have a plan for it, and that You delegate Your authority to it. We ask You for the protection of the Rule of Law in our nation. We ask that You protect us from mob rule and a false belief about the heart condition of man. Lord, we are broken and in need of Your transforming power to come to our nation. We pray that our laws would provide the framework so that all would have the freedom to pursue the American dream.
Partner with Us
Intercessors for America is the trusted resource for millions of people across the United States committed to praying for our nation. If you have benefited from IFA's resources and community, please consider joining us as a monthly support partner. As a 501(c)3 organization, it's through your support that all this possible.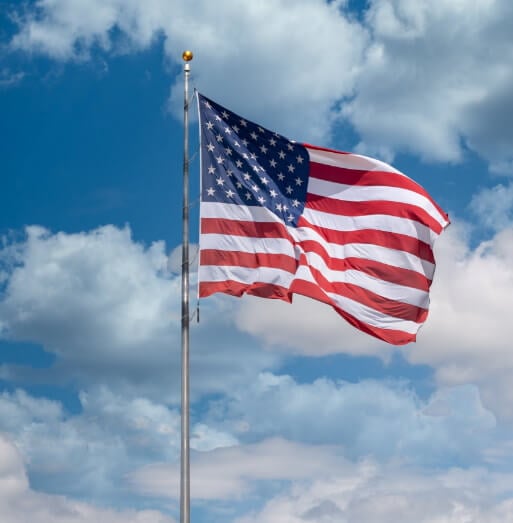 Become a Monthly Partner