Crisis Response Prayer: Mandates in the Military
Joyce Swingle, IFA Contributing Writer
|
March 18, 2022
Crisis Response Prayer: Mandates in the Military
Joyce Swingle, IFA Contributing Writer
|
March 18, 2022
I Prayed
have prayed
Lord, thank You for the many times You have operated through the prayers of IFA intercessors and other saints to protect America and Your purposes through the nation. Continue to move through prayer to shape history. In Jesus' Name.
The next time you use electricity, thank an IFA intercessor!  The Lord operating through the prayers of the saints just may be the reason America's power grid remains secure.  Intercessors won't be surprised to learn the prayers they render — even when details are scarce — spill from God's golden bowls into powerful protection and action on earth.
These covert prayer ops are critical to establishing the Kingdom of God throughout the world and nation.  Tommy Waller, a veteran U.S. Marine officer, shared some of the miraculous answers to IFA's prayer missiles March 10 on Pray with America's Leaders.  Waller has more than 15 years of experience as an Infantry Officer and Expeditionary Ground Reconnaissance Officer in the Marine Corps and service spanning multiple deployments to Afghanistan, Iraq, Africa, and South America. Waller, now a reserve officer, joined IFA's Marketing Director Kris Kubal and Government Affairs Director Camille Solberg to encourage intercessors and request prayer for pressing current needs.
View Comments (17)
Prayer Ops Shape History
Kubal and Waller first became acquainted in 2018 through their work on a coalition dedicated to helping persecuted Christians.   Waller, who was tasked by the Marines to discern how best to protect America's electrical grid, needed prayer for a critical briefing he was to make to highly placed military and intelligence personnel.  "[I] really, really needed the Holy Spirit to guide that process and enable me to able to get through to them the urgency with which we needed to address significant vulnerabilities," Waller said.  "And I'm happy to say that I could feel the impact.  I remember calling [Kris] the night before and then just seeing really miraculous things come of the opportunity you gave us — All of you gave us with the prayer support you provided."
IFA and Waller are still partnering in Afghanistan by supporting Chad Robichaux, former Force Recon Marine and Department of Defense (DoD) contractor with eight deployments to Afghanistan as part of a Joint Special Operations Command Task Force.  When the U.S. military pulled out of Afghanistan in August 2021, Robichaux got busy rescuing his interpreter and his interpreter's family members.  According to Waller, the mission soon turned into a rescue operation that saved more than 17,000 people, including American citizens and allies.
Prayer literally lifted Robichaux in the midst of the mission, Waller said.  "I'll never forget him telling me the story how on the airplane headed over — you had the rescue operations that took place and then you had an incredibly sensitive reconnaissance mission. Highly, highly risky operation.  And it had been seven or eight years since Chad had been in that region," Waller said. "…He had significant post-traumatic stress and, in fact, to the point of almost becoming suicidal, really.  Until he found the Lord….That anxiety began to come back to him on the plane.…He took the opportunity personally to pray and to ask the Lord, the Holy Spirit to help him.  He was reminded of how the Intercessors for America were lifting him up and he just said from that moment on throughout the entire mission, this incredible peace just covered him.  In such a way that he had never experienced before."
Waller asked for continued prayer for Robichaux.  "He's in Ukraine right now and in fact sending messages with things that he needs logistically," Waller said.  "The activities that he's conducting in Ukraine now are completely humanitarian.  It's all geared toward helping people with medical treatment and transportation and evacuation."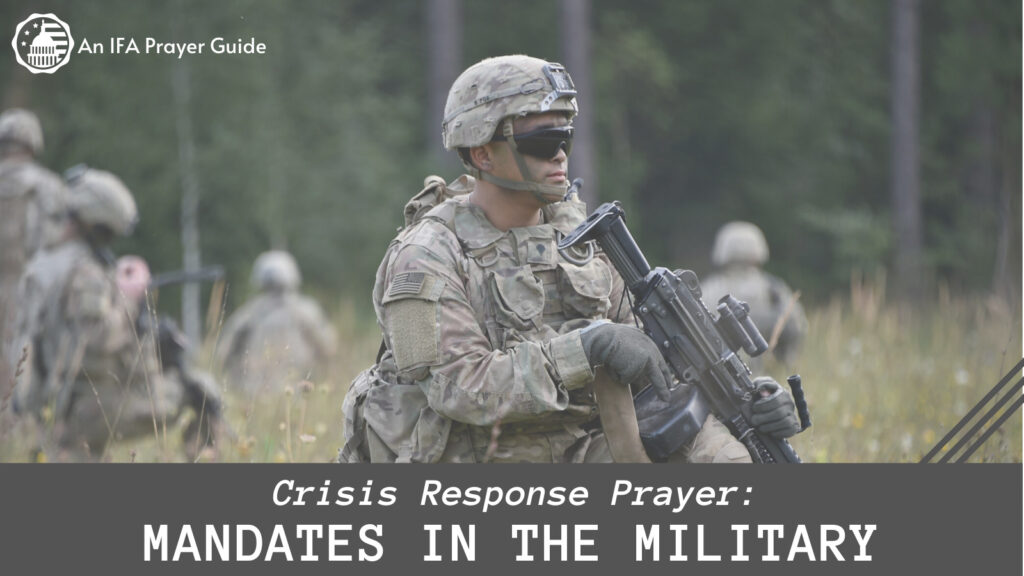 Military Mandates
Waller wants to continue to partner with IFA, urging intercessors to pray over the implications of the COVID-19 vaccine mandates for the military.  Several whistleblowers have emerged to shed light on a vaccination process that has been obscure to the public.  At the time of the interview with IFA, two Lieutenant Colonels were testifying before a federal judge on issues associated with the vaccine.
In preparation for a January round-table hosted by Sen. Ron Johnson (WI), Lt. Col. Theresa Long and Lt. Col. Peter Chambers, both medical doctors, discovered serious anomalies in medical conditions data in the DOD's Defense Military Epidemiology Database (DMED).  The database tracks health conditions for the U.S. military.  Long and Chambers pulled data for the five years immediately preceding the rollout of forced vaccination and compared it to data for the year following the vaccinations.
According to Waller, the data, which Johnson published in a letter to the Secretary of Defense, indicated startling increases in serious medical maladies hundreds of percents higher post-vaccination.  After the round-table, managers took DMED offline, citing a glitch; when managers re-loaded it, the data comparison showed far less significant differences.
"Because what they said was…the information over the last five years had been underreported.  And this is a significant issue because either for five years the data about our health of the U.S. military was incorrect or it has been somehow manipulated," Waller said.  "And all we seek is the truth so that we can know whether there are in fact adverse effects taking place."
As IFA prayed with Waller, dramatic events were unfolding in the courtroom where Long and Chambers were testifying.  Subsequent to the prayer call and court room appearances, Mat Staver, Founder and Chairman of Liberty Counsel and attorney for the whistleblowers, reported Lt. Col. Long had been instructed prior to her court appearance by her immediate superior to refrain from talking about the DMED findings.  According to Staver,  this upset Long, but she was encouraged by this verse, "If you are called to testify about something you have seen or that you know about, it is sinful to refuse to testify, and you will be punished for your sin" (Lev. 5:1).
About her testimony, Staver wrote:
When I asked her a question about the DMED, she said, "I have been ordered not to answer that question." Judge Steven Merryday immediately asked, "Ordered by who?" She then testified about what happened the night before the hearing. I then asked Dr. Long if the information the military ordered her not to testify to was relevant and important to the court and the public. She said, "Yes." I then asked "Why?" She paused, held back tears, looked at the judge and said, "I have so many soldiers being destroyed by this vaccine. Not a single member of my senior command has discussed my concerns with me … I have nothing to gain and everything to lose by talking about it. I'm OK with that because I am watching people get absolutely destroyed." No stranger to on-the-job injury, Chambers is a Purple Heart recipient.  He didn't expect, however, to develop demyelination from his COVID-19 vaccination.  After his injury, Chambers and Long began to investigate adverse vaccine reactions through DMED.   During the March 10 hearing, Chambers testified about vaccine injuries and limitations to the vaccines' efficacy against infection.  According to Chambers, of those soldiers contracting infection, 75 percent to 80 percent were "fully" vaccinated, compared with 15 percent who were unvaccinated.
According to Staver, the DOD presented no witnesses at the March 10 court appearance.
Military Discharges
Beyond health concerns, those in the military who have refused vaccination for religious or medical reasons have been abruptly dismissed from service.  According to Waller, the most vulnerable are those who have served fewer than six years because they do not receive due process through an Administrative Separation Board hearing and can be released with a less-than-honorable discharge.
Robichaux's son Hayden experienced this.  "He had to turn in his military ID, his uniforms, his physical fitness gear, socks, belt, everything.  They took everything from him," Waller said.  "He was not afforded an honorable discharge and he was sent packing with his wife, pregnant wife, no job and… it ended a 53-year unbroken lineage of service to the Marine Corps by the Robichaux family.  That is happening all over the world, all over the country.  I've heard stories of young service members overseas [in] very similar conditions being kicked out rapidly [and] not even afforded the same benefits and financial help to move them back to the United States."
It's time for IFA warriors to take on this special prayer op for our physical warriors!   Click here for a guide to praying for our military.
Share your praise and prayer to the Lord below!
Author Joyce Swingle is an intercessor and contributing writer for Intercessors for America. With her husband Drama Evangelist Rich, Joyce shares the Gospel of Jesus Christ around the world through theatre and speaking. Joyce also has performed on screen.  Prior to going into full-time ministry, Joyce worked for about 20 major magazines and now works in pastoral ministry and Christian counseling. She and Rich live in New York City. Photo Credit: Canva
Partner with Us
Intercessors for America is the trusted resource for millions of people across the United States committed to praying for our nation. If you have benefited from IFA's resources and community, please consider joining us as a monthly support partner. As a 501(c)3 organization, it's through your support that all this possible.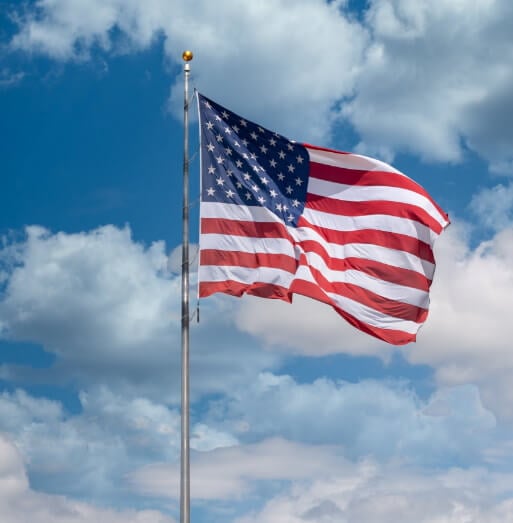 Become a Monthly Partner
You can post a prayer to share with others.
Gretchen C
March 19, 2022, 10:23 am
Lord, thank You for the many times You have operated through the prayers of IFA intercessors and other saints to protect America and Your purposes through the nation. Continue to move through prayer to shape history. In Jesus' Name.