BIG BROTHER IN REAL LIFE? HOW TELLING ON PEOPLE IS INCENTIVIZED
From Multiple Sources
|
June 20, 2021
BIG BROTHER IN REAL LIFE? HOW TELLING ON PEOPLE IS INCENTIVIZED
From Multiple Sources
|
June 20, 2021
I Prayed
have prayed
Lord, we pray that you would protect our children. That you would give divine wisdom to the families in America in regards to education and what our children are hearing, seeing, and watching.
The government wants you to report on your neighbor. What is the government looking for? White supremacy, "bias" in school. Read more . . . 
Breitbart reported that President Joe Biden's administration announced their plans to create ways for Americans to report radicalized friends and family to the government, in an effort to fight domestic terrorism.
In a conversation with reporters, one senior administration official explained the importance of stopping politically fueled violence before it started.
View Comments (2)
"We will work to improve public awareness of federal resources to address concerning or threatening behavior before violence occurs," the official said.
The official cited the Department of Homeland Security's "If you see something say something" campaign to help stop radical Islamic terror as a domestic possibility.
"This involves creating contexts in which those who are family members or friends or co-workers know that there are pathways and avenues to raise concerns and seek help for those who they have perceived to be radicalizing and potentially radicalizing towards violence," the official said.
Biden began his presidency with a stark warning in his inauguration speech about the "rise in political extremism, white supremacy, domestic terrorism that we must confront and we will defeat." On June 1, Biden described the threat from "white supremacy" as the "most lethal threat to the homeland today."
The Biden administration said it would also work with large technology companies on "increased information sharing" to help combat radicalization.
"Any particular tech company often knows its own platform very well," the official noted. "But the government sees things — actually, threats of violence — across platforms. They see the relationship between online recruitment, radicalization, and violence in the physical world."
The Department of Homeland Security also plans to deploy "digital literacy" and "digital fitness" programs to help combat "malicious content online that bad actors deliberately try to disseminate."
The official reassured reporters that the administration's new strategies would remain "laser-focused" on stopping violent acts. . .
The official added the Biden administration was taking the threat of domestic terrorism seriously and would redirect the focus of intelligence agencies on internal threats.
"We are investing many agencies of the government and resourcing them appropriately and asking our citizens to participate," the official said. "Because, ultimately, this is really about homeland security being a responsibility of each citizen of our country to help us achieve."
The Epoch Times reported that a public school district in Massachusetts is encouraging its students and staff to report on one another for "incidents of bias," according to newly uncovered documents.
The documents include Wellesley Public Schools' (WPS) guidelines (pdf) on how to handle complaints of bias among students and staff, and slides from a mandatory "equity protocols" training course. They were obtained and released by Parents Defending Education (PDE), which describes itself as a grassroots organization working to reclaim schools from "activists promoting harmful agendas."
According to Wellesley's Office of Diversity, Equity, and Inclusion, a "bias incident" is any "conduct, speech or expression that has an impact but may not involve criminal action, but demonstrates conscious or unconscious bias" against any federally protected identity group, i.e., "race, ethnicity, national origin, sex, gender identity or expression, sexual orientation, religion, or disability."
Students are encouraged to report incidents of discrimination or "any concerning pattern of biased behavior" to any district staff member or a trusted adult. Reports may be also be made anonymously online, according to the policy, although it notes that anonymous reports are "more difficult to investigate and respond to." . . .
The slides also teach that "telling rude jokes" on social media is an example of a "bias-based incident," as are using slurs, imitating someone with a disability, or imitating someone's cultural norms or language. Those incidents should be reported even if they happen off-campus, according to the protocol, as long as they impact the school or work environment.
Students, staff, and even community members may face punishment if they violate the guidelines. Potential discipline for students include detention and suspension, while staff members would undergo a process of "formal warnings and reprimands, suspension, or more serious consequences." Non-staff adult community members may be "sanctioned by limiting or ending their participation in WPS community activities or ending their ability to be on WPS premises." . . .
"Students absorb more in school than simply lesson plans; they're also learning how to interact with individuals who come from different backgrounds and viewpoints," Neily wrote. "Bias response teams send a clear message not only that certain opinions are wrong but that the correct coping method, when confronted with such a situation, is to 'go tell the grownups.'"
What do you think this means for America and privacy? Let us know your thoughts and prayers in the comments!
(Excerpt from Breitbart and The Epoch Times. Article written by GQ Pan and Charlie Spiering. Photo by Vitolda Klein/UnSplash)
Partner with Us
Intercessors for America is the trusted resource for millions of people across the United States committed to praying for our nation. If you have benefited from IFA's resources and community, please consider joining us as a monthly support partner. As a 501(c)3 organization, it's through your support that all this possible.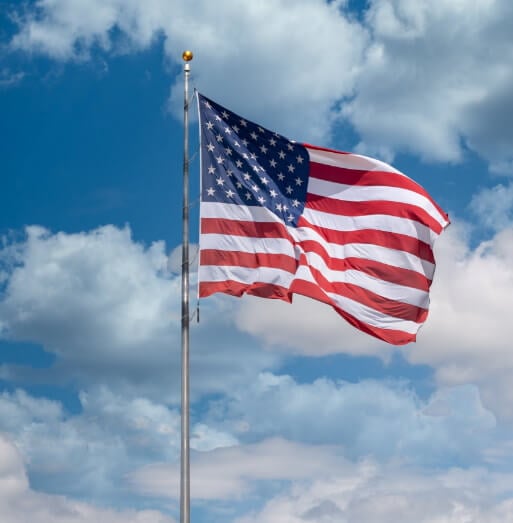 Become a Monthly Partner