ARE YOU READY FOR REVIVAL?
By Gloria Robles, IFA Contributing Writer
|
January 26, 2021
ARE YOU READY FOR REVIVAL?
By Gloria Robles, IFA Contributing Writer
|
January 26, 2021
I Prayed
have prayed
Lord send a great revival to America, and let it begin in me.
Will You not revive us again, that Your people may rejoice in You? Show us Your mercy and loving-kindness, O Lord, and grant us Your salvation. I will listen [with expectancy] to what God the Lord will say, for He will speak peace to His people, to His saints (those who are in right standing with Him)—but let them not turn again to [self-confident] folly. ( Psalm 85:6-8 AMP-C) 
Revival! It's a word you're probably used to hearing. It's probably something that you are asking God for. We all should. But reading about revival and studying the words really opened my eyes. The Greek word for revival, anazao, is made up of two words, "ana" which means again, and "zao" which means live. When we pray for revival, we are praying for something to live again. This implies that what we are praying for was once alive but now is dead. 
View Comments (14)
When we are asking God to bring revival to America and the nations, we are praying for them to come to life again, spiritually that is. In 1925, a hymn by James Gray was published called, "Lord, Send a Revival and Let it Begin in Me." This was before my time, but I know that this hymn was quite popular. This is more than a catchy song, but an interesting truth. Personal revival comes before corporate or national revival. That's right, yes Lord send a revival, beginning in me.
Back to the Greek word "anazao" or live again. The Bible lexicon leads me to an interesting verse, " 'for this son of mine was dead and has come to life again; he was lost and has been found.' And they began to celebrate." (Lk. 15:24) 
This is the parable of the prodigal son. We know that the further the son got from the father the more he ended up in trouble, until he came back to his father and lived again. I love the story of the prodigal son. That was the story of you and I. We were once prodigals to our Father, insisting we knew better. We made messes, but the Father was waiting for our return. 
I know a wise preacher who had a revival in his church in the 90s. He has told many stories. He said the first ones who ran to the altar were the Christians. This did not mean they weren't saved. It meant they recognized something was missing. 
Personal revival means Jesus Christ is your first love. Losing our first love is something that can happen to any believer. The Lord Jesus addresses the church at Ephesus. He commends them for the many good deeds. They didn't tolerate evil, they labored, they endured, but then He issued a sobering statement.  
But I have this [one charge to make] against you: that you have left (abandoned) the love that you had at first [you have deserted Me, your first love]. (Rev. 2:4 AMP-C)
Do you remember the feeling of being in love? The newness, the excitement, the first and last person you wanted to talk to throughout your day. They captivated your thoughts, and all you could think about was seeing them again. Nothing and no one could take their place. That is first love and that is how our relationship with God should be. Think back to when you accepted Jesus Christ into your life for the first time. There was a fire burning in you that couldn't be quenched. You were excited to share Jesus with anyone who would listen. There was a deep hunger to know God more. You had fresh anticipation at what God could do. Anything was possible. Do you still feel this way? Are you still burning for Jesus as you did when you first got saved? Let's make an honest evaluation. If the answer is no, It's time for us to return to our first love.
Here are four keys for personal revival:
Repentance 
We must acknowledge when we have sinned against God and turn away from it. Repentance produces brokenness, humility, and refreshing. It is the result of conviction. It brings you closer to God; whereas condemnation drives you away from God. Ask the Holy Spirit to search you and expose what you need to repent for. It doesn't have to be one and done. Confess and repent as often as you need to. Create in me a clean heart, O God. Renew a loyal spirit within me. (Ps 51:10 NLT)
Surrender 
This is a yielding. We lay down our agenda and need for control and submit to the power of another, that power being God Almighty. Evan Roberts of the Welsh Revival prayed, "Bend us oh Lord!" We need the bending, sometimes our iron will get us into trouble. When Jesus taught the Lord's prayer, at the end He said, "For Yours is the kingdom and the power and the glory forever. Amen" (Matt. 6:13). When we fully surrender, it produces humility. We say God, I've tried it my way, and my way isn't working. I'm ready to do it Your way. God's way is death to self, or the crucified life. (Gal. 2:20)
Hunger For God
This is a place of desperation. You know that nothing can save you. No one can help you. There is a deep heart cry that it has to be God and nothing else will satisfy. People in the Bible who got their answer were desperate people. Earthly desperation can lead us to do some pretty dumb things. Holy desperation made a blind man cry out, "Son of David have mercy on me!" While people were telling him to shut up, he cried even louder. But guess what? He did not go unnoticed. He was recognized by Jesus and was healed. Holy desperation will never go unnoticed. Then I pray to you, O LORD. I say, "You are my place of refuge. You are all I really want in life. (Ps. 142:5)
Prayer 
It's so much more than just asking God. True prayer is about communion with God. We can pray together for needs, but in private it's our own personal garden. Revival will never come without fervent praying. William Seymour, Evan Roberts, Jeremiah Lanphier, George Whitefield, and Charles Finney were all people of God who saw revival. It is no secret that these men had lives that were marked by prayer. They spent hours, days, weeks, months, even years crying out for God to revive their cities and nations. They held prayer meetings and encouraged others to join. God heard their prayers and sent revival to the land. If you want a biblical reference read Acts 2, when they met together in the upper room as one in prayer. They joined in prayer with one goal, one heart, one mind, that being the mind of Christ. 
What happens during a larger scale revival?
Believe it or not, the same things I listed about keys for personal revival will break out during a corporate/national revival. People will be moved by the conviction of the Spirit to repent. Salvation springs up. This is when we see souls who have never known Jesus come to him. The lost are found. You see new levels of surrender from new converts to mature saints laying it all down afresh for Jesus. People will have an intense desperation for God's presence. This will lead them into the Word, prayer, worship, and fellowship. God's power will be manifested in many ways like deliverance, healings, miracles, signs, and wonders. We must remember that the signs, wonders, and miracles all point to Jesus Christ. The display of His power does two things. First, it creates a deeper hunger to know God more and second, it opens a door for salvation to the lost.
This is the fruit of revival. We can do nothing to make a revival happen. God alone is the source. 
Every time I read about the revivalists of old, it makes me hungry spiritually. I thank God for past revivals, but we don't need an old time revival. We don't need another Azuza Street or Welsh Revival.  Looking to the past can keep you from moving forward, even when it's something good. We need a 2021 revival! 
Lord send a great revival to America, and let it begin in me. Let it begin in my marriage, my family, my church, my city, and in my nation. I want to burn with my first love's fire again. Forgive me for allowing my fire to go out. Forgive me for allowing myself to be consumed by busyness instead of being consumed by Your presence. Forgive me when I offer half hearted prayers. Bend me Oh Lord, I yield my heart to you. 
Fall afresh on me Holy Spirit. Touch my heart and remove any hardness that has come during delay, trials, frustrations, and pain caused by others. I don't care how long ago I gave my life to you. I want to know You more. Take me deeper than I've ever been. Open my spiritual eyes with fresh revelation in Your Word. Open my spiritual ears to hear You, and touch my heart to obey when You speak. Give me Your heart for the lost, and Your love for my brothers and sisters in Christ. When I walk in revival, I am carrying You with me wherever I go. Wherever You are Lord, nothing can stay the same. Lord, You've done it before, You can do it again. I position myself in Christ and am ready to see a new outpouring of Your Spirit in my life and in my nation. In Jesus' name, amen.
If My people, who are called by My Name, humble themselves, and pray and seek (crave, require as a necessity) My face and turn from their wicked ways, then I will hear [them] from heaven, and forgive their sin and heal their land. (2 Chron 7:14 AMP)
The Spirit of God, who raised Jesus from the dead, lives in you. And just as God raised Christ Jesus from the dead, he will give life to your mortal bodies by this same Spirit living within you. (Rom 8:11)
Partner with Us
Intercessors for America is the trusted resource for millions of people across the United States committed to praying for our nation. If you have benefited from IFA's resources and community, please consider joining us as a monthly support partner. As a 501(c)3 organization, it's through your support that all this possible.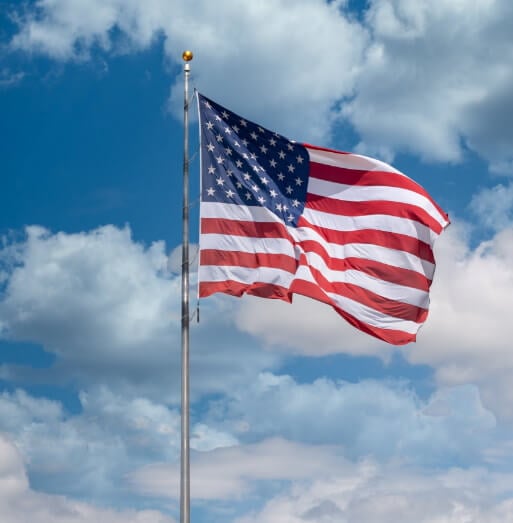 Become a Monthly Partner