Are the Unvaccinated Being Tracked?
From Mercola
|
February 15, 2023
I Prayed
have prayed
Father, we pray that You would protect our rights. Keep our government from tracking us, Lord, and from using our vaccination status to oppress us!
Our rights are in danger. Now is the time for fervent prayer.
From Mercola. As recently discovered and reported by Dr. Robert Malone, the U.S. government has secretly been tracking those who didn't get the COVID jab, or are only partially jabbed, through a previously unknown surveillance program designed by the U.S. National Center for Health Statistics (NCHS), a division of the Centers for Disease Control and Prevention.
View Comments (11)
The program was implemented April 1, 2022, but didn't become universally adopted by most medical clinics and hospitals across the U.S. until January 2023.
Under this program, doctors at clinics and hospitals have been instructed to ask patients about their vaccination status, which is then added to their electronic medical records as a diagnostic code, known as ICD-10 code, without their knowledge or consent so that they can be tracked — not just within the health care system but outside of it as well.
Secret Tracking Program Revealed
The new International Classification of Diseases (ICD) codes were introduced during the September 14-15, 2021, ICD-10 Coordination and Maintenance Committee meeting. The ICD committee includes representatives from the Centers for Medicare and Medicaid Services (CMS) and the NCHS.
Below is a screenshot of page 194 of the agenda distributed during that meeting. …
As you can see below, ICD-10 code Z28.310 identifies those who have not received a COVID jab and Z28.311 identifies those who are not up-to-date on their shots.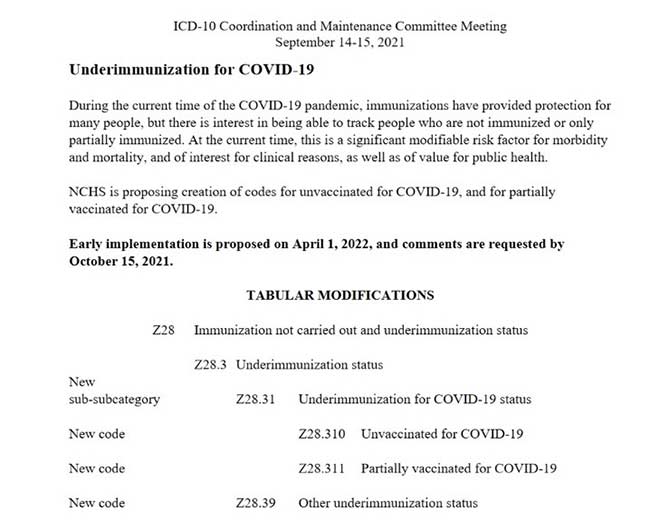 Tracking Unjabbed Is Part of the Biosecurity Agenda
Why do they want to track the unvaccinated? For what purpose? The short answer: to facilitate the implementation of vaccine passports. As noted by Malone:
"Code Number Z28.310 listed above is not a code for an illness or diagnosis, but rather for non-compliance of a medical procedure … Once a person's vaccination status is coded and uploaded into large data base, it can be accessed by government and private health insurers alike.

The administrative state officers at the CDC have not made immunization status a reportable disease (yet) but immunization status is listed as one of the reasons for mandatory reporting. They are just one step away from being able to collect this information without your permission. Ergo: vaccine passports made easy. In this country, not having your vaccine records 'up-to-date' might mean:
The government will not restrict your travel, airlines will.
The government will not restrict your travel, other nations will.
The government will not restrict your travel, auto rental companies will.
The government will not restrict your travel, public transport will.
The government will not restrict your travel, private companies will." …
Gross Violation of Medical Privacy Rights
Since there's no billing or payment involved with being unvaccinated, and since being unvaccinated is extremely unlikely to be part of your disease profile, there's no valid reason to record anyone's vaccine refusal. It's also a violation of medical privacy, as the records can be accessed by a variety of individuals and not just your personal doctors.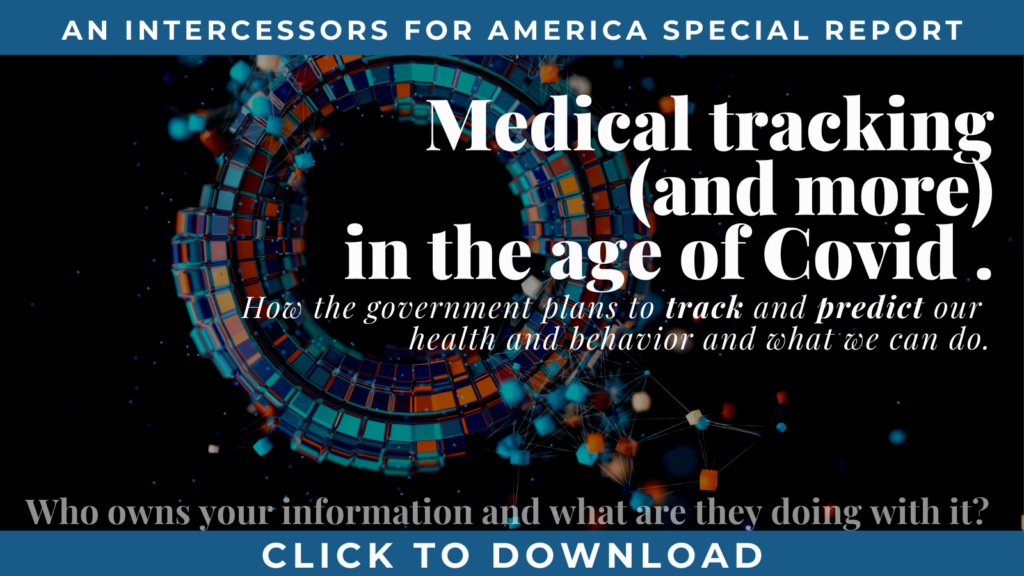 As noted by Malone, a person's decision to get a vaccine or not is a private matter, and your privacy rights are enshrined in the Privacy Act of 1974. However, during the COVID pandemic, medical privacy rights have been repeatedly violated and broken. …
They're Tracking Reasons for Jab Refusal Too
If you need proof that these codes will be used for reasons unrelated to your health, consider this: They're also using codes to describe WHY you didn't get the primary series or stopped getting boosters. Those codes are listed in the screenshot below, under Z28.3 Underimmunization Status. …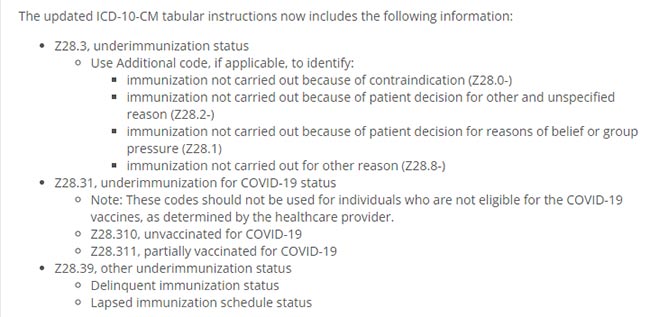 All Missed Vaccinations Will Be Tracked
Another tipoff that these codes are part and parcel of the biosecurity control grid is the fact that code Z28.39 — "Other underimmunization status" — is to be used "when a patient is not current on other, non-COVID vaccines. …
In other words, they have already begun tracking ALL of your vaccinations, not just the COVID shot, and they can use the Z28.3 sub-codes to identify why you refused a given vaccine. …
Unjabbed Teachers Flagged
In related news, in early February 2023 it was revealed that New York City teachers who did not get the jab were "flagged" with a "problem code" in their personnel files, triggering their fingerprints to be sent to the FBI and the New York Criminal Justice Services. …
Call to Action
Knowing all of this, what can you do about it? How do we stop this madness? Here are a few suggestions:
Demand Congress finish what the Senate started by declaring the public health emergency over and done with. January 17, 2023, HR 382, a bill "To terminate the public health emergency declared with respect to COVID-19" was referred to the House Committee on Energy and Commerce. This bill must be passed.
Contact your Congressional representative and let them know you:
Support the Select Subcommittee on the Weaponization of the Federal Government's investigation.
Want Congress to reject all attempts by the administrative state, the United Nations, the WHO, Health and Human Services (HHS) and the Biden Administration to require a vaccine passport or a digital ID.
Expect them to work to ensure the freedom of travel for all citizens.
Expect them to protect Constitutional rights.
Expect them to protect all rights to privacy, including and especially medical privacy, and since these new ICD-10 codes are in violation of your right to privacy, you want them to take immediate action to ensure the codes are revoked. …
How are you praying against medical tracking? Share this article to keep people informed.
(Excerpt from Mercola. Photo Credit: Canva)
Partner with Us
Intercessors for America is the trusted resource for millions of people across the United States committed to praying for our nation. If you have benefited from IFA's resources and community, please consider joining us as a monthly support partner. As a 501(c)3 organization, it's through your support that all this possible.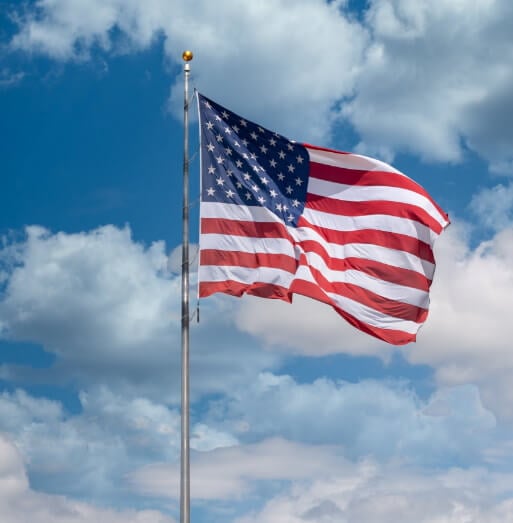 Become a Monthly Partner
You can post a prayer to share with others.
Gretchen C
February 15, 2023, 5:09 pm
Father, we pray that You would protect our rights. Keep our government from tracking us, Lord, and from using our vaccination status to oppress us!