AN ENCOURAGING WORD: THE SOUND OF BREAKTHROUGH
Kim Potter, IFA Contributing Writer
|
December 8, 2020
AN ENCOURAGING WORD: THE SOUND OF BREAKTHROUGH
Kim Potter, IFA Contributing Writer
|
December 8, 2020
I Prayed
have prayed
Lord, bring breakthrough to our nation. We ask You boldly that You would bring revival to our nation. We thank You.
For years, aviators believed that man could not fly faster than the speed of sound. They believed even an attempt to break the sound barrier would tear an aircraft apart. Yet, in October 1947, Chuck Yeager (who passed away Monday at the age of 97), flying an X-1 at 40,000 feet exceeded 662 miles per hour, broke through the sound barrier. The sound was heard for up to 50 miles.
It was the sound of breakthrough.
View Comments (54)
I recently had a dream that I believe to be from the Lord. It was short, yet profound, and I believe it is the herald of a sound of breakthrough that will penetrate the earth.
I was in my house when I sensed something was coming. I knew it was coming quickly and I had to warn others.  I somehow knew there was a sound about to pierce through the atmosphere into the earth—one that would shake everything. I ran outside to warn people about the coming sound.
I looked around for those I needed to alert.  As I scanned the area quickly to locate them, I discovered they were up on a ridge above where I was standing. The road leading to the crowds of people was quite steep. In the dream, I felt dread at having to climb the mountain to get to them. However, I breathed deeply and took that first step. I found myself suddenly at the top with no effort or toil.
I called loudly to people, trying to get their attention, to warn them about what was coming. I felt they needed to get into their homes, their place of shelter, before it came. However, before I could get the words out of my mouth – the sound came. It was unlike anything I had ever heard. It was more than loud. It was a thunderous wind that resonated and caused everyone to throw their hands up over their ears and flee in fear. 
The sound caused the wind to blow with extreme force as people ran for shelter.
Then I woke up.
Do you like this article? Share with a friend!
As I prayed into this dream, I began to hear a phrase in my spirit: "The sound of breakthrough."
I thought about the day one man pierced the sound barrier, breaking through and creating a sound that had not been heard in the earth before that day.
I also thought of another sound—it too, was unheard of…that is until the day of Pentecost.
When the Day of Pentecost had fully come, they were all with one accord in one place. And suddenly there came a sound from heaven, as of a rushing mighty wind, and it filled the whole house where they were sitting. (Acts 2:1-2)
Like the piercing of the sound barrier, the day of Pentecost was also a sound of breakthrough as the Holy Spirit broke through upon the earth.
Sound accompanies breakthrough.
You may find it interesting to learn, the word sound in the Strong's Concordance means echo.
What invaded the earth that day was the reverberation of the prayers that were ascending to God. The echo came with such force that it created a sound like a mighty rushing wind so intense it shook the building they were gathered in. Not only that, but people came from miles away to see the source of the sound.
The sound of breakthrough I hear coming is an echo.
It is an echo of intense intercession that has gone forth, unceasing, for the healing of our nation. Those fervent prayers have entered into the very presence of God!
The Lord is preparing a sound, an echo of our prayers and our petitions. That sound is our breakthrough!
Echo is defined in the Websters 1828 Dictionary as: "To reverberate or send back sound; to return what has been uttered."
We are about to see what we have been praying. What we have been declaring and decreeing have not gone unheard. Nor will God fail to answer.
God's word, spoken from our mouth, will not return void. It will accomplish what it was sent for. It will return to us and echo back as a manifested breakthrough (Is 55:11.)
Our intercession has not been in vain. Listen for the sound. It is about to pierce through the atmosphere. The sound of breakthrough will once again shake this nation, as the Word and the power of God comes to abide in our nation afresh.
It's time to take cover under the shadow of the Almighty. Thereby, we will not be caught off guard.  For He is coming, and His reward is with Him.
There is no need to fear. This sound, like on the day of Pentecost, is from God. Yes, it will be loud. Perhaps even terrifying. It will shake what can be shaken. But hold fast. Stay under the shelter of His wings. For we are about to hear the sound of breakthrough.
Author Kim Potter is a writer and the founder of A New Thing Ministries, which sends a daily teaching to thousands of people all around the world. Her articles have appeared on The Elijah List, Charisma, Spirit Fuel and iBelieve.com. Kim's message is one of hope. She speaks to the heart of those who have grown discouraged or disappointed by the circumstances of life, imparting hope. To receive her daily inspirational writings, go to www.anewthingministries.com. (Photo Credit: Unsplash.)
If you are encouraged by this article, please share it with your friends and other intercessors!
Partner with Us
Intercessors for America is the trusted resource for millions of people across the United States committed to praying for our nation.
If you have benefited from IFA's resources and community, please consider joining us as a monthly support partner. As a 501(c)3 organization, it's through your support that all this possible.

Dave Kubal
IFA President
& CEO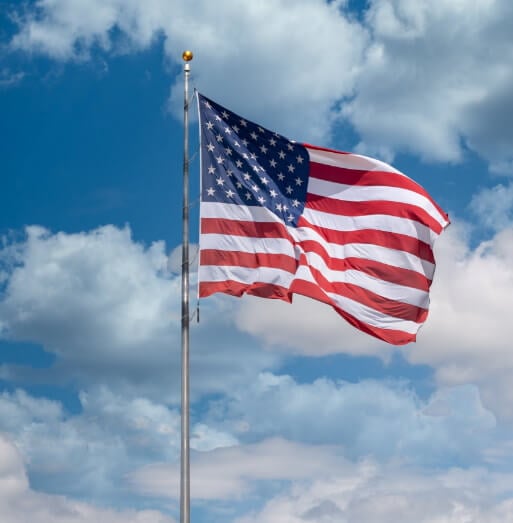 Become a Monthly Partner