A MESSAGE FROM THE LORD FOR INTERCESSORS FOR AMERICA
An intercessor
|
November 12, 2020
A MESSAGE FROM THE LORD FOR INTERCESSORS FOR AMERICA
An intercessor
|
November 12, 2020
I Prayed
have prayed
Lord Jesus, show us our own sin and how we can truly demonstrate Your love to this world.
One of the IFA intercessors sent us this powerful message that resonated deeply with us. It is our privilege to share it with you.
Dear Mr. Kubal,
View Comments (205)
I've been receiving your emails from IFA for a few months now.
I am not famous, nor do I have a title. I am just your everyday Christian. But I have been praying and interceding as led by the Holy Spirit since 1995.
A few months ago, I had a dream that President Trump was in my living room. I wondered what he would be doing there. Then I heard the words, "Campaign Camp." I had been praying for him but now the Holy Spirit was leading me to pray and intercede for him and America for extended times.
On November 3, I had a vision in prayer. I saw Nancy Pelosi riding on water, so happy because things were going well for her. But then up ahead President Trump was standing up and pointing for her to turn around and she had to. As I prayed, I saw Joe Biden and Kamala trying to get in. An archangel was standing in the way and blocked them for a while. But something happened and they were able to sneak into the swing states. I didn't understand how or why.
Then, two nights ago, as I was seeking the Lord in an extended time of prayer, worship, and intercession, the Lord showed me another vision. In this vision, Jesus was holding my hand and we were walking together. I felt very close to Jesus and I felt His Love. But there was something strange. His face was covered with dirt and mud. I asked Jesus, "Why is your face covered with dirt and mud?" And He told me it is because that is how the world sees Him.
We (in general) as the Body of Christ have been standing up for what is right and fighting for what is right and that is great. But we have not been showing the world the Love of Jesus like we should. We have been prideful, judgmental, and unloving and that is how the world sees Jesus.
I will confess that I am the least of all Christians and I am guilty of what God showed me, even though it is my desire and my personality to love everyone. In these extended times of prayer, the Holy Spirit has been leading me to personal repentance.
As the vision continued, Jesus took me to a place where it was dark and I could see a prominent Democratic leader in a meeting with some other Democrats. I knew this was something that had happened in the past. And I heard her ask, "What can we do to take down the Republicans?" My feeling was that they were willing to do anything legal or illegal.
Then Jesus took me to a place where there was water – like a stream. And He washed His face. Then He showed me more things that I needed to repent of and I did, crying out to God for forgiveness. I realized that even though I have been seeking God and repenting it has been shallow. I thought about 2 Chronicles 7:14 and how we quote it and pray it. But have we truly repented? Again, I confess my own need to continuously repent.
My feeling about these visions and what the Lord showed me is that He wants us to truly repent of our own sin. And He wants us to love everyone with the Love of Jesus, as He commanded us, and to present Jesus to the world as He is – a Loving Savior.
I realize that there are many Christians who have done this all along. But maybe we need to repent more, as in the Bible days when things like this happened.
Jesus didn't promise me that this would change the election results. I am still holding on to the message that you shared about the intercessors bringing the ballot box to President Trump. And I believe God told me that He chose President Trump to be President.
I don't know if we should call for a national focus on prayer and repentance. That is not up to me. Like I said, I am just your everyday Christian.
But I believe God wants us to repent of our own sins and to love each other and the world with the Love of Jesus. And to show the world the Love of Jesus and His true character. Maybe that will help us get over and through some of these tumultuous waters.
There is one other thing I discerned from what the Lord showed me in prayer. In short, He wants us to humbly stand firm and not give in to discouragement. And keep pushing back the darkness in prayer, intercession and worship.
I am praying and believing for the best from God!
Thank you for your work and this incredible ministry.
God bless you!
In Christ,
Linda
Photo by Mads Schmidt Rasmussen on Unsplash.
Does this letter resonate with you? Share in the comments . . .
Partner with Us
Intercessors for America is the trusted resource for millions of people across the United States committed to praying for our nation. If you have benefited from IFA's resources and community, please consider joining us as a monthly support partner. As a 501(c)3 organization, it's through your support that all this possible.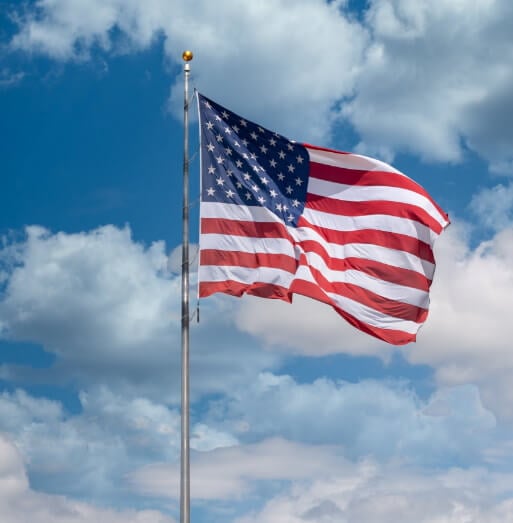 Become a Monthly Partner