July 9, 2020 | Nancy Huff, IFA Contributing Writer
Lord, we ask You to stand by the side with those who love You and Your Word. Give them strength so that the message You have placed in them will be fully proclaimed, and everyone will hear it. Deliver them from the mouths of lions. Rescue them from every evil attack. Bring them to safety. Let them establish Your kingdom. We give You glory forever and ever. (2 Tm. 4:17-18)
The tide of evil visibly unleashed on the streets of America provides a profound snapshot of the fight which America as a nation faces. Rogue bands set fires, destroy cities, spew curses at police, and abuse anyone with whom they disagree.
As intercessors, we tend to focus our prayers on what we see as a gaping wound in our society. We pray to stop the civil unrest, often unaware that while the war in the streets rages, a horrific underground battle exists in the bureaucracy housed in office buildings that line the streets of Washington, DC.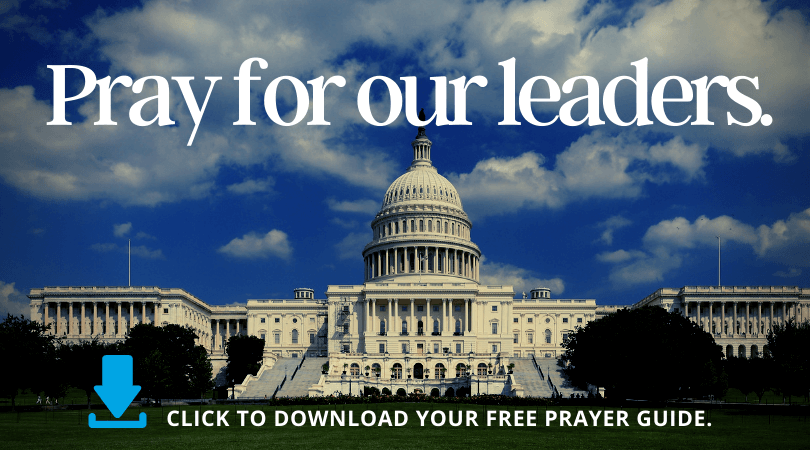 The war within the Deep State isn't fought by angry people who throw bricks and start fires. It is between men and women who wear suits and attend casual get-togethers on weekends where they talk politely about the latest news. Some are patriots who believe in democracy and work to make America better; others embrace a liberal agenda and want America to become a socialist nation. While the two groups may try to be cordial, the socialists will do everything within their power to stop attempts made to promote morality and righteousness proposed by the patriots. This conflict lies deep in the bureaucracy of our government.
Those who work and fight for our nation are crying out for our prayers.
PRAY FOR THE BELIEVERS WHO WORK IN GOVERNMENT
God has seeded workers in the offices of our government to allow them to make a difference for the Kingdom of God. Daily they face opposition. Pray for them to have the favor of God with their co-workers, bosses, and administrators. Let them speak the truth with godly wisdom. Pray their presence, and their work, effectively defeats the agenda of the Deep State bureaucracy. Every godly decision is essential and will advance God's plan. The outcome of this conflict will decide whether our children grow up under a socialist government, or will embrace moral values and a love for America.
 PRAY THE GOOD WORK THEY DO IS PROTECTED
Often the victories achieved are fiercely contested by political opponents. The big win President Trump and Secretary DeVos delivered on May 6, 2020, that strengthened equal rights provided under Title IX, has met with fierce opposition. The ruling dealt with equal rights in education and assured all students the right to pursue an education free of sex discrimination. Due process would be granted every person male as well as female. In protest of the Department of Education's "strict" definition of gender as a man or a woman, eighteen Democratic Attorney Generals filed lawsuits against Secretary DeVos and the U. S. Department of Education to block the department's final rule under Title IX.
The Title IX ruling is only one example of where politically partisan opposition has halted progress. Those with a liberal agenda fight any action they perceive as an advancement of conservative efforts. Many godly people work within the bureaucracy. They do a tremendous job, but they desperately need our prayers that the victories they win will be secured and not stolen by the enemy.
PRAY FOR "DANIELS" TO RISE UP WITHIN THE BUREAUCRACY
General Flynn's recent quote, I was once told if we're not careful, 2 percent of the passionate will control 98 percent of the indifferent 100 percent of the time is almost true. In the case of believers working in the Deep State, most are not indifferent. Many want to make a difference. These employees care, but speaking out may cause severe repercussions of persecution, sabotage, and workplace malfeasance. These are our brothers and sisters who work on our behalf. They are needed in the offices where they oversee the daily operations of our government. As intercessors, pray that God will raise up men and women like Daniel to work within the government: They will have no corruption in them because they are trustworthy, not corrupt, nor negligent. They will not bow before the idol of the King. They will stand firm and speak the truth in love.
PRAY FOR THE RESOURCES OF THE UNGODLY TO DRY UP
 Just as Jesus spoke to the nonproducing fig tree and it dried up from the roots, we speak to the resources of those who work evil in our government and command their money, communication, and alliances to dry up from the roots.
It's easy to criticize those who work in our government for what we perceive as inactivity, but think of what is achievable if we intercede for them to have the right battle strategies, to hear from God, to grow in their faith, and to have victories over the enemies of our nation. If both the workers and the intercessors do their part, think of what God can do.
Today let us join forces and fight in prayer! Will you pray for the believers working within federal agencies? Will you stand in the gap for them? Share in the comments section. Some of the believers in government are readers of this website–what would you like to share with them?
About the Author: Nancy Huff is an educator with a mission to equip believers to pray strategically for the Cultural Mountain of Education. She has authored Taking the Mountain of Education: A Strategic Prayer Guide to Transform America's Schools. She leads prayer groups to pray at key educational locations across the US. Currently, Nancy serves as the Heartland Apostolic Prayer Network (HAPN) Lead Prayer Coordinator for the Mountain of Education. For additional information go to: https://takingthemountainofeducation.com/author/nancyahuff/