January 27, 2021 | Jamie Rohrbaugh, IFA Contributing Writer
Dear Heavenly Father, we lift President Biden and Vice President Harris up to you. We ask that You would cause them to walk in Your ways and do only good for our country, and that You would prevent them from doing any evil, in Jesus' name.
God's Word calls us to pray "first of all" for our leaders. However, it can be difficult sometimes to know how to do that if you don't like any particular leader—or if they don't agree with our views as Christians. (Read here for more on how to pray for leaders and people in general that you don't like.)
Nevertheless, we must obey the Word of God to pray, as the apostle Paul instructed Timothy:
"Therefore I exhort first of all that supplications, prayers, intercessions, and giving of thanks be made for all men, for kings and all who are in authority, that we may lead a quiet and peaceable life in all godliness and reverence. For this is good and acceptable in the sight of God our Savior" (1 Timothy 2:1-3).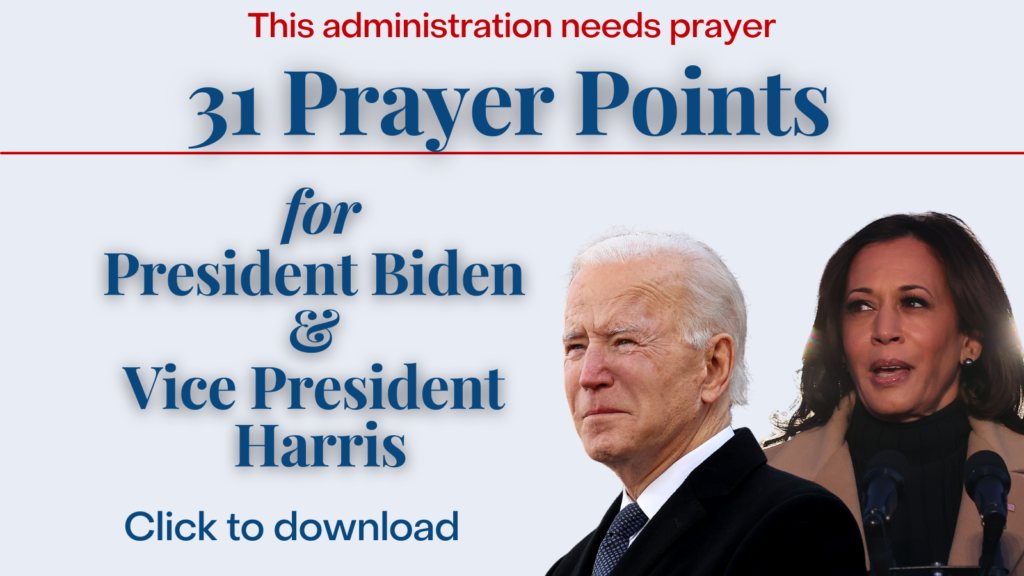 If you need some ideas for how to pray for President Biden and Vice President Harris right now, I wanted to offer a few ideas for how we can pray for the Lord to work this administration out for His highest and best will.
The list below contains 31 prayer points for the Biden/Harris administration. You can pray through these points all at once, or you could take one point per day and focus on just one point of prayer for an entire month. If you pray each month through this list, one point per day, that would be a significant amount of prayer for America and for her leaders!
Are you ready? Let's pray together:
"Dear Heavenly Father, God of all creation and Maker of Heaven and earth, You who sits enthroned above the circle of the earth, we come before You in Jesus' name. And Father God, we humbly ask You today:
That President Biden and Vice President Harris would recognize their need for salvation through Christ Jesus if it is not too late for them to be saved; that they would bow the knee to Jesus and receive forgiveness for their sins; and that they would turn and walk the way of righteousness.
That You would put the great Restrainer of evil, the Holy Spirit, into the White House and absolutely bind and prevent any evil from occurring there or being legislated from the American government at any level.
That You would surround them with wise and godly counselors and deliver them from ungodly counselors.
That You would fill them with Your Spirit of Elijah, that You would turn the hearts of the children to the fathers and the fathers to the children—that they would protect, honor, love, and cherish children, both unborn and preborn; and that they would love, cherish, honor, and protect the elderly at all stages of life as well.
That they would see and admit the horror of abortion and would completely turn to fight it instead of to endorse it.
That they would completely outlaw infanticide.
That You would use them to expose and dethrone the worship of all false gods in the USA, and that nationwide revival of the worship of Jesus would occur.
That they would love and cherish freedom, including religious freedom, freedom of speech, freedom to do business, freedom to travel, freedom of the press, the right to bear arms, etc—and that their laws would only protect freedom, not destroy it.
That they would resolve the crisis at our Southern border and not make it worse. That immigrant children at the Southern border would be reunited with their parents, and that trafficked children at the border would be rescued and brought into a place of safety and love, with people who will care for them well.
That all human trafficking would be exposed and brought to justice during this administration, and that both adults and children who are being trafficked would be rescued, saved, and healed.
That You would use President Biden and Vice President Harris to protect and defend the First Nations (Native Americans), which are sovereign nations within our borders—and to right the many wrongs that are being done to them.
That You would use this administration to heal racial division among Americans, not make it worse.
That they would add jobs to America, not destroy jobs; that they would be restrained from making any decisions that would harm Americans, American jobs, and the American economy.
That You would use them to help us steward this earth which You created—but that environmental regulations would be only in agreement with the will and Word of God.
That You would visit them in the night seasons with dreams and visitations that bring wisdom, conviction, warning, the fear of the Lord, and repentance wherever necessary.
That they would not allow terrorists to enter our country, and that they would not call people terrorists who are not.
That they would cease persecuting, labeling, and trying to cancel those who disagree with them.
That all their works, both good and evil, would be exposed and come to light.
That You would fill them with a holy and good spirit of patriotism for the United States of America alone, and that they would put Your will for the United States first in their governmental priorities. We ask that You would prevent them from making any trade deals, treaties, accords, or other decisions that would harm the USA.
That they would love and bless Israel, and that You would use them to protect Israel. Do not allow them to injure or dishonor Israel in any way, for Your Word says you will bless those who bless Israel and curse those who curse Israel. Let us love and serve Israel and bless her, Father, for we desire for this nation to be blessed, not cursed.
That they would have influence only for You, and no influence if they seek to use their influence for evil.
That You would fill them with wisdom from above, which is first pure, then peaceable, willing to yield, and full of mercy and good fruits.
That You would cause them to love righteousness and hate lawlessness.
That You would keep their tongues from evil and their lips from speaking lies.
That they would seek peace and pursue it; that they would not be able to start any additional wars.
That You would fill them with a spirit of honor toward Yourself, toward the American people, toward the American military, toward the Constitution, and toward righteous government.
Give them a holy fear of the Lord. Fill them with Your Spirit of the fear of the Lord, which is the beginning of wisdom.
Cause them to govern righteously, whether they intend to or not.
Let only words of life proceed out of their mouths. Let them speak words of life to the American people—words that truly unite instead of words of division.
Let them see truth for what it is. Wake them up and give them discernment; cause them to call right "right" and wrong "wrong," instead of calling down "up" and up "down."
Bring President Biden, Vice President Harris, the nation of the United States of America, the American government, and the American people into righteousness and justice in all things. Let us walk in the ways of God, speak the words of God, think the thoughts of God, and do the deeds of God—whether we originally intend to do so or not. Change our hearts in the process so that all of America may worship You.
Father God, let Your Kingdom come and Your will would be done in America on earth as it is in Heaven.  We thank You for hearing and answering our prayers—for we pray in agreement with Your will. We love You and ask You daily to show us the answers to our prayers. Thank You, Father. In Jesus' name we pray, amen."
Beloved, your prayers pave the way for God to move in the hearts of men and women everywhere. Let's keep praying and believing, for our God hears and answers.
Jamie Rohrbaugh is an author and speaker who equips people to walk in the manifest presence and power of God. Jamie blogs for a global readership at FromHisPresence.com, where she writes about radical prayer, the prophetic word, the supernatural lifestyle, inner healing, and Kingdom wealth. She is a frequent contributor to Charisma Magazine, The Elijah List, Spirit Fuel, and various other ministry outlets. You can download her free ebook containing 555 names of God for prayer and worship here. (Photo Credit: Getty Images.)
Did this list help you pray today? If so, leave a comment below and consider printing this list off for future use as you continue to intercede for America!