Wisconsin
State Prayer Call:
Mondays at 1:00 PM CT and Thursdays at 7:00 PM CT
(520) 537-5273
Access Code: N/A
State Leader(s):
MaryJo Coleman
IFA Intercessors:
Join us to pray for life in Wisconsin! Here is your state's standing on life: Wisconsin has a statute making abortion illegal in nearly all circumstances. Wis. Stat. § 940.04(1).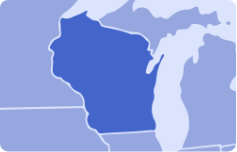 Download State Prayer Guide
Lift this state up before the Lord. Pray for biblical legislation and godly governance. Pray for the leaders from local officials to state officials. Pray that God's purposes would be fulfilled in this state, on earth as it is in heaven! (Mt 6:10) Pray that believers would be engaged in bringing kingdom values into government and that they would exercise their duty participate civically to uphold biblical values.
Post Your Prayers For Wisconsin
Pray For Wisconsin Leaders