Wisconsin
State Prayer Call:
Every Monday at 1:00 PM CT
(520) 537-5273
Access Code: N/A
State Leader(s):
Mike and Debra Rudzik
IFA Intercessors:
Join us to pray for life in Wisconsin! Here is your state's standing on life: Wisconsin has a statute making abortion illegal in nearly all circumstances. Wis. Stat. § 940.04(1).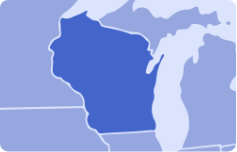 Download State Prayer Guide
Lift this state up before the Lord. Pray for biblical legislation and godly governance. Pray for the leaders from local officials to state officials. Pray that God's purposes would be fulfilled in this state, on earth as it is in heaven! (Mt 6:10) Pray that believers would be engaged in bringing kingdom values into government and that they would exercise their duty participate civically to uphold biblical values.
Post Your Prayers For Wisconsin
Submitted Prayers For Wisconsin
Corinne W
June 30, 2022, 2:21 pm
We acknowledge our dependence on You, Almighty God. We ask your blessing on us, on our children, on our leaders and on our State. My plea today is simple: Bring back prayer to public schools. Start in Wisconsin. We are desperate for you. In Jesus mighty name. Amen.
Gloria H
June 13, 2022, 8:20 pm
Dear Lord, protect and continue to guide Ron Johnson from the evil that is constantly around him in Washington DC and around the nation. We are forever thanking you for putting him in this position, he is a light in the darkness. God Bless him abundantly! Amen.
MaryJo C
June 12, 2022, 11:14 am
Lord You only know the depth of sin that goes on both on a federal level as well as in our state. We repent and renounce every form of wickedness! Lord please help us take back our families and communities because that's where it all starts. May parents have genuine sincere hearts towards righteousness for their family, schools and community. God please wash afresh your love over Your towns of Wisconsin. We thank you that Your love is enough to change evil to good. Amen.
Lori B
June 8, 2022, 7:46 am
Please pray for the students and teachers in our state. I recently found out there are 10 students (next Years Seniors) in our small town that don't know if they are boys or girls. Please pray for them to see who God designed them to be and be saved. Also, please pray for the teacher who is leading the GSA (Gay Straight Alliance) club. Pray that she would have dreams and visions that would touch her to the core and stop her from leading these young people astray and that if she will not stop, God would remove her from this position of influence. Praying for Revival in our State, 🙏🙏🙏🙏🙏🙏🙏🙏
Pray For Wisconsin Leaders