West Virginia
State Prayer Call:
Every Monday at 7:00pm EST (Starting June 13th)
(605)313-5966
Access Code: 4627953
State Leader(s):
Edie Riker
State Motto:
Montani semper liberi, translated "Mountaineers are always free"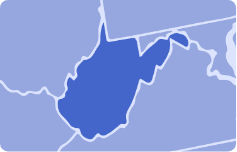 Download State Prayer Guide
Post Your Prayers For West Virginia
Submitted Prayers For West Virginia
Edie R
June 9, 2022, 9:42 am
Father God, You are worthy to be praised. Thank you for creating such beautiful places like West Virginia. Your are the ultimate creator who knows how to delight your people. Lord, I thank you for the inspiration of our State Motto, 'Montani Semper Liberi' which means Mountaineers are always free. Forgive us for not taking care of our beautiful state and our people as you have asked. Light a fire within us and help us change our ways. . You say those that do not work will not eat. In the name of Jesus, I bind and break the government strongholds that are blocking our people from working in the fields they have been trained and producing a good product that serves our country so well. Lord, break loose from heaven a steady workflow of mining, drilling, cleaning and preserving of precious water supply, building roads and bridges, and more. Restore life and freedom to the families that have lost so much. Make West Virginia vibrant and prosper this land we call our home on earth. Revive us O Lord. You showed us how to live energy independent from hostile nations; bring us back to that place again. Crush those strongholds Lord, as we cannot do it without You. Put the people back to work so there is food on the table and hope restored in their hearts. Revive their self-respect by the works of their hands. Renew life and freedom for our Mountaineers. To God be all the glory! This I pray in Jesus name. Amen.
Edie R
June 6, 2022, 2:02 pm
Heavenly Father, I know that you can do all things;, and that no purpose of yours can be thwarted (Job 42:2). I praise You for giving us a voice to declare Your truth. We lift up the beautiful State of WV to You. Have mercy upon us O Lord. I pray for Your grace to abound in the lives of every person that calls WV their home so they would have all sufficiency in all things (2 Corinthians 9:8). I pray that You will be a shield about them to guard their course and protect their way. Give them understanding in what is right, just, and fair. (Ephesians 6:16). Let your presence be known to all here. In Jesus Name, Amen.
Linda M S
May 23, 2022, 1:58 pm
Father God l lift my Mountain State up for the moto to be in acted by the people along with the laws. We value our freedom and take care of our family and neighbors . Let the beauty of your creation be persevered and the wild life be plentiful. May God always look down on us and smile. Thank you Jesus Amen
Pray For West Virginia Leaders