New Mexico
State Prayer Call:
Every Wednesday at 7:00 pm MT
(605)313-5985
Access Code: 1338184
State Leader(s):
Rev. Wendell Owens
Governor:
Michelle Lujan Grisham
State Motto:
Crescit eundo, translated "It goes by growing"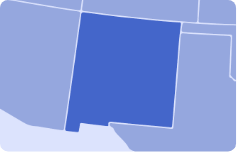 Download State Prayer Guide
Post Your Prayers For New Mexico
Submitted Prayers For New Mexico
Lucilla S
June 13, 2022, 6:40 pm
Abba Father, I thank you for answered prayer even before I pray one word. Thank you for Your faithfulness and that you only look at Your Mercy Seat. Father, I bind the mind of Christ to each of the 9 justices on the SCOTUS and their hearts to Your heart. Let them not have peace until they make things right in their own lives and the lives of the Unborn Babies. I loose, break, crush, smash, and destroy all plots, plans, schemes, tools, stratagems, the ignoring of rules and laws that leaders, the enemy and his evil cohorts are using to divide, threaten and and attempting to stop the sacrificing of unborn Babies to Baal. I loose warring angels to continue to fight on behalf of the unborn. I decree that all the Babies that are currently in their mother's womb WILL LIVE AND NOT DIE AND DECLARE THE WORKS AND THE ILLUSTRIOUS ACTS OF THE LORD JESUS HIMSELF! Abba, have Mercy on individuals and their ignorance of yielding to the devil and his goal to KILL, STEAL AND DESTROY, them, and the Unborn. I DECREE THAT NO WEAPON FORMED AGAINST THE UNBORN WILL PROSPER AND THAT ROE vs WADE WILL BE OVERTURNED! In the mighty name of Jesus. Amen and Amen.
Robyn O
June 11, 2022, 8:43 am
Dear Lord, in my time of prayer today for The IFA Prayer Wall, focused on Joy Garratt, NM Representative, and researching her political ideology and views as a Democrat, I see her huge heart for children and support of education. She is transparent and invites accountability. These are some things important to You. She admits to being "...on the fence" about some issues and asks to be educated and for response from the citizenry, even if they're not in her district. Lord God, Jesus and Holy Spirit, please impact her, engage her, encounter her through your people and life circumstances to show her what's on Your heart and important to You, so she may be led of the Lord on the most important issues. In Jesus's Name I pray.
Wendell o
June 8, 2022, 4:29 am
O' that God would cause it to rain and put out all the forest fires in our state.
Pray For New Mexico Leaders