Kansas
State Prayer Call:
Every 2nd and 4th Friday at 10:00 AM CT
(605) 313-5737
Access Code: 7150202
State Leader(s):
Lani Kirsch
State Motto:
Ad astra per aspera, translated "To the stars through difficulties"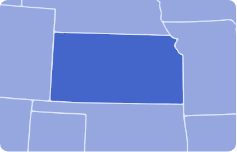 Download State Prayer Guide
Post Your Prayers For Kansas
Submitted Prayers For Kansas
Lani K
June 16, 2022, 10:57 am
Lord, Thank you for the over 200 doctors who have stepped up and publicly supported the Value Them Both amendment. May their voices be heard across the state and may they be protected from retaliation from the enemy.
Lani K
June 16, 2022, 10:27 am
Father, Please protect our cattle here in Kansas. I pray that you would stop whatever forces have cost the death of thousands of animals and placed increased hardship on our ranchers and farmers. I pray for Your strength and peace as we face this attack on our state and the many other Americans affected by it.
Lani K
June 5, 2022, 3:58 pm
Please pray for and vote for the Value Them Both amendment on August 2. This will stop late-term abortions, restrict taxpayer funding of abortion, require sanitation and safety standards at abortion clinics, and allow for parental notification for minors.
April C
May 23, 2022, 10:15 am
Abba, please remove the veil from the eyes of my fellow Republicans that they would KNOW abortion is murder and they would pass laws to criminalize it and not regulate child sacrifice. Turn their hearts to what your Word says and not what politicis suggest. Bring them to repentance for rejecting laws that protects babies because they are the true victims of abortion. Amen!