Iowa
State Prayer Call:
Every Tuesday at 12:00 PM CT
(716) 384-3042
Access Code: 6516897
State Leader(s):
Tom McGovern
State Motto:
Our liberties we prize and our rights we will maintain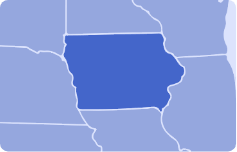 Download State Prayer Guide
Post Your Prayers For Iowa
Submitted Prayers For Iowa
Jackie W
June 22, 2022, 11:42 am
Heavenly Father, I lift Iowa up to you and ask that you would put into every leader in this state, the desire to know Jesus as Lord and Savior. Give them a hunger and a thirst for the gospel. I bind the strong man in the name of Jesus and I command him to flee this state. Your word Lord says, "no weapon formed against you shall prosper". Thank you Lord for bringing revival to our state, we give you all the praise and all the glory. In Jesus' name. Amen
Martha J
May 23, 2022, 11:06 am
Father, our Creator, with you all things are possible. In you we can do anything. My prayer for my home state and a a resident once again I am thankful to be home. I am thankful for all government leaders in the state from top to down. In them plant an overwhelming desire to truly represent. That's what they sign up for and pledge to do. In your name they swear to preserve and protect. Remove the spirit of division. Let Iowa set an example of greatness in Godly government that guides all towards good and righteous living and caring for one another and for the nation. Let neither democrat nor republican matter but rather let the word of God be their guiding light and instructor. Satan is not welcome here he has nothing to offer unless it's wrapped in evil. Compell every leader leaning towards evil ways to walk away and have influence over not 1 thing. In Jesus name may all be blessed and stand in His glory.