Georgia
State Prayer Call:
2nd and 4th Tuesday of the month at 7:00 PM EST
(667) 770-1945
Access Code: 1826876
State Leader(s):
Elizabeth Ojutiku
State Motto:
Wisdom, Justice, Moderation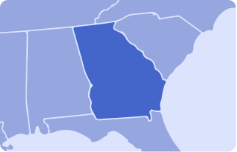 Download State Prayer Guide
Post Your Prayers For Georgia
Submitted Prayers For Georgia
Elizabeth O
June 23, 2022, 1:54 pm
We come as your Ecclesia, Lord to present the $8.5 million Atlanta initiative with efforts to include an investment in the Russell Innovation Center for Entrepreneurs (RICE); support for the National Center for Civil and Human Rights to provide DEI training for community leaders and research to support the LGBTQ+ community and other investments. This was reported by the Georgia Star. Lord your word is clear about sin and salvation and how the identity that is not aligned with your original purpose brings confusion. Men loved the darkness rather than the light, for their deeds are evil. Lord we know that they are deceived and don't understand how fearfully and wonderfully they have been made in your image. We pray for you to bring conviction to their hearts through your truth. We pray that those in leadership in this organization that are pushing this unrighteousness agenda, will be convicted in their darkened hearts to see the light of the truth. Let them see in their inner man that they are promoting the destruction of their fellow man and not helping. As many in this lifestyle have already come to the truth to see how destructive the false lifestyle is, and that true love is found in Christ, may they be used Lord to bring truth to those still in darkness. Under the Lordship of Jesus Christ and His Authority, We decree that this ungodly agenda to strengthen this lifestyle in Georgia by UPS will be stopped and the funds will be used to the Glory of God.
Christie O
June 15, 2022, 7:26 am
Father in heaven, I come in Jesus name to pray for our leaders for understanding, knowledge and the fear of the Lord which is the beginning of wisdom. I ask that you remove CRT eating up our schools and leaders perpetuating this evil doctrine. I pray that every evil be exposed and judged. Destroy the plan of the wicked to sodomite our children from Preschool to higher learning. I pray you will sweep GA with revival in righteousness that people will hate evil and love right standing with God. Pray for Governor Kemp, that You will help and keep him to do Your Will oh God. I pray for protection around him and family and that the plan of evil one will not prevail in Georgia and America. In Jesus name. Pray for all our leaders to stand for God counsel and purpose. Deliver them from woke canceled culture and lies of the enemies in Jesus name. 🙏🩸🔥🇺🇸🙏🩸🔥
Elizabeth O
June 11, 2022, 6:25 pm
We thank you Father for Jesus Christ Who is the Head of the Church which is His body. "For just as we have many members in one body and all the members do not have the same function, so we, who are many, are one body in Christ, and individually members one of another." (Romans 12:4-5 NASB) We ask Lord that you strengthen your Church in Georgia by increasing discernment so that your people are not easily carried away by the divisive schemes of the devil to cause divisions and jealousy even with the diversity of gifts you have so graciously given to the church as your body. Remind us Lord that the church belongs to you. You are building the church in and through your people as they understand by revelation, that they dwell in you. Gal 2:20. It is no longer I that live, but Christ that lives in me and the life I now live, I live by the faith of the Son of God Who loved me and gave Himself for me.(kJV) We pray for the church in Georgia that Christ is formed in His church to the extent that even when there is resistance, they will stand together in unity and not bow to men's praise especially in this critical hour where the church is on display in the natural and spiritual realms. "Therefore I, the prisoner of the Lord, implore you to walk in a manner worthy of the calling with which you have been called, with all humility and gentleness, with patience, showing tolerance for one another in love, being diligent to preserve the unity of the Spirit in the bond of peace." We pray that your Holy Spirit Fire will descend on the churches in Georgia even as york spirit descended during the Great Awakening of old and your church in Georgia will be renewed and strengthen in a fresh baptism of your love. Let the chains of division and the works of the flesh that prop these divisions melt. Let the church return to her first Love in Jesus Name. Amen Elizabeth O
Candy G
June 11, 2022, 11:55 am
Dear Heavenly FATHER, I come to you in THE NAME OF JESUS and Come against the Corruption and Deception here in Georgia. I come against satan and his kingdom and that his plans here in Georgia is broken and torn down in JESUS NAME. That the election fraud is exposed and stopped and that all those involved will be held accountable and stopped once and for all.I also pray that their hearts will be softened and that they will repent and be Saved. I also Pray for Revival here in Georgia.
Jerry B
June 8, 2022, 10:29 am
I pray for God's intervention in our upcoming midterm elections. I ask that those whose desire to win by any means would have their plans fall apart. I pray for Governor Kemp and all our leaders. I pray in Jesus' name. Amen
Jerry S
June 3, 2022, 1:35 pm
I pray that our Federal Government will discontinue purchasing aborted baby parts. I also pray that abortion would cease. God forgive this nation for murdering over 60 million babies.
Elizabeth O
June 2, 2022, 12:43 pm
We are grateful to the Lord for His goodness. The evil globalist agenda will not stand in Jesus Name. You oh Lord are First and Last existing before time began, you are from Everlasting to Everlasting. You are the Everlasting God Creator of the ends of the earth, we thank you that You do not grow weary, Your understanding is unsearchable, therefore we know that You God, our God, the Faithful God, you keep covenant and steadfast love with those who love you and keep your commandments to a thousand generations. We know that your plans are filled with Light and your people push back Darkness because they are the Light of the world and the devil will never be able to push his evil agendas while God's people are alert and watchful by praying and releasing Truth and Righteousness. We stand under the canopy of Psalm 91 as our protection. Amen Elizabeth O
Jerry S
June 1, 2022, 12:25 pm
I pray for the leaders of my state, Brian Kemp Governor, Geoff Duncan, Lt. Governor, Jon Ossoff, and Raphael Warnock Senators, asking God to give wisdom to them and for God's presence to be upon our State in this election year. Amen!
Elizabeth O
May 24, 2022, 3:00 pm
Father, We pray for our elected leaders, those running for election and those voting. We lift them all before your throne of Grace, Mercy, Righteousness and Justice. Raise up those who will stand for righteousness and justice and will not be intimidated by accusations and lies from the enemy. Let them exhibit the wisdom from above which is first pure, then peaceable, gentle, and easy to be intreated, full of mercy and good fruits, without partiality, and without hypocrisy."James 3:7. Only the upright shall dwell in government and areas of influence so that godly philosophies and ideologies will be enacted and established. We pray for the citizens who are voting, that there will be no confusion or intimidation concerning their voting. Let your light shine into their hearts and Lord bring to their remembrance the prayers of their family members, friends or flash your word long buried in their hearts before them and guide them to vote righteousness. We thank you Lord for those who stand for righteousness as they vote and those who already voted. let your angels guard all around and expose any unseen activity to dispel it. We thank you as we as your body stand together to establish your kingdom in peoples hearts in Jesus Name. Elizabeth O
Gen M
May 23, 2022, 7:39 am
Father GOD we praise your name in this hour. We ask for repentance of sins on the state of Georgia. We ask for a shower of new blessing over this land. Father you who sit in the Heaven's be a witness to our democracy. We cry out for your JUSTICE and THRUTH! We sprinkle your blood over our territory. In the name of Jesus we declare it done!