Arizona
State Prayer Call:
Every Thursday at 12:00 PM MT
(667) 930-8445
Access Code: 5307701
State Leader(s):
Celine Sabo
State Motto:
Ditat Deusm, translated "God enriches"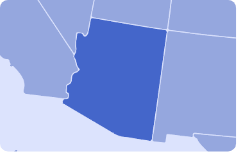 Download State Prayer Guide
Post Your Prayers For Arizona
Submitted Prayers For Arizona
Cynthia C
June 30, 2022, 1:27 pm
I pray for the rights of unborn babies. We must choose life over murder and death.
Terrell C
June 14, 2022, 10:51 am
I pray for Arizona and especially my hometown of Tolleson for every movement leader and disciple to have deepening intimacy with our father, and discernment to pray in harmony with his will.
Mary H
June 13, 2022, 1:55 am
The Lord spoke through Tomi Arayomi at Fresh Start Church last week. The Lord says to cover the schools in prayer for the enemy wants to cause school shootings here in Arizona like we saw in Texas. The Lord said, "I will disallow what you disallow". So we say we do NOT allow these school shootings to take place here in Arizona. We push back against the enemy and forbid these evil schemes. Lord, cause confusion to come to the evil spirits that would attempt to destroy our children, that would come against them in the womb and come against them in our schools. Lord, cause intercessors to rise up and cover the schools with prayer. And cause prayer to come out from the students and let them be silenced no more. Let the praises of the children rise, O Lord. Let them rise to Your Throne. For Your glory, Lord. I pray in the name of Jesus. Thank You, Lord, for the precious Blood of Jesus, and I apply it now to our children and every teacher and school worker. Thank You, Jesus. Bless them, I pray.
Ana S
June 11, 2022, 10:10 am
Father God. Today I thank you for your provision. These are times of need for many, here in AZ and all over the world. Help us and guide us to help others in their need and share your blessings with them. Protect our primary elections Lord, expose deceptive candidates and empower us with your wisdom to elect those whom You Will.. Forgive us Father for not protecting the unborn and the little children, forgive us for not seeing others as your children made in your image. I Humbly ask for your intervention, we need you Lord, please heal our land. I specially lift up to you Lord our schools for the righteous leaders to turn the wave of evil culture around and bring YOU back to the schools, for spiritual, physical and emotional protection of our children. We implore this in the name of Yeshua our redeemer .
Wendy K
June 8, 2022, 9:47 am
Heavenly Father, I pray a blessing over Celine for heading up this prayer group for Arizona! We declare that you are LORD over Arizona and In God We Trust! We pray for righteous leaders to rule so that the people can rejoice. We pray that every hidden corrupt agenda and especially all election fraud be exposed and for our legislators to pass laws to protect and preserve our right to a fair and honest election. We pray for an awakening of morals and Godly principles across this state and ask that every life beginning at conception, be honored, valued, and respected. We pray that pastors would be bold to lead their congregations on how to vote in line with Christ-honoring values and to speak up against immorality and evil agendas. In the name of Jesus! Amen.
Brinda F
May 23, 2022, 6:20 pm
Father, We live in a state of incredible depravity. How we need Your intervention to bring hard hearts to salvation and then sanctify us. In Jesus name, Amen
Celine S
May 19, 2022, 4:15 pm
Welcome to all of Arizona's people of prayer! We invite you to join us on our weekly prayer conference call, every Thursday , from 12 noon to 1 PM! We look forward to hearing all that the Lord has placed on your heart, and agreeing with your prayers for your local area - I pray a blessing over our wonderful Sunshine State and agree with our State Motto - God Enriches! We thank you for continuing to improve and enhance our amazing state in every aspect. We thank you that You are returning it to the righteousness, justice, and Truth of our founding fathers. Have Your way in our beautiful, blessed state of Arizona, praying in Jesus' name, Amen!