Alaska
State Prayer Call:
Every Wednesday at 8:00pm AKDT
(605) 313-5344
Access Code: 2054970
State Leader(s):
Candy Miller
State Motto:
North to the Future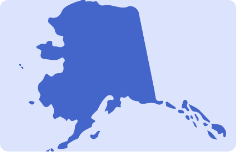 Download State Prayer Guide
Post Your Prayers For Alaska
Submitted Prayers For Alaska
Lesli L. C. S
June 8, 2022, 10:05 am
My dear Father and Savior, our Alpha and Omega, our I AM and Holy of Holies, I come to You on bended knee to ask You for mercy in these times; for each one of us, for our children, for our families, for our brothers and sisters in your name, for our pastors and our missionaries, for our neighbors, for our community, for our state, for our nation and for all. Forgive our transgressions, our lazyness, our weakness and our ignorance in our daily walk. Forgive us for taking our eyes off of You and for not listening to You. Give us Your strength and Your wisdom in following You, in listening to Your Word, in loving our neighbors, in walking Your path and in setting Your example. Have mercy on us this day and each day forward. Please put Your hand on each one and lead us in Your way. My God and my Savior, please continue to lead us and to use us. In Your precious Name, always.