January 23, 2021 | By Gloria Robles, IFA Contributing Writer
Father, show us what and how to pray. Let us pray without ceasing and to seek You first. Encourage our hearts as we feel discouraged. Guide us in Your truth.
Moreover, as for me, far be it from me that I should sin against the LORD by ceasing to pray for you; but I will instruct you in the good and right way. (1 Sam 12:23 AMP)
This is part of the prophet Samuel's farewell address to God's people. He was a judge, priest, and prophet. In the previous chapter, the Israelites cried out for new leadership. They wanted to be like the other nations. They no longer wanted judges or prophets to rule over them. They wanted a mighty king. The Lord told Samuel that by them wanting a king, they were rejecting Him personally. He gave them what they wanted with a dire warning describing what kind of king will rule over them. (1 Sam 8)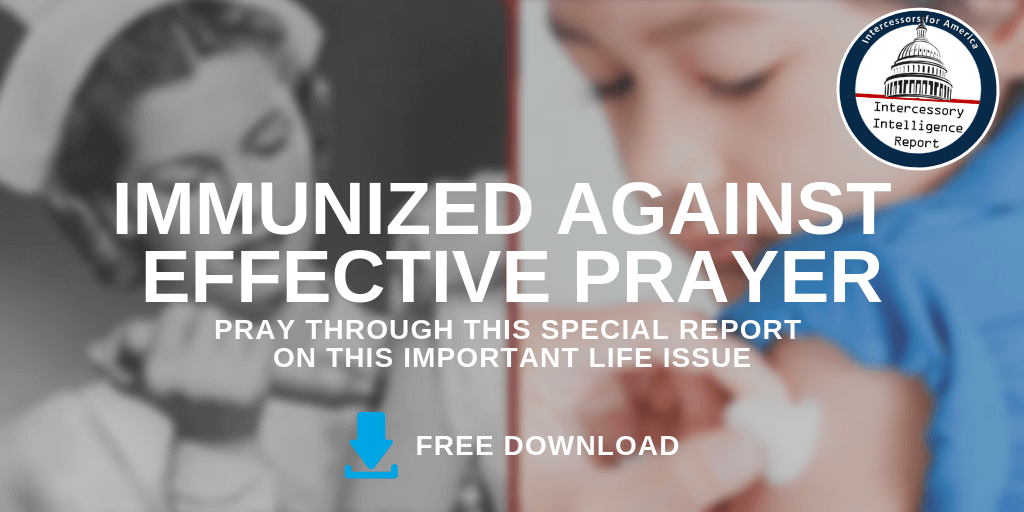 A few chapters later, Samuel gave his farewell address and pled his innocence before the people. He recounted the history of the nation, from how God delivered them from the Egyptians to how He raised up judges. He reminded them how even after God's great deliverance, they turned their backs and worshipped idols. After Samuel's speech, he prayed and the Lord sent thunder and rain. The people cried out to Samuel to pray for them and he did. He told them, "make sure you worship the Lord with all your heart. And do not turn aside after empty things (idols) that cannot profit or deliver, for they are empty" (1 Sam 12:20-21). He concluded his speech with these final words, "God forbid that I should sin against the Lord by ceasing to pray for you."
Samuel was still a prophet and priest, however, his role as judge was officially over. They wanted an earthly king, and they got one. Look at the posture and humility of Samuel. He could have left them to the mess they made, but instead, he said, "God forbid, that I should stop praying for you!" He didn't abandon the nation even though he saw the outcome of what they wanted. He continued to intercede for them. He also said, "that I should sin against the Lord by ceasing to pray." He knew that giving upon them, and no longer praying for them, would be a sin against the Lord. Think about that. 
Samuel prayed for the nation, but he also prayed for King Saul. After Saul disobeyed the Lord, it says Samuel wept before the Lord and cried out to the Lord all night. (1 Sam 15:10-11) 
Samuel prayed until it was the Lord who found a man after His own heart that would be the King. 
Until God chose David, Samuel was faithful to pray and give Saul guidance as God led him, even weeping at Saul's disobedience. This is the posture of intercession. We stay faithful to pray, but God is the one who decides the action to be taken. He changes times and seasons; he deposes kings and raises up others. He gives wisdom to the wise and knowledge to the discerning. (Dan 2:21)
It's official, whether you agree with it or not, whether you recognize them or don't, we have a new president and vice president in the White House. Maybe you're thinking, how can I possibly pray for them? Maybe you don't feel like praying for them. 
We are called by God to make intercession for those in authority over us. We don't have to agree with their policies. As long as there are anti-biblical values, we shouldn't agree with them, but we must separate the policy from the person. The Apostle Paul was once a religious leader, a zealot of the law. He led the way in persecuting the church and consented to the murder of Christians. He called himself the "chief of sinners." Yet God had a plan for Saul to become Paul. Christians, we must stop deciding who deserves to be forgiven and who doesn't. To do that means we are putting ourselves in God's place. 
According to this verse in 1 Timothy 2:1-4, a blueprint for intercession is laid out. If you are unsure how to pray, here is a good place to start. 
I urge you, first of all, to pray for all people. Ask God to help them; intercede on their behalf, and give thanks for them.  Pray this way for kings and all who are in authority so that we can live peaceful and quiet lives marked by godliness and dignity. This is good and pleases God our Savior, who wants everyone to be saved and to understand the truth. 
Pray for all people

. As intercessors, we have a calling from God to pray for all people. Political affiliation, denomination, gender, age, and race – none of these labels matter. They may matter to man, but not to God. It says, "Ask God to help them." I don't know about you, but it seems to me this nation and people without Jesus need God's help. We are called to stand in the gap and intercede on their behalf. 

Pray this way for kings and all who are in authority.

Paul then states to "Pray this way for kings and those in authority." What did he mean when he said "this way"? The same instructions apply, "

Ask God to help them, intercede on their behalf."

We are being instructed by the Bible to intercede on behalf of our leaders and ask God to help. President Biden and VP Harris will never come to know Jesus through hatred, name-calling, memes, or anything else, but there is a God in heaven who once humbled a wicked king named Nebuchadnezzar. This happened because there was a prophet named Daniel who interceded for his nation while in captivity. His character and prayers, in spite of ungodly leadership, testified of the true and living God. 
The fruit of your prayers for our nation and leadership is listed in this very same verse: "So that we can live peaceful and quiet lives marked by godliness and dignity." When we intercede to God on behalf of the people and leaders, in turn if they turn to God, we live peacefully marked by godliness and dignity. If you are reading this and are upset at the thought of praying for our new president and vice president, please consider the last verse.
This is good and pleases God our Savior, who wants everyone to be saved and to understand the truth. 
God considers our intercession on behalf of all people and ungodly leaders good and pleasing.
God our Savior wants everyone to be saved and to understand the truth. Yes, you read that right. God wants Joseph R. Biden and Kamala Harris to be saved and understand the truth of the gospel message. We do not get to decide who is worth saving, because the blood of Jesus and His death on cross is for whosoever is willing to accept Him. When Paul wrote this letter, the people were under Roman emperors. We only need to study history to see how the Jews and Christians were treated by the Romans. Yet, Paul admonishes the church to continue in intercession for their leaders. Yesterday, I felt a flood of emotions. I felt heavy-hearted and had so many questions. I hopped on a prayer call and joined intercessors who were praying for this nation and our leaders and that is where I will stay. 
Dear intercessors don't lose heart. Don't grow bitter because what you prayed for and what you expected didn't happen. Our expectation should always stem from our hope in the Lord and not man. Our job as intercessors isn't over because President Trump left office. Your prayers are needed now more than ever. We do not know what lies ahead, but we know Who does. He knows the end from the beginning. We tend to focus on the "how", but God knows the "why." He is Sovereign. His thoughts and ways are higher than ours. Will you continue faithfully in intercession? If you have been discouraged and have pulled back on your prayers, will you recommit yourself? Intercessors, watchmen, gatekeepers – will you continue to cry aloud and spare not on behalf of America? Do you still believe that God has a redemptive plan for this nation regardless of who sits in the White House? I do.  
For Zion's sake I will not hold my peace, and for Jerusalem's sake I will not rest until her imputed righteousness and vindication go forth as brightness, and her salvation radiates as does a burning torch. And the nations shall see your righteousness and vindication [your rightness and justice—not your own, but His ascribed to you], and all kings shall behold your salvation and glory; and you shall be called by a new name which the mouth of the Lord shall name. (Is 62:1,2 AMP-C)
I have set watchmen upon your walls, O Jerusalem, who will never hold their peace day or night; you who [are His servants and by your prayers] put the Lord in remembrance [of His promises], keep not silence, And give Him no rest until He establishes Jerusalem and makes her a praise in the earth. (Is 62:6,7)
Although Isaiah wrote this about Jerusalem, what I do when I pray is put America's name in there too. Let's not hold our peace until we see the righteousness of God and vindication go forth. 
Watchman, remind God of His promises day and night. If He promised you a third great awakening is coming, remind Him. If He promised you Roe v. Wade will be overturned, remind Him. Whatever He promised you, remind Him. Put the Lord in remembrance of His promises. We are in a time like no other. We were put here on this earth for such a time as this. Let's stay the course dear brothers and sisters, and stay faithful to intercede. Let's continue to believe that God still works through the prayers of His people. 
Because he bends down to listen, I will pray as long as I have breath! (Ps 116:2)
One day Jesus told his disciples a story to illustrate their need for constant prayer and to show them that they must keep praying until the answer comes. (Lk 18:1 TLB)
And in a similar way, the Holy Spirit takes hold of us in our human frailty to empower us in our weakness. For example, at times we don't even know how to pray, or know the best things to ask for. But the Holy Spirit rises up within us to super-intercede on our behalf, pleading to God with emotional sighs too deep for words. (Rom 8:26 TPT)
Be joyful in hope, patient in affliction, faithful in prayer. (Rom 12:12)
Be faithful to pray as intercessors who are fully alert and giving thanks to God. (Col 4:2 TPT)
Never stop praying. (1 Thes 5:17)
Author Gloria Robles is a passionate intercessor with a prophetic voice for today. For more from Gloria, go to Spotify or Anchor to listen to her podcast Something To Share. (Photo Credit: Unsplash.)
Share your prayers for our nation in the comments below!