WE KNOW YOU ARE WEARY, BUT YOU ARE NEEDED TO BUILD A WALL
Kim Potter, IFA Contributing Writer
|
December 10, 2020
WE KNOW YOU ARE WEARY, BUT YOU ARE NEEDED TO BUILD A WALL
Kim Potter, IFA Contributing Writer
|
December 10, 2020
I Prayed
have prayed
Father God, we thank You that You always provide a way of escape. Strengthen us and enable us to dig deep and build a wall that the enemy can't penetrate.
With just seconds left on the clock the whistle blew for a final timeout. The players hung their heads. Sweat poured off their faces as they slowly walked to the sidelines. They had given it their all but had failed.
They may have admitted defeat, but their coach had not. "BUILD A WALL! BUILD A WALL!" he instructed. Suddenly hope arose along with new found strength. Where just seconds before they had accepted defeat, they now sprung into action.
View Comments (63)
This is my favorite part of the movie, Facing the Giants. I believe in America we are in that same time in the game with just seconds left…
In the movie, the team had transformed from one of the worst to contenders in the playoffs. Now as they faced a giant of a team, their focus and hard worked still didn't seem to be enough to win. With seconds remaining their defeat seemed imminent.
Until they heard a familiar voice passionately shouting, "BUILD A WALL! BUILD A WALL!
They knew that voice, it was their coach. They also knew what he meant – he had taught them about building walls from the life of Nehemiah.
Today, I hear the same thing in my spirit, "Build a wall! Build a wall!"
Now is not the time to give up and lay down our freedom. While it may appear all hope is lost, it is not. God always has a way of escape. (1 Cor 10:13)
There is a moment in every sports event when it could seem all is lost with no way for a comeback. Yet, time after time, haven't we heard of stories where the game shifts and is won in the final seconds?
In those final moments, the players have to determine to tighten their positions. What does that mean?
It means they go on high alert. They squeeze in closer to their teammate to hold the line and refuse to allow any opposition to cross that line. They build a wall. Shoulder to shoulder they stand firm. They hold their ground.
The Bible says it this way. Having done all, they stand (Eph 6:13).
How, then, do we build a wall today? With the Word of God.
We declare and decree what God's Word says concerning our nation.
We continue to speak what God's seasoned and accurate prophets are saying.
We double down on the prayers we have been praying over our nation.
We stand shoulder to shoulder with other believers, in agreement with the word of God, not the media, and refuse to allow any opposition to get past us.
We share encouragement and truth with our friends.
I know we are weary. It has been a long and challenging year. Many of us have positioned ourselves to hold up the arms of the weary ones fighting on the frontlines for our nation. That is what God would have us do. But lately, I have also considered the weariness of the intercessors holding up the arms of those on the frontline.
When Moses' arms grew tired, Aaron and Hur brought a stone for him to sit on, while they stood beside him and held up his arms, holding them steady until the sun went down. In this way Joshua totally defeated the Amalekites. Then the Lord said to Moses, "Write an account of this victory, so that it will be remembered. Tell Joshua that I will completely destroy the Amalekites" (Ex 17:12-14.)
How did Aaron and Hur hold steady until the enemy was totally defeated? It had to be the grace and strength of God. We must lean into God's grace and strength during this hour and continue to hold up the arms of those on the frontlines. I am convinced, as we do, God will completely destroy the enemy attempting to annihilate our nation and its freedom.
Yes, it's the last seconds of the game. Yes, somedays it feels hopeless. Don't give into that. Instead, build a wall–an impenetrable fortress of the Word of God over our nation and its leaders. Build the wall and stand firm with your sword (Word of God) in hand. Victory is assured in God.
Author Kim Potter is a writer and the founder of A New Thing Ministries, which sends a daily teaching to thousands of people all around the world. Her articles have appeared on The Elijah List, Charisma, Spirit Fuel and iBelieve.com. Kim's message is one of hope. She speaks to the heart of those who have grown discouraged or disappointed by the circumstances of life, imparting hope. To receive her daily inspirational writings, go to www.anewthingministries.com
What about you? Are you weary? How can we pray for you? Share in the comments.
Partner with Us
Intercessors for America is the trusted resource for millions of people across the United States committed to praying for our nation. If you have benefited from IFA's resources and community, please consider joining us as a monthly support partner. As a 501(c)3 organization, it's through your support that all this possible.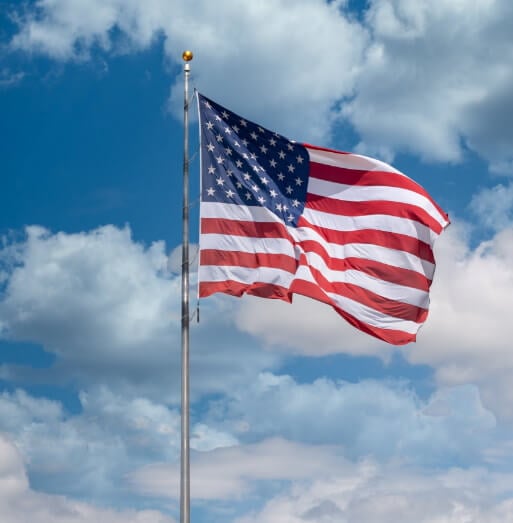 Become a Monthly Partner