We Can Change the Narrative
Kim Potter, IFA Contributing Writer
|
July 2, 2022
We Can Change the Narrative
Kim Potter, IFA Contributing Writer
|
July 2, 2022
I Prayed
have prayed
Today, we bind the strongman of murder and violence, and command it to go from our nation in Jesus' name. We loose the delivering power of God to saturate this nation and its people.
Words are powerful. Scripture commands us to use our words wisely. Life and death are in our tongue – we must use our words to create the world we desire to live in, one of blessing and not of cursing. May our words bring light to the darkness. We see this principle desperately needed as we look at our world today. With the overturning of Roe v. Wade, a 'summer of rage' as been threatened by those who are pro-abortion. As a nation, the curse of millions of aborted babies has finally been lifted. We must continue to declare our release of this curse within all our states. While many are declaring unending and escalated violence because of the Supreme Court's decision, we must remember that we have the authority to change the narrative. It is the same principle of Derek Prince's foundational book, Shaping History through Prayer and Fasting. History belongs to the intercessors.
View Comments (27)
God Calls Us Blessed
How shall I curse whom God has not cursed? And how shall I denounce whom the Lord has not denounced? (Numbers 23:8)
Father, we thank You that man cannot speak words of cursing over us, or our nation, because You call us blessed. We are one nation under God and therefore, we shall remain continually blessed. We declare the curse associated with aborting babies has been removed from our land. Thank You for that! We cover the Supreme Court justices in the blood of Jesus and declare they are protected as the angels of God encamp about them. We ask You to stop every evil attack – whatever the enemy has planned we say it stops here and now for we are a blessed land. In Jesus' name.
Download this article as a prayer guide! Click HERE.
No Weapon Will Prosper
"No weapon formed against you shall prosper, and every tongue which rises against you in judgment you shall condemn. This is the heritage of the servants of the Lord, and their righteousness is from Me," says the Lord. (Isaiah 54:17)
Father, we have a promise from Your Word. That promise says no weapon formed against us shall prosper. We declare any weapon of violence or rage that the enemy has planned against Your people or against our nation will not prosper. We stand in agreement that violence ends today. We plead the blood of Jesus over our cities, our states, and our churches. We thank You that we dwell in a peaceable habitation and in quiet resting places. We declare peace and protection over every city and state in this land.
We Have Authority
Behold, I have given you authority to tread on serpents and scorpions, and over all the power of the enemy, and nothing shall hurt you. (Luke 10:19)
In the name of Jesus, we have all authority over the enemy, we accept that authority and we choose to walk in it. We come into agreement today and release the fulness of that power against all the power of the enemy. We render him helpless and hopeless in Jesus name. Instead, we resist the enemy, and he must flee from us in the mighty name of Jesus.
Bind the Strongman
Assuredly, I say to you, whatever you bind on earth will be bound in heaven, and whatever you loose on earth will be loosed in heaven. Again, I say to you that if two of you agree on earth concerning anything that they ask, it will be done for them by My Father in heaven.  (Matthew 18:18-19)
"When an unclean spirit goes out of a man, he goes through dry places, seeking rest, and finds none. Then he says, 'I will return to my house from which I came.' And when he comes, he finds it empty, swept, and put in order. Then he goes and takes with him seven other spirits more wicked than himself, and they enter and dwell there; and the last state of that man is worse than the first. So shall it also be with this wicked generation." (Matthew 12:43-45)
Today, we bind the strongman of murder and violence, and command it to go from our nation in Jesus' name. We loose the delivering power of God to saturate this nation and its people. We say God's people are strong and do great exploits in the mighty name of Jesus. We declare we stand firm against every spirit associated with abortion. These spirits must go back to where they came from now. God, we ask You to totally cleanse our nation from all effects of this curse – state by state. We plead the blood of Jesus over our states and declare Your will be done in each state concerning abortion. We declare it abolished in Jesus' name, once and for all. We further declare, this spirit will not come into our nation a second time, nor will it bring seven more spirits with it. We cover this entire situation with the blood of Jesus Christ and call it filled to the brim with the glory of God. We declare this spirit of murdering babies is gone from our nation and it will not return. Amen.
Power in Our Words
Death and life are in the power of the tongue, and those who love it will eat its fruit. (Proverbs 18:21)
Your Word says life and death are in our words, today we release LIFE. We release the Zoe life of God into our nation and into God's people. We declare our nation is a pro-life nation – every single state has taken a pro-life stand in Jesus name. We cry out for mercy, and we declare all curses associated with abortion must leave our nation and each state, as they align with Your will. We release life into the Body of Christ and life into our nation – this day, may it be so, in Jesus' name. Amen.
Grant Us Boldness
Now, Lord, look on their threats, and grant to Your servants that with all boldness they may speak Your word, by stretching out Your hand to heal, and that signs and wonders may be done through the name of Your holy Servant Jesus." And when they had prayed, the place where they were assembled together was shaken; and they were all filled with the Holy Spirit, and they spoke the word of God with boldness. (Acts 4:29-31)
Father, behold their threats. Grant us great boldness that we would continue to stand on Your Word, declare Your truth and Your will concerning abortion. As we agree and declare Your will, we ask that You shake our nation with Your glory and heal our land. Holy Spirit, hover over this land, bring healing to all those affected by abortion. We declare our land is healed from all the effects of years of abortion on demand. The Blood of Jesus cleanses our land this day, in the mighty name of Jesus.
7. Justified by Our Words
A good man out of the good treasure of his heart brings forth good things, and an evil man out of the evil treasure brings forth evil things. But I say to you that for every idle word man may speak, they will give account of it in the day of judgment. For by your words, you will be justified, and by your words you will be condemned. (Matthew 12:35-37)
God, our words are important, we choose to speak words of life, and we refuse to align with evil words. We will not receive them nor repeat them. We will not come into agreement with negative words, in Jesus' name. Instead, we stand firm on Your word that says when we humble ourselves, seek Your face and repent, You will heal our land. We are seeing the healing of our land beginning to manifest, thank You for that! Help us God to keep our words continually aligned with Your Word and Your promises to us. This we ask in Jesus' name. Amen.
Download this article as a prayer guide! Click HERE.
Author Kim Potter is a writer and the founder of A New Thing Ministries, which sends a daily teaching to thousands of people all around the world. Her articles have appeared on The Elijah List, Charisma, Spirit Fuel and iBelieve.com. Kim's message is one of hope. She speaks to the heart of those who have grown discouraged or disappointed by the circumstances of life, imparting hope. To receive her daily inspirational writings, go to www.anewthingministries.com. Photo by Gift Habeshaw on Unsplash.
Partner with Us
Intercessors for America is the trusted resource for millions of people across the United States committed to praying for our nation. If you have benefited from IFA's resources and community, please consider joining us as a monthly support partner. As a 501(c)3 organization, it's through your support that all this possible.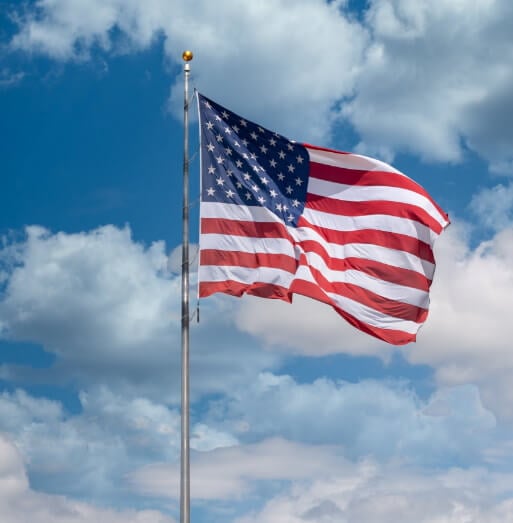 Become a Monthly Partner
You can post a prayer to share with others.
christine s
July 2, 2022, 12:22 pm
Amen and Amen! In Your Mighty Name Jesus Christ, Today, we bind the strongman of murder and violence, and command it to leave the United States of America and all of its provinces. We loose the delivering power of The God and Father of our Lord Jesus Christ to saturate this nation and its people.
Alan V
July 2, 2022, 7:38 am
Today, we bind the strongman of murder and violence, and command it to go from our nation in Jesus' name. We loose the delivering power of God to saturate this nation and its people. A man who offends not with his, such is a perfect man. James 3:2.