THE TRUTH ABOUT THE MEDIA
Gloria Robles, IFA Contributing Writer
|
January 21, 2021
THE TRUTH ABOUT THE MEDIA
Gloria Robles, IFA Contributing Writer
|
January 21, 2021
I Prayed
have prayed
Lord, I thank you that you have given us influence. Let us be wise in how we use it and think of new ways to promote the gospel. I pray although the media is used for evil in many ways, that what is meant for evil, You would turn around and use for good. In Jesus' name, amen.
With the increase in technology in recent decades, we have seen major upgrades in media. We no longer have to wait for subscriptions to be delivered to our homes or wait hours for the evening news. Now we simply open our cell phones or tablets and check social media feeds or read online subscriptions. There are a plethora of websites we can search at our fingertips. Unlike the years past, the "news" has become impossible to watch. When I was younger, I used to watch the news every night. But now there seems to be a clear agenda in the news. There is fear mongering, division, lack of fact-checking, and an obvious bias. These are the reasons I gave up watching most news channels. Whatever happened to the integrity of the media?
View Comments (14)
Media was intended for communication, connection, and promoting healthy relationships.   According to Bill Bright's revelation in the 1970's concerning the seven spheres of influence, Jesus Christ is intended to be revealed as the way, the truth, the life (Jn 14:6) in the media. 
Because of such misrepresentation of truth, mainstream media is losing credibility among people, especially Christians. I have very strong feelings myself about false reporting, but I've learned that when the Lord asks me to pray over something, as an Intercessor I lay down my opinions and do what He says. 
When asking the Lord in prayer how to pray for the media, I honestly felt stuck. I had no idea where to begin when a word came to my mind — unveiling. The definition means the removal of a covering or veil. I then knew how I could pray for the media and sought Him for a Scriptures to pray. 
Oh, send out your light and your truth—let them lead me. Let them lead me to your Temple on your holy mountain, Zion. (Ps 43:3 TLB)
That light shines in the darkness, and yet the darkness did not overcome it. (Jn 1:5)
Father, let your light shine in the media mountain. I decree Daniel 2:22, that you would reveal deep and hidden things; he knows what is in the darkness, and the light dwells with him.

Light is powerful, but when light shines darkness disappears. I thank you that Jesus Christ is the light of the world. We want to hear and see the reports come in of amazing testimonies that He will be glorified throughout the media. Bring an unveiling of your glorious light so people will be filled with hope and not fear. In Jesus' name, amen.
Then you will know the truth, and the truth will set you free. (Jn 8:32)
Sanctify them in the truth; your word is truth. (Jn 17:17)
Father, I thank you that truth can always be found in you. Lord, I grieve over the lack of truth being presented to us. You said that lying lips are an abomination to you. I pray for every person in media and communications to have a personal revelation of the truth, Jesus Christ. I pray men and women with integrity and a fear of the Lord would fill these positions. I pray for boldness for Christians who already work in this sphere to stand for righteousness. Restore and sanctify this sphere with your truth, until it is the foundation. In Jesus' name, amen.
Having information in the palm of our hands can be addicting. I know it has been a challenge for me. It's not so much the news, rather an addiction to information. Don't get me wrong, it's not a bad thing to be informed. It's that we can sometimes become distracted by the many differing voices and opinions. Rather than relying on social media and channels to know everything our way, it would be more beneficial for us to seek God's ways. We tend to want information. God wants transformation. We seek information, but God gives revelation. The greek word "apokalypsis" is taken from the title " The Apocalypse of John" or Revelation. The word revelation means "unveiling,"  to make hidden things known, to reveal. Did you know one of the titles of the Holy Spirit is truth? Jesus told his disciples that the Holy Spirit would speak the truth and let us know what's to come. Right now we are desperately looking for answers. So many voices reporting different things, I pray Spirit of truth, bring an unveiling. Reveal what is yet to come. In Jesus' name.
But when he, the Spirit of truth, comes, he will guide you into all the truth. He will not speak on his own; he will speak only what he hears, and he will tell you what is yet to come. (Jn 16:13)
Have you ever wondered why it's so easy for the masses to believe the lies being spread? 
The answer is found in Scripture. 
But even if our Gospel (the glad tidings) also be hidden (obscured and covered up with a veil that hinders the knowledge of God), it is hidden [only] to those who are perishing and obscured [only] to those who are spiritually dying and veiled [only] to those who are lost.
For the god of this world has blinded the unbelievers' minds [that they should not discern the truth], preventing them from seeing the illuminating light of the Gospel of the glory of Christ (the Messiah), Who is the Image and Likeness of God.
(2 Cor. 4:4 AMP-C)
For one it says that the gospel message is hidden to those who are lost. They don't understand that they are veiled. Satan, the god of this world, has blinded them to the truth. This is why they cannot see the goodness of God or understand the good news of Jesus Christ. This is why when the truth, not just about Jesus but in any form, is presented they will reject it. 
Father, we pray for those who are deceived and don't even know it. Let the glorious light of Jesus Christ illuminate their darkness. Remove the veil from their hearts. Let scales of spiritual blindness fall from their eyes, so that when they are presented with truth they would understand. We know that Satan is a defeated enemy, so we declare victory over loved ones and the lost who are bound by deception. In Jesus' name, amen.
Do you know how powerful the media is? It is capable of great influence for the kingdom. That's why we need reformation in this sphere. Sometimes I study church history and I accidentally came across something really interesting. I learned that the media played a role in the Two Awakenings. "The Great Awakening" of the 1740s led by Jonathan Edwards and George Whitefield saw mass salvations for many years. Eventually evangelical churches came to be and we saw religious freedom. According to the Constitutional Rights Foundation, "the revivals used newspapers, pamphlets, circulated letters and outdoor rallies to create a movement." This was the 1700s, but they used the media to their advantage to spread the revival fire and it was successful. 
By the end of the 18th century, people forsook their Christian values, that is until the Second Great Awakening took place. In the early 1830s, missionaries would evangelize through journalism. This provided much needed mass communication. It was one of many ways the gospel was spread. Charles Finney, a lawyer turned revivalist, used advertising to promote the gospel message. Isn't that amazing? So much amazing fruit came from these awakenings, and yet the media played a part. America is overdue for an awakening. In those times they didn't have the technology we now have. Just imagine what we could do with what we have.  How can we use media to promote the gospel? How should we use the media to spread awakening when it comes? These are questions we can ask the Lord in prayer. 
Author Gloria Robles is a passionate intercessor with a prophetic voice for today. For more from Gloria, go to Spotify or Anchor to listen to her podcast Something To Share. (Photo Credit: Unsplash.)
Share your prayers for the media in the comments below!
Partner with Us
Intercessors for America is the trusted resource for millions of people across the United States committed to praying for our nation. If you have benefited from IFA's resources and community, please consider joining us as a monthly support partner. As a 501(c)3 organization, it's through your support that all this possible.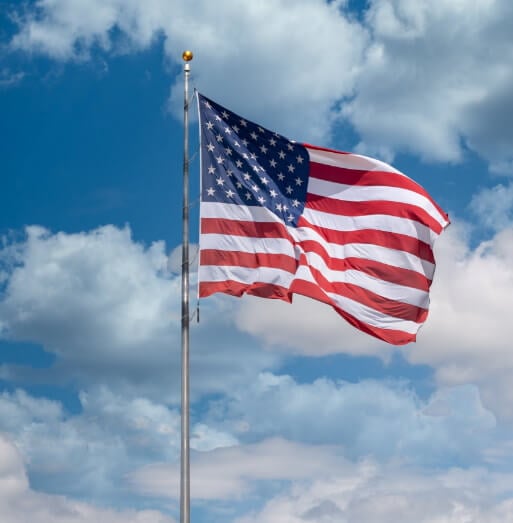 Become a Monthly Partner