The Danger of the Great Reset and New World Order, Explained
From The Eye of the Needle
|
December 7, 2021
The Danger of the Great Reset and New World Order, Explained
From The Eye of the Needle
|
December 7, 2021
I Prayed
have prayed
Lord Jesus Christ, we exalt You. We pray for order, truth, justice, good, obedience, health, wisdom, peace, and joy. We pray that we would not be deceived.
Archbishop Viganó has stirred up the Church and the world. We found his comments on the New World Order compelling. Read and let us know what you think in the comments.
There is a man that in this moment terrifies the hierarchy of the anti-Catholic church of Bergoglio. This man has been the object of tremendous and evil attacks by the mainstream media. They have been trying to smear him and depict him as a criminal or like someone who is putting society in great danger. This man is Archbishop Viganò. His Excellency has become like a polar star of hope for those Catholics and even non-believers who have thirst for justice and common sense in this upside-down world. Viganò has been speaking calmly but his gentle voice has terrified the powerful people of the world. Viganò has exposed the Great Reset and the plan to destroy mankind. He clearly denounced the infiltration of Freemasonry into society and into the Church.
View Comments (12)
Join us to pray about this on Pray with Others Live at 12:15 pm ET Tuesday, December 7, 2021. Watch at IFApray.org/live or call (667) 771-7910, access 2452#.
In other words, Viganò is guilty of having said the truth like a humble pastor of God. In this interview that His Excellency granted us, he once again tells us in what kind of historical period we are living. He also consoles us by reminding us that being persecuted for loving God and having Faith is the greatest honor that we may have. This is probably why so many people look at this man in this historical period. He's one of the few pastors that can speak simply to the hearts of the common men. Here you can find his words addressed to any one of us. . . .
In the "Great Reset" society that Your Excellency has denounced on numerous occasions, the "transhumanist" ideology plays a fundamental role. Modern technology is advancing at a very fast pace and we are now speaking openly about the possibility of controlling human behavior through brain microchip implants. One who favors this new model of "human/robot" is Klaus Schwab, a character whom we have met in the previous questions, the head of the World Economic Forum. Do you think that the final purpose of transhumanism is really this, to deprive man of his God-given free will?
Transhumanism is a hellish project, in which the Devil mocks the creation of God by perverting and corrupting it. Obedience to the "easy yoke" of the Law of God is replaced by the enslavement and submission to Satan's tyranny, in which there is no tolerance for good and everyone is forced to commit evil, accept evil, and legitimize evil. And despite the fact that only God can read our consciences, Satan tries to violate the sanctuary of our inner spiritual part in order to control it and induce us to commit evil even against our own will. In his recent book, The Great Reset, Klaus Schwab wrote the following:
"We are also studying new ways to use and implant internal devices that monitor our levels of activity, the hematochemical values and the ways in which these can be associated to wellbeing, to mental health, and to productivity at home and at work. We are also learning better the functioning of the brain and witnessing exceptional developments in the neurotechnology area."
It is a delirium that only Lucifer can conceive, and it is destined to complete failure because of it Antichristic matrix, its defying of the divine Kingship of Jesus Christ. It is a delirium where the creature, rebelling against the divine laws, pretends to reach the place of the Highest and repeats, with the same disgraceful determination, the "Non serviam" ("I will not serve") of Lucifer.
Satan is simia Dei ("an ape of God"): in everything that he does to keep us away from God and drag us toward Hell, we can always see his mocking attempt to imitate the Savior, to usurp His sovereignty, to pervert His teachings and to steal souls from Him. The Devil wants to be worshipped in the place of God. He wants the Antichrist to rule over the world and subjugate mankind to his tyranny by replacing the Church of Christ with the anti-Church of Satan, which is the Religion of Mankind, an ecumenical and ecological one. . . .
Can you explain the idea that drives the New World Order and why the vaccines play a very important role in the fulfillment of this goal?
 The New World Order is neither New nor Order: it represents the foolish ambition of Satan to overthrow the providential plan of God, to cancel the true Religion that leads to eternal salvation and finally to replace the "ordo christianus" ("the Christian order") with infernal chaos. In this disorder, the lie replaces the Truth, injustice and abuse of power replace justice, whim instead of obedience to the law of God, death instead of life, illness instead of health, the legitimization of Evil and the condemnation of Good, the persecution of good people and the praising of evil ones, ignorance in the place of culture and wisdom, ugliness and horror instead of beauty, division and hatred instead of harmony and love. Satan doesn't want to be worshipped by adopting the qualities of God, but by demanding to be an object of adoration through everything that is evil, obscene, false, absurd, and monstrous. He seeks complete subversion, a subversion ontologically devilish and Antichristic: a "New Order" obtained by means of a global coup d'état imposed under the guise of an engineered planned emergency.
The vaccine campaign, lacking any scientific validity, serves first of all as the apparent legitimization for implementing global tracking and controls, today under the pretext of limiting COVID spread (a pretext which is false, because, among other reasons, the vaccinated can still become infected and be contagious). But tomorrow, this campaign aims to expand its reach, extending the "Green Pass" to include information used in a "social credit system" to confront a "green emergency," which will be likewise false and specious. The "Green Pass" is being conceived as something like the Mark of the Beast mentioned in the Apocalypse of Saint John to allow or forbid people to buy, sell, travel, spend, eat and live.
Secondly, the inoculation of people with an experimental genic serum that provokes a weakening of our natural immune system represents a very grave crime, because it turns ordinary healthy people into chronically ill people, and consequently into customers of the health care companies and private care. This situation hugely inflates the profits of the globalist élite and brings a general impoverishment of the population. Even this aspect, apparently secondary, reveals the subversive character of the "Great Reset," because the "Great Reset" does not represent only an attack against the health of an individual, but also an attack against the national security of the States, because their armed forces are harmed by the side effects of the vaccine, while the not-vaccinated soldiers are banned from active duty. I think that this is a point not enough considered by those who are analyzing the present crisis, and it shows the malice of those who. Once in power, cooperate for the destruction of nations in order to subjugate them to the New Order. . . .
What would you like to say to those who are suffering the consequences of this dystopic society and to those who are giving in to loss of hope, indeed, to desperation?
I would like to answer with the words of Our Lord: "I have told you these things, so that in me you may have peace. In this world you will have trouble. But take heart! I have overcome the world (John, 16, 33).
To those who are suffering their own discrimination and the one of their beloved ones; to those who were forced to take a vaccination because the civil authority shamefully blackmailed them, with the outrageous complicity of the ecclesial authority; to those who with courage refuse to surrender to illegitimate and tyrannical laws; to those who are deprived of their means of support due to their coherence, I say this: you are the proof that the strength and the violence of Evil can possibly affect you in your belongings, in your body and in your family; but they cannot ever, ever, strip away from you the peace of having stayed loyal to the Lord.
Do you think that the martyrs were people gifted with special powers? The real martyrs were, are, and will be persons like you and I, persons with a thousand flaws maybe, but driven by the love for Christ, that is, driven by Charity, who are ready to sacrifice their lives in order to not renounce that supernatural and divine love. . . .
What are your thoughts about this explanation of the specific dangers of our times?
(Excerpt from The Eye of the Needle.
Partner with Us
Intercessors for America is the trusted resource for millions of people across the United States committed to praying for our nation. If you have benefited from IFA's resources and community, please consider joining us as a monthly support partner. As a 501(c)3 organization, it's through your support that all this possible.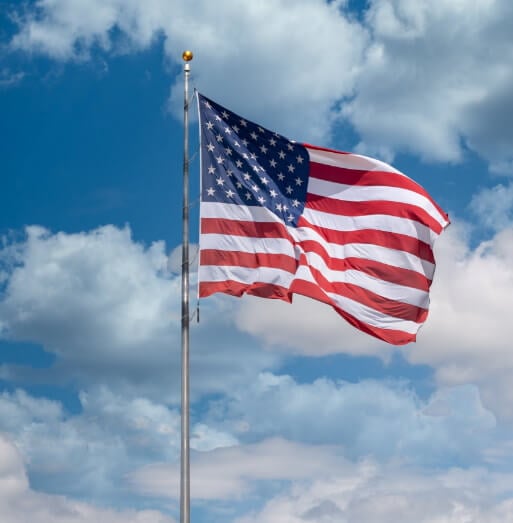 Become a Monthly Partner
You can post a prayer to share with others.
Christine S
December 7, 2021, 5:26 pm
Lord Jesus Christ and Father God! You have foretold all of these events in Your Holy Scriptures, please help us to endure the evil we see taking place, we know it must take place and then the end will come! Remind us daily that this is temporary and Your Kingdom will come and Your will shall be done in earth as it is in Heaven!
Alan V
December 7, 2021, 8:49 am
Lord Jesus Christ, we exalt You. We pray for order, truth, justice, good, obedience, health, wisdom, peace, and joy. We pray that we would not be deceived. May the powers of darkness be bound and cursed for trying to change Your timing and bring false results. The reset will bring Awakening on Your schedule not Great Tribulation on the devil's schedule.
maria A
December 7, 2021, 7:17 am
Lord Jesus Christ, we exalt You. We pray for order, truth, justice, good, obedience, health, wisdom, peace, and joy. We pray that we would not be deceived.
Mollie G
December 7, 2021, 6:30 am
Lord Jesus Christ, we exalt You. We confess You alone are Excellent and Holy and worthy if honor and praise. Establish your Dominion in Christ in this land. May Your purpose prevail and no darkness, perversion of Truth or impostering angels of light remain over our land or the Earth you came to save. We declared You as King of kngs and Lord of lords to the end of the ages. We accept and acknowledge Your rulershipbovervthe nation's, which to you are a drop in the bucket. Speak Lord and it is accomplished. May Your name be known among the nation's May all the people praise You and You alone. Amen.