Tackling the Satanic Roots of the Border Crisis
Remco Brommet, IFA Contributing Writer
|
January 21, 2023
Tackling the Satanic Roots of the Border Crisis
Remco Brommet, IFA Contributing Writer
|
January 21, 2023
I Prayed
have prayed
Father, please provide the agencies that protect our borders the strong leadership, wisdom, and protection they need to squelch all criminal activity pouring across. In Jesus' name.
Analysis. President Biden's border policies have not just cleared the way for an unprecedented number of migrants to pour into the U.S. (2.3 million in 2022 alone). They have opened the door to unprecedented criminal activity as well. According to Yuma County Supervisor Jonathan Lines in an interview with Fox News, Mexican cartels are now controlling the border, smuggling drugs and violent criminals into the country. "Unless this situation changes and we take back control from the cartels for the trafficking coming across our border, it will only get worse," Lines said.
View Comments (51)
In addition to burgeoning quantities of fentanyl (up 206% from 2020) and record numbers of known or suspected terrorists pouring in, human trafficking has become a booming business. Like the drug trade, it is almost entirely in the hands of Mexican cartels. In fact, just this week California authorities identified cartels as behind a mass killing of six people. According to Homeland Security investigators, the industry raked in $13 billion last year, compared with $500 million in 2018.
The increase in crime, human trafficking, terrorist encounters, and fentanyl distribution pose an imminent threat to the security of our nation. That threat is made worse by the depletion of law enforcement resources to combat them. Like a leaky pipe that can cause a whole house to flood, our leaky border affects every state in our nation as the drugs, human-trafficking victims, and criminal elements fan out over the country.
The Bible teaches us that we do not wrestle against flesh and blood, but against the rulers, against the authorities, against the cosmic powers over this present darkness, against the spiritual forces of evil in the heavenly places (Ephesians 6:12).
That applies to a lot of battles an individual Christian faces, but it can apply to a nation as well, particularly if that nation proclaims itself to be "one nation under God." Addressing that issue, IFA field correspondent Wanda Alger wrote in 2019 that a nation's borders are spiritual gateways. She pointed out that, according to Acts 17:26, God determined borders when He divided up the nations of the world. "Due to physical and spiritual boundaries established by the laws, oaths, and covenants in our nation, our land has been dedicated to God," Alger said. "As watchmen in prayer, we are called to guard and protect our borders from any spiritual forces that seek to gain access for evil purposes."
That powerful priestly responsibility is not diminished by our nation's turning increasingly away from its dedication to God. On the contrary. It makes our role as watchmen on the walls of the nation all the more urgent. It also affects the strategy behind our prayers. While praying for the spiritual forces beating down the door to be defeated, we also pray that God will use the crisis to shake our forgetful nation and bring her to repentance from sin.
Watchmen observe and understand the schemes of the enemy and sound the alarm. In the case of God-appointed spiritual watchmen, sounding the alarm happens in the form of informed prayer.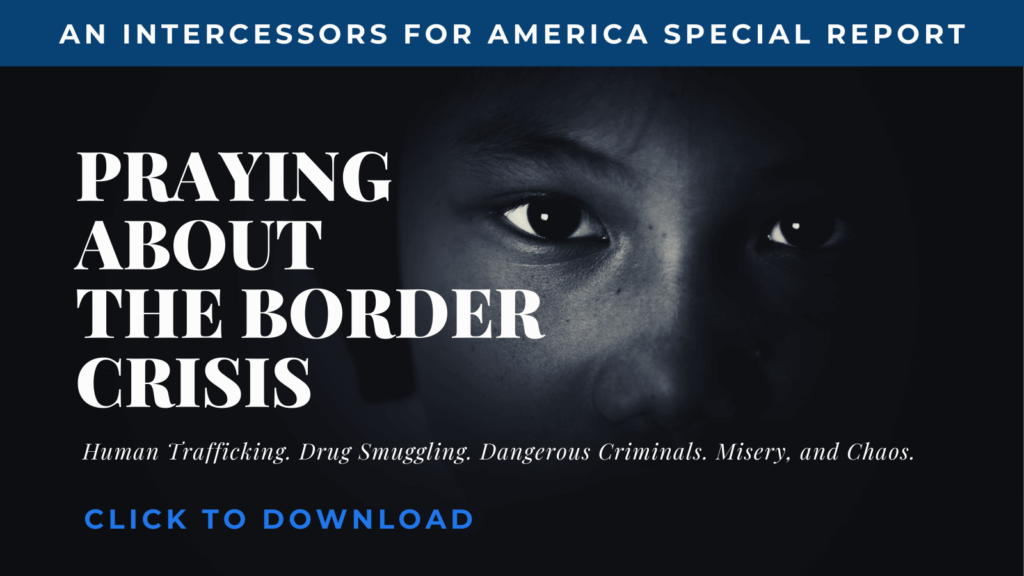 For that reason, we should consider a few things to guide us in our prayers:
More than ever, Satan is openly attacking the soul of our nation. Satanic clubs after school, SatanCon, increasingly open celebration of perversion and sin, and the criminal nature of the border crisis all go hand in hand. They all amount to the same thing: Satan and his forces openly showing their intent to kill and destroy (see John 10:10). For example, the destruction that fentanyl brings cannot be underestimated. I recognize his intent to bring as many as possible in our increasingly anxious and stressed nation under the bondage of this powerful and addictive drug. The increase in crime and human trafficking, in turn, adds to our stress and anxiety as our cities are becoming increasingly unsafe. To make it even more apparent that Satan is behind this, the cartels controlling its distribution are heavily into the occult. I believe his efforts are intense because the United States is one of the few countries in the world founded on Christian principles, a country where a majority of the population until recently believed in the God of the Bible. I also think he is angry and doubling his efforts because of a well-organized, growing army of intercessors aware of his schemes and standing against him in the power of Jesus' name! Increased spiritual attack is almost always evidence that he fears what God's people are doing.
What Satan intends for evil, God turns to good. Throughout the Bible, people redeemed by God were enticed to follow after other things, leading to disobedience with terrible consequences. The book of 2 Kings describes this: " … therefore thus says the Lord, the God of Israel: Behold, I am bringing upon Jerusalem and Judah such disaster that the ears of everyone who hears of it will tingle. And I will stretch over Jerusalem the measuring line of Samaria, and the plumb line of the house of Ahab, and I will wipe Jerusalem as one wipes a dish, wiping it and turning it upside down. And I will forsake the remnant of my heritage and give them into the hand of their enemies, and they shall become a prey and a spoil to all their enemies, because they have done what is evil in my sight and have provoked me to anger, since the day their fathers came out of Egypt, even to this day" (2 Kings 21:12–15).
But God in His mercy always restores, once the people realize their sin and repent as they suffer its consequences: … Return to the Lord your God, for he is gracious and merciful, slow to anger, and abounding in steadfast love; and he relents over disaster (Joel 2:13 ).
That gives us hope in our intercession. As sin abounds and faith in Christ declines in our nation, He may well have withdrawn His favor for a season until eyes are opened and hearts are humbled by the realization that our nation will not survive without Him. A rude awakening often precedes a spiritual awakening!
Keeping these insights in mind, let us double our efforts to fulfill God's call to be watchmen on the walls of our nation.
Prayer Points:
The Lord raises up the personnel needed to effectively combat the rise in drug trafficking, human smuggling, and crime.
He gives wisdom from above and strength of leadership to those tasked with securing our borders.
He commands the hosts of heaven against the demonic forces behind the cartels that drive these criminal activities.
The shaking of our nation through these threats to our security will lead to repentance and restoration as His Church calls the nation to faith in the gospel of Jesus Christ.
The victims of human trafficking will be set free, find Christ, and be healed.
Those in bondage to fentanyl and other opioids will be set free so that the demand will dry up, and the trade will no longer be profitable.
High King of heaven, we unite our hearts in the name of Jesus. You have appointed us as watchmen on the walls of our nation and decreed that we win great triumphs over Satan through our prayers. Today we pray that You would turn what Satan has meant for evil into good. We pray that the border crisis will lead to widespread conviction of sin and would open our nation's eyes to the drastic need to return to You. At the same time, we pray that You would raise up men and women of courage and give them divine wisdom to secure our borders. Command the hosts of heaven against the satanic forces behind the drug trade, human trafficking, and the invasion of criminal elements. In Jesus' mighty name we pray. Amen.
How are you praying over the crisis at the border? Share this article to encourage others to pray.
Remco Brommet is a pastor, spiritual-growth teacher, and prayer leader with over 40 years of experience in Europe, Southeast Asia, Africa, and the U.S. He was born and raised in the Netherlands and pastored his first church in Amsterdam. He moved to the U.S. in 1986. He and his wife, Jennifer, live north of Atlanta. When not writing books, he blogs at www.deeperlifeblog.com and assists his wife as a content developer and prayer coordinator for True Identity Ministries. Jennifer and Remco are passionate about bringing people into a deeper relationship with Christ. Photo Credit: Getty Images.
Partner with Us
Intercessors for America is the trusted resource for millions of people across the United States committed to praying for our nation. If you have benefited from IFA's resources and community, please consider joining us as a monthly support partner. As a 501(c)3 organization, it's through your support that all this possible.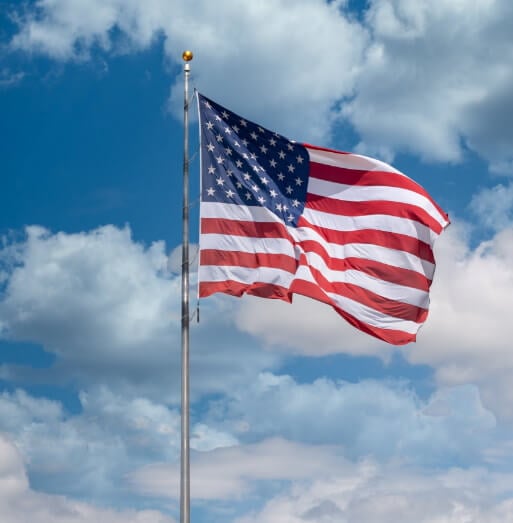 Become a Monthly Partner
You can post a prayer to share with others.
Zoe E
January 21, 2023, 11:53 pm
Father, please provide the agencies that protect our borders the strong leadership, wisdom, and protection they need to squelch all criminal activity pouring across. In Jesus' name.
Lorraine T
January 21, 2023, 10:26 am
Satan you have no authority in our country or with our law makers. In Jesus name I pray that the global scientists see the truth and walk in the light of the God of our country our Father and Lord Jesus. Come to the wisdom of our God and follow no other. Father, please provide the agencies that protect our borders the strong leadership, wisdom, and protection they need to squelch all criminal activity pouring across. In Jesus' name.
C f
January 21, 2023, 8:01 am
Father God and Lord Jesus Christ, I am so glad Satan's end is near and he will burn with eternal torment, please provide the agencies that protect our borders the strong leadership, wisdom, and protection they need to squelch all criminal activity pouring across. In Jesus' name.