SARAH SANDERS: 'GOD WANTED DONALD TRUMP TO BECOME PRESIDENT'
David Brody
|
February 5, 2019
SARAH SANDERS: 'GOD WANTED DONALD TRUMP TO BECOME PRESIDENT'
David Brody
|
February 5, 2019
I Prayed
have prayed
Offer thanks to the Lord for the many blessings that have been granted in the U.S. in the leaders appointed by the Lord in this present administration. Pray for Sarah Sanders, that God will encourage her and continue to use her as a leader in this nation.
 Let every soul be subject unto the higher powers. For there is no power but from God; the powers that be are ordained by God. (Rom 13:1)
View Comments (18)
In a wide-ranging exclusive interview with CBN News, White House Press Secretary Sarah Sanders says that God wanted Donald Trump to become President of the United States.
"I think God calls all of us to fill different roles at different times and I think that He wanted Donald Trump to become president," Sanders told CBN News Chief Political Analyst David Brody and Senior Washington Correspondent Jennifer Wishon in her West Wing office Wednesday morning.
"That's why he's there and I think he has done a tremendous job in supporting a lot of the things that people of faith really care about," Sanders said….
"Anytime somebody who's not even associated with the President says something, the first thing is will you condemn. Will you say that this is terrible?" she asked.
"Where's the leadership on the Democrats' side to call this out? It is unbelievable that this is going totally unchecked, totally off the radar of most of the mainstream media."
On the topic of immigration, Sanders lowered the hypocrisy boom on House Speaker Nancy Pelosi. The White House Press Secretary said Pelosi's view that a border wall is immoral is absurd and a comment she may come to regret.
"Honestly, it's very hard at this point to even take a lecture from Democrats on what is moral and what isn't," Sanders told CBN News. "People who are willing to allow legislation to pass supporting late-term abortion. The idea that they would take out "So help me God," in the platform that House Democrats have raised this week. But the idea that protecting the people of your country, which is the fundamental duty of being President of the United States, would in some way be immoral is a ridiculous charge and something that I think probably, I would think Speaker Pelosi may even regret making that comment because she's seen how ridiculous that sounds and how the evidence is so contrary to that comment." …
Despite concerns by evangelicals over US policy in Syria, evangelicals have been more than satisfied with President Trump during his first two years in office….
"Whether or not there's a daily press briefing, people in the administration, myself included, do regular interviews as I'm doing right now, after a lot of those interviews stop and take questions outside where anybody, any reporter is allowed to come and ask questions," Sanders noted. "I think the White House, in general, is the most accessible when it comes to the media. You know, we had a briefing this week and they complained and complained and complained that we don't have them, then we have one, and CNN and MSNBC didn't even cover it. So, I think that the biggest thing is that they just want to complain and attack this administration and this President and they don't want to cover all of the successes because that's not good for the narrative that they're trying to drive."…
"The goal is to be the best version of who God created us and who he called us to be," Sanders noted. "Some days I do that better than others, but the goal is always to be open about my faith. I think it's part of the reason it gives me a sense of calm when I'm in that room." …
(Excerpts from David Brody on CBN News)
Partner with Us
Intercessors for America is the trusted resource for millions of people across the United States committed to praying for our nation. If you have benefited from IFA's resources and community, please consider joining us as a monthly support partner. As a 501(c)3 organization, it's through your support that all this possible.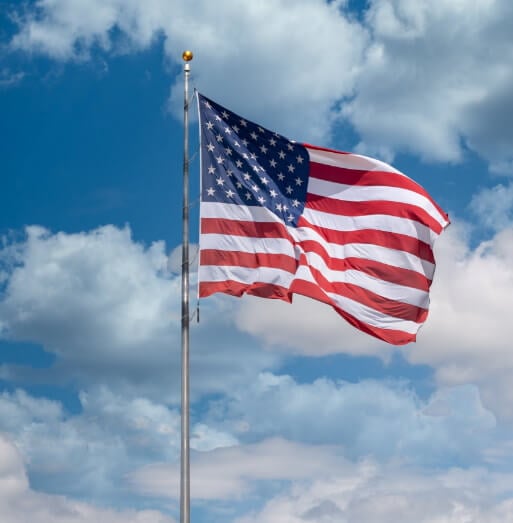 Become a Monthly Partner